ICC Slams Indore Pitch, Rates It As 'Poor' After India vs Australia 3rd Test Ends Within 3 Days - Read Full Statement
Team India made 109 and 163 in two innings of the Indore Test, losing the match eventually by 9 wickets. The pitch was called 'very dry' by match referee Chris Broad.
Th International Cricket Council (ICC) has given a 'poor' rating to the Indore's Holkar stadium pitch after the third Test match between India and Australia finished in less than 3 days. Both teams failed to cross the 200-run mark throughout the match with Australia winning it eventually by 9 wickets to register their first victory in the ongoing Border-Gavaskar Trophy 2023, on Friday, March 3. The ICC match referee Chris Board slammed the track, calling it 'very dry' and non-supportive to provide balance between bat and ball. As a result, the venue has received 3 demerit points.
Also Read | World Test Championships 2023 Qualification: How India Can Qualify After Australia Book Final Berth
"The pitch, which was very dry, did not provide a balance between bat and ball, favouring spinners from the start. The fifth ball of the match broke through the pitch surface and continued to occasionally break the surface providing little or no seam movement and there was excessive and uneven bounce throughout the match," said Broad in an ICC statement.
#WTC23 Final bound _

Congratulations Australia. See you in June! _ pic.twitter.com/H2YdaWPzYV — ICC (@ICC) March 3, 2023
After 3 demerit points, BCCI will have to address the pitch issue now as it cannot allow Indore to prepare 'poor' pitches anymore. Two more demerit points and the ground will be banned from hosting an international cricket match. As per the ICC Pitch and Outfield Monitoring Process, a venue get suspended from hosting any international cricket for a period of 12 months if it accumulates five or more demerit points over a five-year rolling period.
Read the full statement by ICC on Indore pitch below: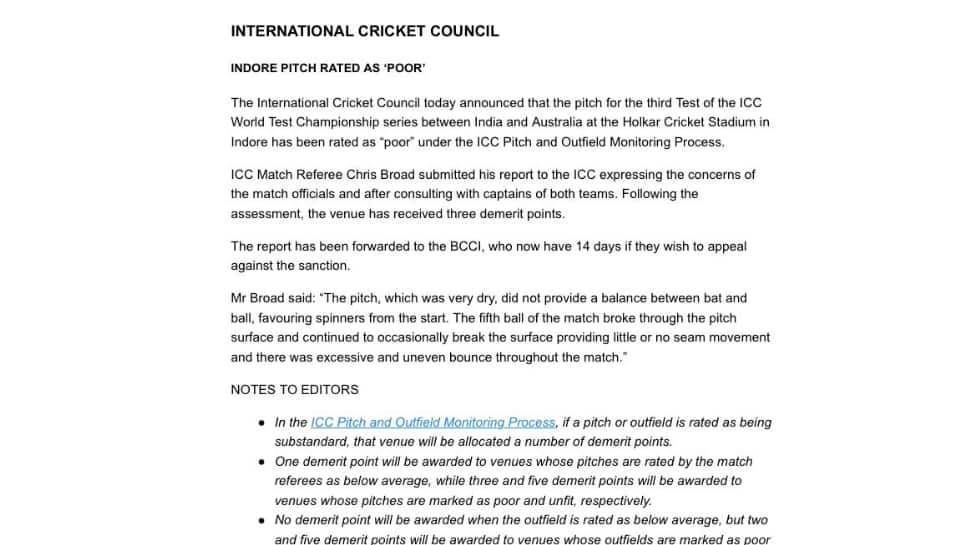 Despite the pitch helping massively to the spinners, Aussies took more advantage out of it and dismissed Indians to low score twice. With the Indore win, they have now qualified for the World Test Championships final to be held in June at The Oval. At the same time, India now need to win at Ahmedabad in the fourth Test vs Australia to book their spot in the final of WTC 2023 final. If they lose, they fear losing the place to Sri Lanka.