Makar Sankranti 2023: Wishes, greetings, WhatsApp messages, quotes and images to share with loved ones
Makar Sankranti 2023 wishes: Makar Sankranti is celebrated a day after Lohri, and it falls on Sunday, January 15 this year. Exchange warm wishes and greetings with your loved ones on this auspicious occasion.
The harvest festival is both a religious and seasonal celebration dedicated to Surya, whom the Hindu community considers to be the Sun God
Makar Sankranti commemorates the sun's transit into Makara (Capricorn) raashi
The festival is widely observed in the Indian Subcontinent as well as by Hindus worldwide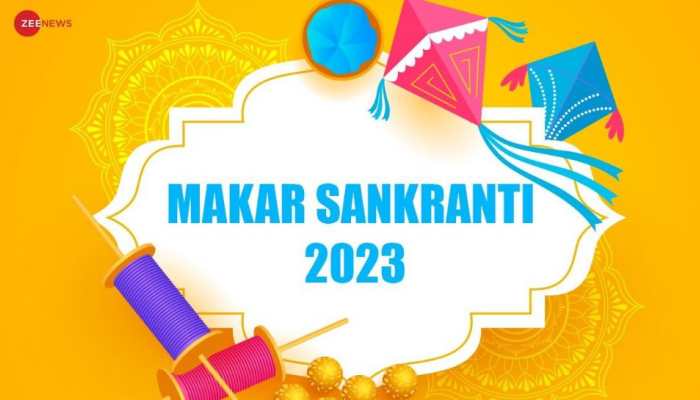 Makar Sankranti 2023 wishes: Makar Sankranti is a significant festival dedicated to Lord Surya or the Sun God. The auspicious occasion heralds the end of winter and the start of longer days as the sun moves northward. This period is known as Uttarayan and is considered to be a very lucky period. Across India, Sakranti is celebrated in different ways, but what remains the same is extending wishes and greetings to your loved ones. On Makar Sankranti, here are some wishes, messages, and quotes to share with your friends and family.
1) Wish your life is filled with joy, love, prosperity, and kindness. Happy Makar Sankranti!
2) May your life be filled with the comfort of til and the sweetness of gur. Love and wishes on Makar Sankranti.
3) May the bright colours of kites paint this day with smiles and joy for you and your loved ones. Have a blessed Makar Sankranti.
4) On this Makar Sankranti, may the Sun God bless you with love, prosperity, and peace. Happy Makar Sankranti!
5) I pray the Sun smiles for you and birds sing for you. Wishing you a joyous Makar Sankranti!
6) May you soar high with success just like your kites this Makar Sankranti.
7) May God bring a lot of colours into your life on this day of new beginnings. Happy Makar Sankranti!
8) On this auspicious occasion, may God bless you with good health and wealth. Wishing you a very happy Makar Sankranti.
On the occasion of Makar Sankranti, may Sun God fill your life and home with sunshine of happiness. Happy Makar Sankranti 2023! pic.twitter.com/ZT0ms02c13 — P.Chandra (@shekhar717) January 15, 2023
9) May you receive all the happiness the world has to offer. Happy Makar Sankranti.
10) I pray the harvest season brings prosperity and peace to your life. Happy Makar Sankranti.
Also read: Makar Sankranti 2023: Date, history, significance and rituals across India - know details
11) A new start, a new goal with happiness. Wishing you a very Happy Makar Sankranti!
12) May the colours of joy, jubilation, and pleasure shine upon you and your life! Wish you a very happy Makar Sankranti!
13) May all these festivals bind us by a thread of love and compassion. Happy Sankranti, Pongal and Bihu.
14) May this harvest season fill your life with abundant prosperity. Greetings for Makar Sankranti.
15) May this first festival of the year bring new happiness and good luck in your life. Happy Makar Sankranti.
Also read: Makar Sankranti 2023: Do NOT consume tamasic food, avoid fights - checks dos and don'ts for auspicious day
Live Tv