India's first IRCTC-run 'private' train Tejas Express: Check out salient features
Initially IRCTC will manage two trains that will ply on Lucknow- Delhi and Ahmedabad-Mumbai routes.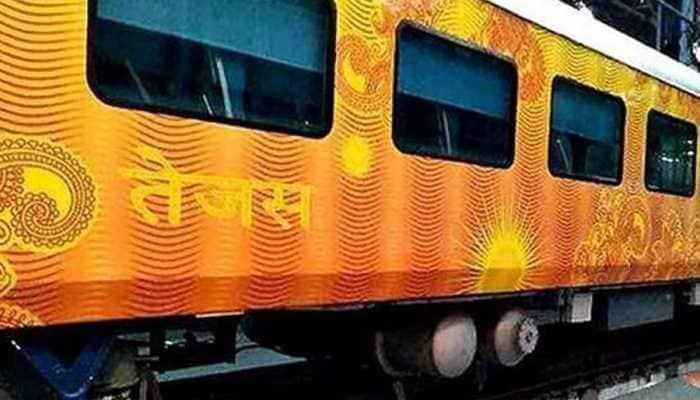 New Delhi: India's first private train run and managed by the IRCTC, the ticketing arm of Indian Railways is likely to start its first operation during on October 4, sources told Zee Media.
Initially IRCTC will manage two trains that will ply on Lucknow- Delhi and Ahmedabad-Mumbai routes. These trains will run for 6 days in a week.
The first train under IRCTC management will be operated in Lucknow–New Delhi route that will take the total journey time of 6 hours and 15 minutes.
This train will have one Executive class air conditioned chair car having 56 seats and nine air conditioned chair cars having capacity of 78 seats each. The total carrying capacity of the train will be 758 passengers. The train will run 6 days a week except Tuesday.
Check out the Salient Features of India's first IRCTC-run 'private' train Tejas Express
Train will be available for booking exclusively on IRCTC website irctc.co.in. Booking will not be allowed at railway reservation counters. Passengers can do so through IRCTC' online travel portal partners like Paytm, Ixigo, PhonePe, Make My Trip, Google, Ibibo, Railyatri etc.
The booking will have advance reservation period of 60 days.
While there will be no concession tickets. Children below the age of 5 years will be exempt from fare.
There will be no tatkal quota or premium tatkal quota in these trains. There will be only General Quota and Foreign Tourist Quota. Foreign Tourist Quota of 5 seats in EC and 50 seats in CC will be available for Foreign Tourists.
All passengers travelling on IRCTC trains will be provided with Rail Travel Insurance of up to Rs 25 lakhs free of cost by IRCTC.
IRCTC is also working on extending the Executive Lounge facility at New Delhi railway station to IRCTC train passengers at a reduced rate.
IRCTC is also contemplating on sale of merchandise goods on board to its passengers on these trains.
High quality food and beverages will be provided to the passengers on board in the train. Food will be compulsory and charges will be collected at the time of ticket booking itself.
There will also be provision for separate free coffee and tea vending machines. Service in the train will be done through trolleys similar to airlines.
Each coach will be provided with RO water filter in addition to the packaged drinking water bottle for each passenger.
Passengers will be served morning welcome tea, breakfast, snacks before de boarding, evening high tea and dinner as per itinerary timings.
On board hospitality services will be managed through professional and competent staff from either gender.
IRCTC is planning to extend the facility of collecting passengers' baggage from their homes and deliver to them in the train on their seats and then again from their seats to their destination stay point on payment
IRCTC will also extend the facilities of taxi hiring, hotel bookings etc on payment to such passengers who need it. Wheel chair will also be provided to passengers on demand.