Mumbai: Salman Khan emerged as the most loved celebrity in India in 2015! The 50-year-old Bollywood superstar had an eventful year with a couple of blockbusters in his kitty last year.
According to Goonj India Index 2015 report made exclusively available to Zeenews.com, Salman was a recipient of the most positive sentiments followed Deepika Padukone, APJ Abdul Kalam, Virat Kohli and Shah Rukh Khan.
Check out the remaining list of most loved celebrities by Indians:
Akshay Kumar
Narendra Modi
Priyanka Chopra
Vijay
Sachin Tendulkar
Ranbir Kapoor
Prabhas
Aamir Khan
Hrithik Roshan
Mahesh Babu
Christiano Ronaldo
Amitabh Bachchan
Taylor Swift
MS Dhoni
Roger Federer
Check out the graph here: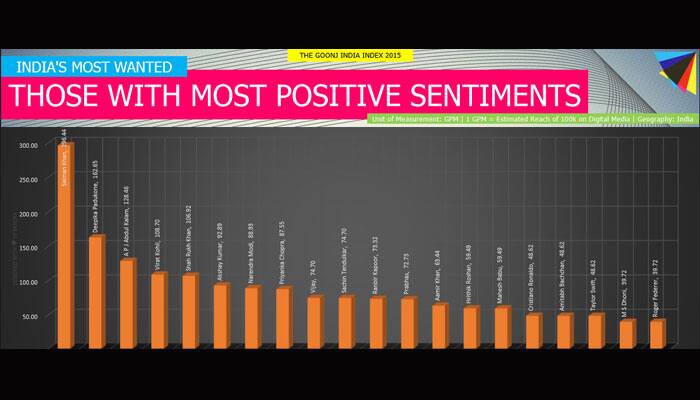 The index is a chronicle of what Indians were most interested in!