New Delhi: US First Lady Michelle Obama , who joined husband and US president Barack Obama for a three-day trip to India, wowed one and all with her blue dressed when she landed in New Delhi a couple of days ago.
The creation in question was designed by Indian-American designer Bibhu Mohapatro. Michelle has often been seen promoting young designers by picking up their collections and the list includes Indian designers such as Naeem Khan, Rachel Ray and Prabal Gurung.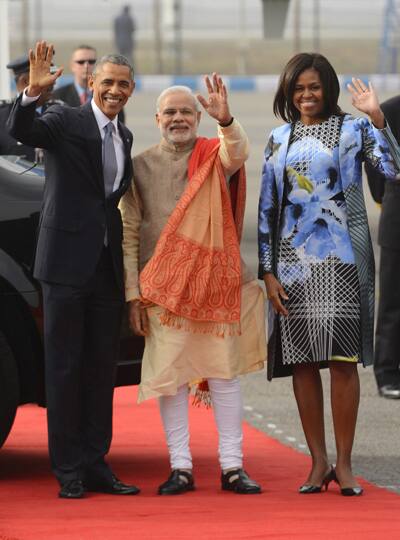 Apart from the first dress that the US First Lady wore while landing in the capital, all other dresses of hers were with floral prints.
For the dinner hosted by the President Pranab Mukherjee, Michelle opted for a Royal blue frock with floral prints. On the following day, Mrs Obama chose a beige coloured dress with floral prints for President Mukherjee's 'At Home' tea party and on January 27, the lady wore a black frock which again had floral prints.