Garima Dutt
Painting is rare. Sculpting is rarer; a 'niche within niche'. It is therefore heartening to land up in an exhibition that pays homage to human emotions and creativity through sculpting – an exacting form of art; an art of patience that combines skills, tools, love and discipline.
On one such recent visit to Triveni Kala Sangam, I discovered 25 beautiful pieces of works by three women sculptors, tied by the universal theme of 'human emotions' and yet distinctly different in their artistic expression from each other.
Titled "Trilogy of Expression", this exhibition brings together works of Sheela Chamariya, Christine Margotin and Geeta Juneja.
One look at their artworks and you will find it hard to believe that the trio is largely self-taught. None of them have been formally trained in any art school; they started on their own and took short stints with craftsmen and experts to hone their skills along the way on their individual creative journeys.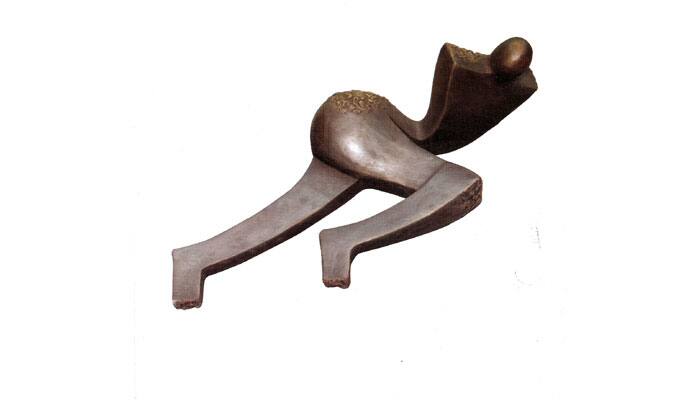 ('Waiting for you' by Sheela Chamariya)
What is it that made them come together considering they have enough work in their repertoire to go solo?
Sheela Chamariya believes coming together allows for greater exchange and interaction between artists besides of course allowing people the opportunity to view more works at the same time.
"While three of us depict human emotions but our interpretation and manifestation of it is very different", said Sheela, who is the most experienced among the three and has shown her work through 14 solos and more than 50 group shows in India and abroad.
Her sculptures are visually compelling, juxtaposing the delicacy of emotions with the toughness of bronze or fibre glass. Sculptures like 'Unconditional Love', 'Let's Play' depict intimacy between a mother and her child; they exude a sense of joy and purity of emotion. 'Waiting for you', depicting a woman waiting for her lover, is another attractive installation which is moving and captivating.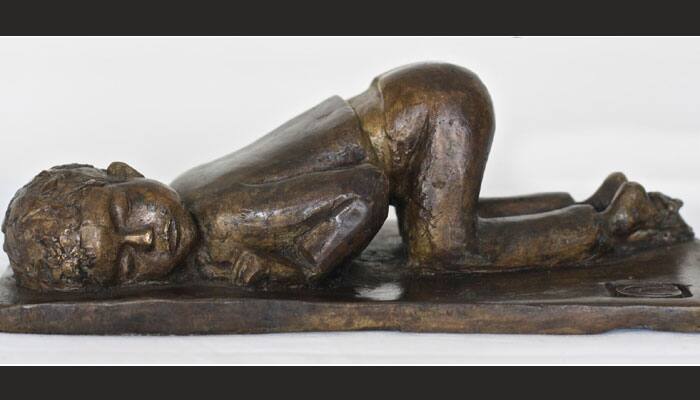 ('Asleep Toddler' by Christine Margotin)
French artist Christine Margotin's works are modern and realistic. Her bronze installations have a beautiful life-like quality to them. Love, Childhood, Indian Roads, Spirituality, Water are some of her favourite themes she likes to work with. But it is the artist's installations focussed on the theme of childhood and everyday moments associated with it that stand out and are immediately recognizable.
'After the nap', 'Asleep Toddle', 'Joie de vivre', 'Tantrum' and 'Little Street Acrobat' are some of her works that are inspirational, engrossing and emanate warmth, energy associated with childhood.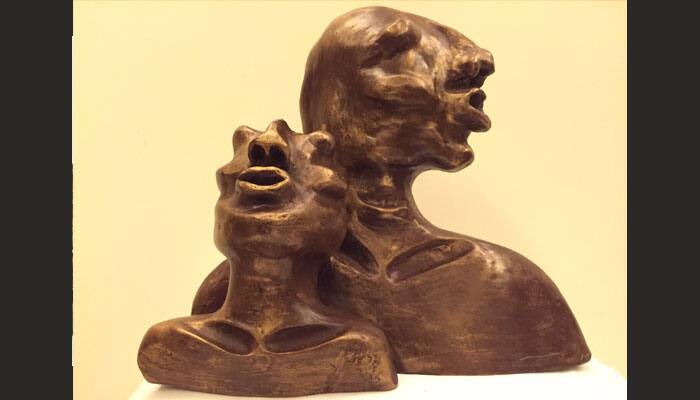 ('Soulmates' by Geeta Juneja)
Artist Geeta Juneja's works have a delicate, sensuous and dreamlike air about them. And rightly so, for in her words "every piece has a bit of me in it."
"I could actually tell you what I was thinking while creating each one. My works are an extension of my feelings at a particular moment," said the artist, who is a literature graduate and also a trained interior designer.
'The Temptress', 'Soulmates' and 'Vanity' depicting various facets of one's personality and man-woman relationship are some of her fibre glass installations that remain committed to your memory for their powerful, evocative quality.
The most interesting part of this exhibition is that the works of all three women are so unique and gripping that "even if one were to mix the installations, you can point out which belongs to which", pointed out Christine reading my mind as if on cue, during our interaction.
"There is no clash; we don't run over each other's language even though the underlying theme is the same. One of the main reasons we got together for this show," added Sheela.
For an art enthusiast, what could be better than experiencing three different artists giving form to human expressions and sensibilities in their highly individualistic styles under one roof!
The exhibition is still on at Triveni Kala Sangam till January 29. I strongly recommend a visit for those who long to see good art and more importantly works of contemporary sculptors on display.