Pneumonia, which kills 1.6 million children under five and sickens 155 million each year, is the single biggest cause of child deaths, claiming more young lives than AIDS, malaria, and measles combined.
However, many of us remain unaware of the number of deaths caused by the disease worldwide.
On the occasion of World Pneumonia Day, which is celebrated every year on November 12, Salome Phelamei of Zee Media talked to Dr Sanjay Mehta, MBBS, MD (Paed.), Kalawati Saran Children's Hospital, Delhi, about the extremely dangerous disease and how it can be prevented in children.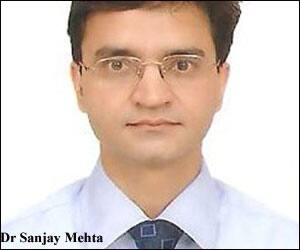 What is pneumonia? How does it spread?
Pneumonia is an inflammation of parenchyma of the lungs. In most cases, the disease is caused by microorganisms (airborne infections). But there are several non-infectious causes- through aspiration of food and milk, foreign body, drugs, hypersensitivity reaction etc.
Is pneumonia contagious?
Yes, pneumonia is contagious; most of the cases are airborne which could be either virus, bacteria or fungus.
What are the signs and symptoms of pneumonia in infants?
Signs and symptoms:
Most viral and bacterial pneumonia are preceded by symptoms of nasal discharge and cough. Fever is usually present. Tachypnea is most consistent clinical manifestation. Increased work of breathing, retraction, nasal flaring and use of accessory muscles are other symptoms. Severe infection causes cyanosis and respiratory fatigue.
When should parents seek immediate medical care if their child is suffering from pneumonia?
Parents should seek immediate medical advice when the child with pneumonia is experiencing fast breathing rate, groaning, decreased oral intake, indrawing of lower chest (subcostal retraction) and cyanosis.
What are the risk factors for pneumonia in children?
Risk factors include lung disease such as asthma and cystic fibrosis; anatomic problems such as trachea – esophageal fistula; gastro esophageal reflux with aspiration; neurological disorders that interfere with protection of airways; immunodeficiency disease and hemoglobin pathies.
What are the treatment options for pneumonia in kids?
If the child is having only mild symptoms like fever, cough and otherwise child's oral intake is normal and there is no breathing difficulty, these cases can be treated at home with suitable antibiotics, plenty of fluids, steam inhalation and adequate nutritious diet.
However, if the child is having difficulty in breathing, groaning, not taking oral feed, then these patients have to be admitted to hospital and put on intravenous fluids, suitable intravenous antibiotics, oxygen and sometimes nebulization.
How safe are pneumonia vaccines? Who should not get it?
Pneumonia vaccines are absolutely safe. Whosoever is hyper sensitive to a particular component of a vaccine, shouldn't not be vaccinated.
How serious is the case in India? Is the government doing enough in this regard?
Pneumonia is the leading cause of death among children in developing countries, including India. WHO estimates that one in three new born infant deaths is due to pneumonia. About half of these deaths can be prevented as they are caused by the bacteria for which an effective vaccine is available.
The government of India is training paramedical staff for early detection and treatment of pneumonia through ARI control program. The government of Delhi has started giving Hib vaccine to each and every child free of cost.
How has the disease affected the lives of Indian children?
Pneumonia is a significant cause of child mortality in India. These mortalities can be decreased by vaccination, proper hygiene, sanitation and healthy nutritious diet.
What are the challenges that India face in tackling pneumonia?
Early diagnosis and early intervention are very important in decreasing mortality for which paramedical staff should be well trained. Although the Delhi Government has started Hib vaccine free of cost, it is not at national level and moreover, few pneumococcal are very costly which are not included in government vaccination schedule.
How can pneumonia in children be prevented?
Most important thing in preventing pneumonia is proper vaccination. There are various vaccines available for preventing pneumonia like – Hib (Hemophilus influenza type b), Prevernar-13/synflorix (Pneumococcal polysaccharide conjugate vaccine).