Big Blow to PSG as Kylian Mbappe Ruled out for 3 Weeks due to Thigh Injury, Will Miss Champions League tie vs Bayern Munich
Kylian Mbappe, the star PSG striker, will be unavailable for the club for the coming three weeks due to a thigh injury he sustained in the Ligue 1 clash on February 1.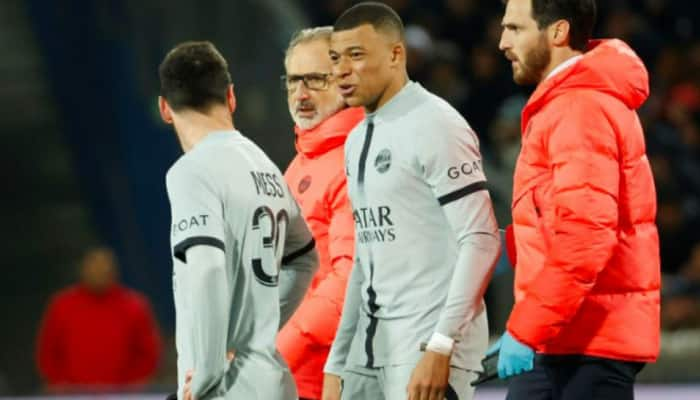 PSG have received a big blow in form of an injury to their star French striker Kylian Mbappe which ruled him out for 3 weeks on Thursday, February 2. The PSG forward had to miss the second half of the Ligue 1 clash at Montpellier after sustaining the injury in the match, which the club won 3-1 on Wednesday, February 1. Mbappe will miss the Bayern Munch tie in the Champions League as well as French Cup Last-16 match vs Olympique de Marseille. Not to forget, PSG play 5 matches between February 4 and 19 and Mbappe will be absent in all these games. "After undergoing tests, Kylian Mbappe suffered an injury to the left thigh at the level of the femoral biceps," PSG said in club statement.
Also Read | Kylian Mbappe become first-ever footballer to score 5 goals for PSG in one match, WATCH
PSG defender Sergio Ramos is also injured but he has not yet been ruled out. The club said that Ramos will undergo further tests on Thursday before a final call is taken over his fitness.
PSG was awarded a penalty in the seventh minute via video replay when central defender Christopher Jullien was adjudged to have pulled back Sergio Ramos. Goalkeeper Benjamin Lecomte saved Mbappe's first effort and, after the referee ordered it to be re-taken, made an outstanding save to push Mbappe's effort onto the right post.
Medical update.@Aspetar — Paris Saint-Germain (@PSG_English) February 2, 2023
Mbappe somehow missed an open goal when the rebound fell to him and he fired the ball high over the crossbar.
The World Cup star went off midway through the first half moments after clutching his right leg below the knee following a challenge. TV cameras also showed him rubbing the back of his left thigh as he walked to the dressing room.
Mbappe sat down and pointed to his leg following a challenge. He was substituted in the 21st and was able to walk off the field unimpeded despite staff members offering assistance. The veteran central defender Ramos went off injured after about 30 minutes. PSG faces Bayern Munich in the first leg of their round-of-16 match in the Champions League on February.
With PTI inputs
Live Tv