New Delhi: Bharatiya Janata Party's (BJP) patriarch and former prime minister Atal Bihari Vajpayee was on Monday admitted to All India Institute of Medical Sciences (AIIMS) for "routine check-up" and his condition is "stable", according to a statement from the hospital.
"He is stable. A team of doctors under the supervision of Randeep Guleria, Director, AIIMS are conducting tests," AIIMS said in its statement. Guleria, who is a pulmonologist, has been a personal physician to Vajpayee for many years.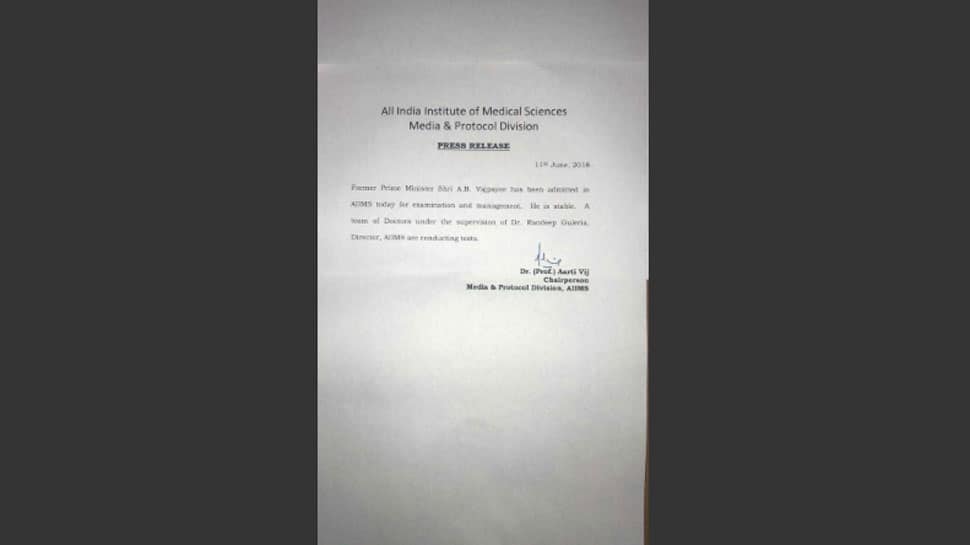 Union Health Minister JP Nadda, at a press meet on achievements of his ministry in the last four years, too, said Vajpayee was admitted for routine check-ups. 
Meanwhile, Prime Minister Narendra Modi, BJP chief Amit Shah, senior party leaders LK Advani and Rajnath Singh and Congress president Rahul Gandhi, among other leaders, visited him in the hospital. The PM interacted with family members of Vajpayee and spoke to his doctors.
PM @narendramodi visited former Prime Minister Shri Atal Bihari Vajpayee at AIIMS today. He was at AIIMS for about 50 minutes.

The Prime Minister interacted with family members of Shri Vajpayee. He also spoke to doctors and enquired about the health of Shri Vajpayee. pic.twitter.com/CctZYDJV8o

— PMO India (@PMOIndia) June 11, 2018
Delhi: Union Home Minister Rajnath Singh & senior BJP leader LK Advani arrive at All India Institute of Medical Sciences (AIIMS) to visit former PM Atal Bihari Vajpayee. pic.twitter.com/7Ur3Q28CIn

— ANI (@ANI) June 11, 2018
Congress President Rahul Gandhi visited All India Institute of Medical Sciences (AIIMS) to meet former PM Atal Bihari Vajpayee, who is currently admitted there for a routine-check-up. pic.twitter.com/fiIECqbxJy

— ANI (@ANI) June 11, 2018
On 25 December 2014, Vajpayee was awarded the Bharat Ratna - India's highest civilian honour. The then President Pranab Mukherjee had conferred the award to Vajpayee at his residence on 27 March 2015.
#PresidentMukherjee conferred Bharat Ratna on Shri Atal Bihari Vajpayee this evening pic.twitter.com/wNUObPxTXl

— President Mukherjee (@POI13) March 27, 2015
Vajpayee was thrice elected the PM between 1996 and 1999 and is the only non-Congress prime minister to complete the full term of five years, from 1999 to 2004. Along with senior party leader, LK Advani, Vajpayee took the BJP from two seats in the Lok Sabha to power at the Centre. He has retreated from active politics over the last few years due to failing health conditions. 
Vajpayee first entered the Lok Sabha in 1957. He was then elected to the 5th, 6th and 7th Lok Sabha and again to the 10th, 11th 12th and 13th and to Rajya Sabha in 1962 and 1986. In 2004, he won from Lucknow in Uttar Pradesh for the fifth time consecutively.
At age 93, he is currently the oldest living former PM.