Bharat Jodo Yatra Concludes, Rahul Gandhi Hoists Tricolour at Srinagar's Lal Chowk
Many local politicians of other parties also marched with the Congress leader during his March to Lal Chowk.
Congress leader Rahul Gandhi concluded the Bharat Jodo Yatra
Gandhi hoisted the national flag at Srinagar's historic city centre, Lal Chowk
Many local politicians of other parties also marched with the Congress leader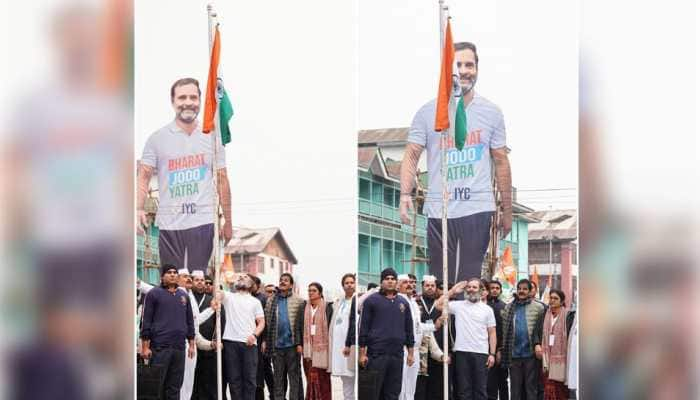 Lal Chowk: Congress leader Rahul Gandhi concluded the Bharat Jodo Yatra on Sunday (January 29) after hoisting the national flag at Srinagar's historic city center, Lal Chowk. Bharat Jodo Yatra started Sunday morning after Rahul Gandhi and other senior leaders left their night stay at Pantha Chowk on the outskirts of Srinagar city. Many enthusiastic locals came out to greet Rahul while elderly women hugged and blessed him. Many local politicians of other parties also marched with the Congress leader during his March to Lal Chowk. He is scheduled to address a party rally at the Congress headquarters in Srinagar city later in the day. While unfurling the flag, Rahul Gandhi said a "promise" made to India has been fulfilled.
लाल चौक पर तिरंगा लहराकर
भारत से किया वादा आज पूरा हुआ।

नफ़रत हारेगी, मोहब्बत हमेशा जीतेगी,
भारत में उम्मीदों का नया सवेरा होगा। pic.twitter.com/8B6vAk3aL6 — Rahul Gandhi (@RahulGandhi) January 29, 2023
Rahul Gandhi, along with his sister and Congress general secretary Priyanka Gandhi Vadra, party leaders, and workers, resumed the final lap of the yatra in Jammu and Kashmir from Srinagar's Pantha Chowk around 10:45 am. Those part of the march walked for about eight kilometers to Sonwar raising slogans such as "Jodo Jodo Bharat Jodo", and along the way, were cheered and greeted by locals.
Also read: J&K Being run by 'Bahar Ke Log', Says Rahul Gandhi; 'The Kashmir Files' Director Vivek Agnihotri Reacts
Within a multi-layer security ring, Gandhi, in a white T-shirt which he has sported for most of the over 4,000-kilometre yatra from India's southern tip, waved at people as yatris, including a large number of women, carrying the tricolour and Congress flags, moved towards Sonwar.
The security for the 10-minute event was at its peak as all roads in a one-kilometer radius leading to the chowk, which holds symbolic importance for the city, were sealed off from Saturday night and no vehicular movement was allowed.
#WATCH | Jammu and Kashmir: Congress MP Rahul Gandhi unfurls the national flag at Lal Chowk in Srinagar. pic.twitter.com/I4BmoMExfP — ANI (@ANI) January 29, 2023
Barricades were set up and concertina wires were installed at all entry points with a heavy deployment of security personnel, while shops, business establishments, and the weekly flea market were closed as part of the security exercise.
After reaching their destination, Gandhi, Priyanka Gandhi, and other senior party leaders drove to the party's headquarters at M A Road here. Later, they headed to Lal Chowk, where the former Congress president unfurled the national flag.
"By hoisting the tricolour at Lal Chowk, the promise made to India was fulfilled today. Hate will lose, love will always win. There will be a new dawn of hopes in India," Gandhi tweeted in Hindi after the event.
The yatra, which was launched on September 7 last year in Kanyakumari, has traversed 12 states and two Union Territories. It will culminate with the hoisting of the national flag at the Congress office here on Monday. Yatris of the foot-march led Gandhi will halt for the night at the Nehru Park here.
On Monday, a public rally will also be held at the SK Stadium for which 23 opposition political parties have been invited by the Congress.
Earlier in the day, All India Congress Committee general secretary, in-charge communications, Jairam Ramesh on Twitter said the flag unfurling was planned for Monday but had to be done a day earlier.
"@RahulGandhi was supposed to unfurl the national flag on Jan 30th in the PCC office, since permission to do so elsewhere wasn't given. Last evening, state administration allowed him to do so in Lal Chowk, but under the condition that it should be done today on 29th at end of #BharatJodoYatra," Ramesh tweeted.
The 'Bharat Jodo Yatra' has traversed through Tamil Nadu, Kerala, Karnataka, Telangana, Andhra Pradesh, Maharashtra, Madhya Pradesh, Rajasthan, Haryana, Delhi, Uttar Pradesh, Punjab, Himachal Pradesh, and Jammu and Kashmir.
On Friday, the yatra was cancelled for the day in Anantnag district after the party alleged a security lapse, saying police arrangements by the Jammu and Kashmir administration "completely collapsed." The administration had said pressure on security resources due to the size of the crowd, larger than planned, may have created an impression of a lack of security arrangements during the Rahul Gandhi-led march.
It resumed in Pulwama district's Awantipora on Saturday and Gandhi was joined by PDP chief Mehbooba Mufti, her daughter Iltija Mufti and a large number of workers in the march. Priyanka Gandhi also joined her brother in the yatra later.
(With inputs from agencies)
Live Tv