Ekal Vidyalaya Sangathan will help in realizing Gandhiji's ideals of Gram Swaraj: PM Modi
Highlighting the fact that the Sangathan has been awarded Gandhi Peace Prize due to its commitment towards social service and for being an inspirational role model for the whole country, PM Modi said the Union Government is also working enthusiastically for better Education and Skill development in India.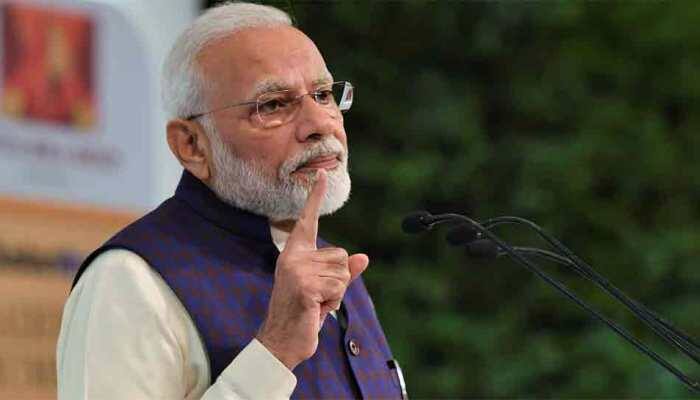 New Delhi: Prime Minister Narendra Modi on Friday (December 6) congratulated Ekal Vidyalaya Sangathan on reaching the figure of 1 lakh schools across India, and lauded their effort for spearheading the 'Ekal School Abhiyan' to promote the education among rural and tribal children.
Addressing the Ekal Vidyalaya Sangathan, Gujarat through a video message, the Prime Minister appreciated the Sangathan volunteers for their role in Nation building by imparting education and awareness to more than 2.8 million rural and tribal children who reside in the remotest locations across India and Nepal.
Highlighting the fact that the Sangathan has been awarded Gandhi Peace Prize due to its commitment towards social service and for being an inspirational role model for the whole country, PM Modi said the Union Government is also working enthusiastically for better Education and Skill development in India.
Through a video message, addressed the Ekal Vidyalaya Sangathan. Congratulated them on crossing 1 lakh schools across India. This team is doing exceptional work to further education, especially among rural and tribal areas. https://t.co/fMcwBUtsnk — Narendra Modi (@narendramodi) December 6, 2019
"Schemes like scholarship for scheduled tribe's children, Eklavya Model residential school, Poshan Abhhiyan, Mission Indradhanush, and school holidays on the occasion of tribal festivals etc have helped not only in checking the school dropout rates but also promoted the holistic development of children," he said.
He suggested that to celebrate the 75 years of Independence in 2022, the Sangathan should encourage its schoolchildren to organize special skits, musical competitions, debates and discussions to highlight the role of tribes in the Indian Freedom Movement. "The competitions may start this year and complete with an all-encompassing national level competition in 2022. He added that the Ekal family may also organize a Khel-Mahakhumbh (sports fiesta) of traditional Indian sports," the PM added.
Modi also presented the idea of pairing private and public schools wherein students from rural backgrounds will learn from their urban counterparts and vice versa, thus boosting the idea of 'Ek Bharat Shrestha Bharat'.
Appreciating the use of e-education and digitization by Ekal Sansthan, Modi said that the organization may also come up with a single real-time dashboard for monitoring the progress of all the Ekal Vidyalas in a comprehensive way.
Reminding the audience that the day coincides with the 'Punya Tithi' of "Dr Baba Saheb Ambedkar" PM highlighted that Ekal Sangathan has succeeded in realizing Baba Saheb's dream of imparting equal education to girls and boys.
"As India completes 75 years of Independence, the success of Ekal Sangathan will help in realizing Gandhiji's ideals of Gram Swaraj, Social Justice of Baba Saheb, Antyoday of Deen Dayal Upadhyay and Swami Vivekanad's dream of a Glorious India," Modi added.
Ekal Vidyalaya is a Movement involved in the integrated and holistic development of rural and tribal India and Nepal. The main activity undertaken in this movement is to run one-teacher schools (known as Ekal Vidyalayas) all over India, in the remotest rural and tribal villages to take the education to every child.
Education in India and Ekal Vidyalaya's role
While India is making giant advances in software, space, and nuclear power, it is paradoxically still struggling with basic literacy for a large segment of its population. At the time of independence, India's literacy rate was a staggering 11%. Since then, it has made tremendous strides in educating its people. According to a 2011 census, the literacy rate has grown to 74.04%, but this figure is still below the world average literacy rate of 84%.
According to the RGI census data, though the gap between the literacy rate in urban and rural areas is steadily declining, the divide still exists. The literacy rate among the urban population is 84.1%, while the same in the rural population is only 67.8%.
The tribal/rural inhabitants live in remote areas, far from major cities. Those areas are highly deprived of basic amenities, modern facilities, and even basic infrastructure, especially on the operational level. These areas are often non-reachable by road and hence neglected by development agencies. In this scenario, the Ekal Vidyalaya Movement emerged as the most pragmatic solution to this National Need.
In the late 1980s, children in rural and tribal India did not have many options for getting an education. According to the census in 1981, only 38% boys and 25% girls in rural India between the age group of 6 to 10 years attended school. This is attributed to several reasons, such as the lack of interest in education, economic barriers, socio-cultural reasons, gender biases and non-availability of accessible schools as stated in the survey of 1986.
Ramamurthy Committee report played an important role in strategizing and setting directions for Ekal Movement. The committee pointed out that "the rural areas in general and the tribal areas in particular, have suffered in terms of resources, personnel, and infrastructure facility. This phenomenon of regional disparities in educational development has acquired a major political dimension in the current Indian scene. It is reflected in the regional and sub-regional movements."
The committee pointed out that "No more will a patch here or a patch there will do. The need of the hour is a People's Movement for a New Education, not for a few but for all".
Ekal founding volunteers started working with rural and tribal communities as the need indicated in Rammurthi Committee Report and inspired by Swami Vivekananda that if a child cannot come to school than school must reach the child.
Reach and Role of Ekal Vidyalayas
Presently, Ekal Vidyalaya is a movement of over 1,01,417 teachers, 8,103 voluntary workers, 35 field organization (throughout 26 Indian states), and 8 support agencies. It operates in over 1,01,417 schools and educates more than 2.7 million children.
Apart from its goal of achieving the national standards of Minimum Level of Learning, Ekal Vidyalaya seeks to empower the village community for its own self-development through five verticals of Functional Education, Healthcare Education, Development Education, Empowerment Education and Ethics and Value Education.
Ekal Vidyalaya's goal is to nearly double the current number of schools to 100,000, providing education to over 3 million children. The dedication of the donors, supporters, and fulltime Sevavrati volunteers of Ekal Vidyalaya is the key to this Movement's remarkable success.
Ekal Vidyalayas presented solutions to the many issues surfaced in the survey of 1986. They first introduced the joyful learning system which is a non-formal method of teaching. In terms of economic barriers, it follows a low-cost model driven by volunteers. The Ekal schools' schedules are based on convenient hours recommended by Gram Samiti, allowing time to children for household economic activities and domestic chores to be completed.
Lastly, Ekal brings the schools and teachers directly to the villages, overcoming the issue of inaccessible schools.
Despite a tremendous increase in rural children attending school after the Sarva Shiksha Abhiyan and RTE, there is a continued need for Ekal schools as indicated in several reports of Union Ministry of HRD on poor learning outcomes among rural and tribal children.