Heinous! Elephant electrocuted in Chhattisgarh after coming in contact with live wire laid by poachers
Efforts were on to trace those who had laid the wire and a dog squad was deployed for the purpose.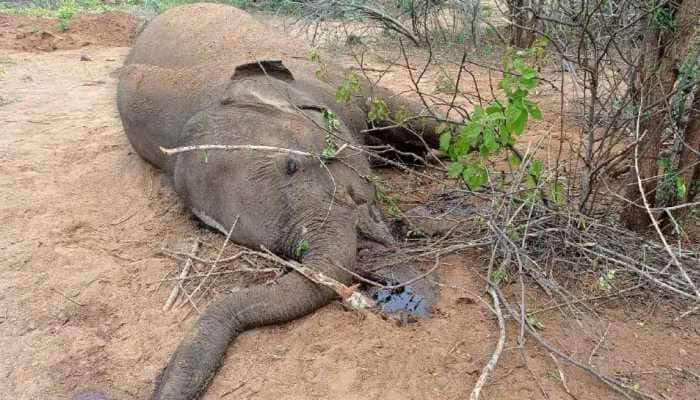 Mahasamund: Human-animal conflict has been on a rise ever since in India. The country has faced many instances where numerous animals have lost their lives as poachers laid a trap for them. Recently, another human-animal conflict incident took place in Chhattisgarh where an elephant died of electrocution in Chhattisgarh's Mahasamund district after it came in contact with a live wire laid by poachers to trap wild animals, a forest official said on Sunday. The incident took place on Saturday night near Kodar dam in Mahasamund forest range when two male jumbos, named ME-1 and ME-5, were moving through the area, Divisional Forest Officer, Mahasamund division, Pankaj Rajput said.
The two tuskers had entered Mahasamund from the neighbouring Gariaband district on January 6 and were heading towards the Sirpur area, he said. When the elephants were in the area which comes under the Forest Development Corporation near Kodar dam, ME-5 came in contact with a live iron wire laid for the purpose of poaching wild animals and got electrocuted, the official said. The wire was connected to an 11KV electricity supply line, he said.
Also read: Elephant chases off group of people in Assam's Goalpara, watch viral video
Soon after being alerted, forest personnel rushed to the spot and sent the carcass for an autopsy, he said. Efforts were on to trace those who had laid the wire and a dog squad was deployed for the purpose, he added. Chhattisgarh has reported the death of more than 70 elephants in the last five years due to various causes like ailments, old age, and electrocution, officials said.
Further, on December 26, 2022, a male elephant was found electrocuted in Tamil Nadu's Tirunelveli district while attempting to uproot a palm tree, as per reports. Electrocution is the leading cause of death for elephants in India. In the past five years, 348 elephants have died from electrocution in India.
(With inputs from PTI)
Live Tv