Anti-Citizenship Act protests live updates: Congress urges PM Modi to convene all-party meet on Assam situation
The Citizenship Amendment Bill was passed by the Parliament earlier this week and has now become an Act following President Ram Nath Kovind's nod.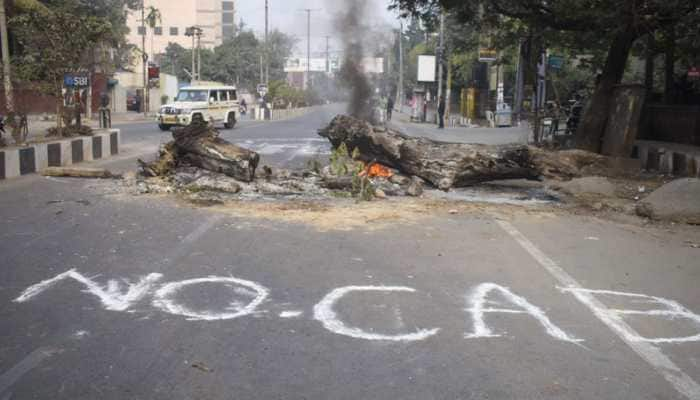 LIVE Blog
New Delhi: The district administration has relaxed the curfew in Assam capital Guwahati and Dibrugarh till 1 pm as the region returns to normalcy following protests against the Citizenship Amendment Bill (CAB). The decision was taken keeping in mind the inconvenience faced by people in the area. However, the internet services remain suspended in 10 districts
CAB was passed by the Parliament earlier this week and has now become an Act following President Ram Nath Kovind's nod.
Earlier on Wednesday, Guwahati and Dibrugarh were brought under curfew till further orders in the wake of protests that intensified after the Bill was cleared by the Parliament on Wednesday.
Amid the unrest, Prime Minister Narendra Modi assured the people of Assam that "no one can take away their rights, unique identity and beautiful culture".
Here are the live updates on Citizenship Amendment Bill protests:
15:19 PM
Disappointed with CAB, ''big danger'' for indigenous people, says Bhaichung Bhutia.
15:18 PM
Congress'' Debabrata Saikia requests Assam Assembly Speaker to call special session over CAB.
15:17 PM
Japan Pm Shinzo Abe cancels India trip. (Read more)
15:17 PM
Leader of Opposition (LoP) in Kerala Assembly Ramesh Chennithala on Friday said he has decided to join the case against Citizenship Amendment Act which was filed by the Indian Union Muslim League (IUML) in the Supreme Court.
15:17 PM
Stating that the situation in the Northeast states was disturbing and Army action was not the answer, the Congress Party has asked the government to convene an all-party meeting to discuss the issue.
 
12:43 PM
Union Minister Kiren Rijiju on protests against Citizenship Amendment Act: Some elements may try to create violence but northeastern people are peace-loving, protests are also taking place but there are ways & means of protesting. Some have tried to take advantage of the situation.
11:24 AM
No instance of violence reported in Assam since morning. On the other hand, protestors have begun a hunger strike demanding withdrawal of CAB
11:24 AM
Guwahati received a fresh coat of paint ahead of the Indo-Japanese summit. All walls were painted in yellow. But, agitators protesting against the CAB have destroyed the walls with No CAB slogans.
11:24 AM
Amidst a relaxation in curfew in Guwahati and Dibrugarh till 1pm, Army columns and paramilitary continues to carry out flag marches cross the city to prevent any instances of violence in the city.
10:27 AM
Japan PM Shinzo Abe may cancel India visit amid Citizenship Act protests.
10:27 AM
The Bill seeks to grant Indian citizenship to refugees from Hindu, Christian, Sikh, Buddhist and Zoroastrian communities fleeing religious persecution from Pakistan, Afghanistan, and Bangladesh and who entered India on or before December 31, 2014. 
10:27 AM
Assam Chief Minister Sarbananda Sonowal has urged people to maintain peace and asserted that the Central government was committed to implementing Clause 6 of the Assam Accord to protect the state`s cultural and linguistic identity.
10:26 AM
On Thursday, violent protests rocked Assam and other northeastern states against the controversial Bill that was passed by the Parliament earlier this week.
10:26 AM
Internet services remain suspended in 10 districts - Lakhimpur, Tinsukia, Dhemaji, Dibrugarh, Charaideo, Sivasagar, Jorhat, Golaghat, Kamrup (metro) and Kamrup.