New Delhi: The World Bank has announced a USD 200 billion in climate action investment for 2021-25, news Agency AFP has reported. World Bank has added that this amounts to a doubling of its current five-year funding.
"Developed countries are committed to lifting combined annual public and private spending to USD 100 billion in developing countries by 2020 to fight the impact of climate change -- up from 48.5 billion in 2016 and 56.7 billion last year, AFP, giving latest estimates of OECD data wrote.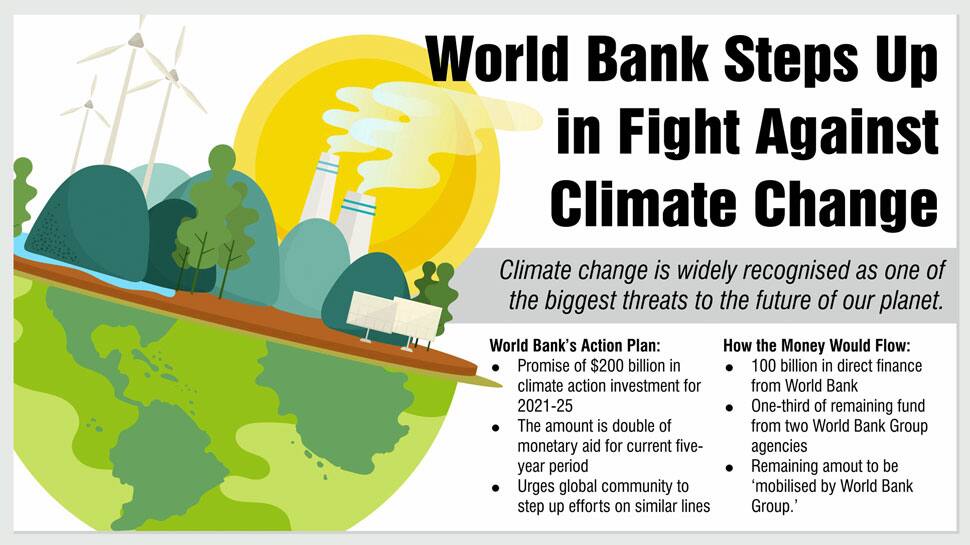 AFP quoting WB statement said, the breakdown of the USD 200 billion would comprise approximately USD 100 billion in direct finance from the World Bank while around one third of the remaining funding will come from two World Bank Group agencies with the rest private capital "mobilised by the World Bank Group".
The bank's financing package amounts to "about 40 billion a year, but the direct (finance) is 27 billion per year on average",  John Roome, World Bank senior director for climate change,
He added that in the 2018 fiscal year, running from July 2017 to June this year, the World Bank had committed USD 20.5 billion to climate action, compared with an annual average of USD 13.5 billion for the 2014-2018 period, the AFP quoted.
Roome said the money now being earmarked amounted to "about 35 per cent" of the World Bank Group's total financing.
(With AFP Inputs)