The ruling Bharatiya Janata Party (BJP) and the opposition Congress party have been indulged in 'pakoda' politics since Prime Minister Narendra Modi's statement on a 'pakoda' shop owner being employed. Taking it to the next level, Congress president Rahul Gandhi on Monday took a 'pakoda' break during his visit to poll-bound Karnataka.
The Congress chief took the 'pakoda' break in Kalmala village of Raichur district in Karnataka. He was accompanied by Karnataka Chief Minister Siddaramaiah and senior Congress leaders M Veerappa Moily and Mallikarjun Kharge.
Pictures of the same have also surfaced: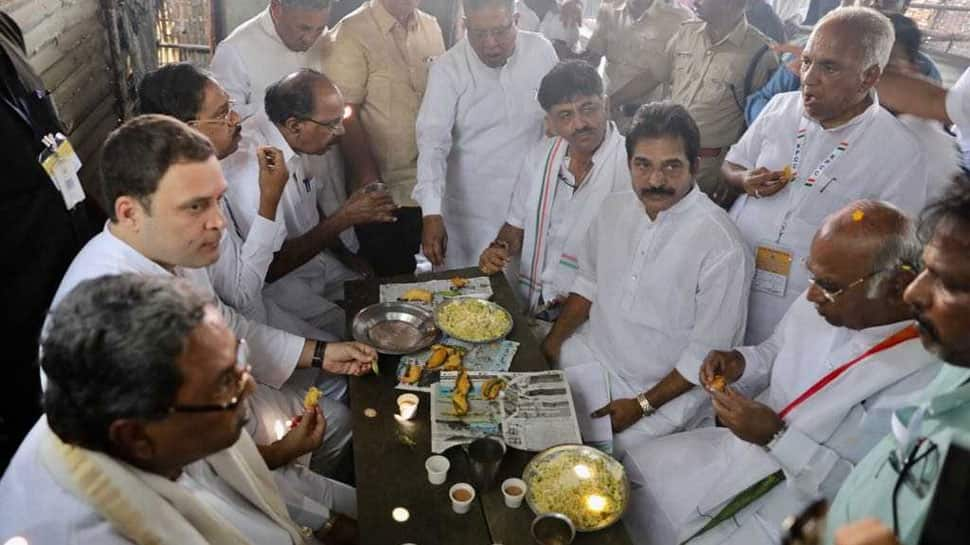 It all started when, in an interview with Zee News, Prime Minister Narendra Modi said, "If someone opens a 'pakoda' shop in front of your office, does that not count at employment? The person's daily earning of Rs 200 will never come into any books or accounts. The truth is many people are being employed."
Senior Congress leader and former Union minister P Chidambaram was quick to hit back at the Prime Minister saying that if selling pakoda is a job, so is begging. In a series of posts on micro-blogging site Twitter, Chidambaram had said that the NDA government was clueless about creating jobs.
Taking a dig at PM Modi, Chidambaram said that he should understand that there is a marked difference between job and self-employment as the former is "regular and reasonably secure".
In a firm rebuttal to the PM's contention, Chidambaram tweeted, ''Even selling pakodas is a 'job' said PM. By that logic, even begging is a job. Let's count poor or disabled persons who are forced to beg for a living as 'employed' people."
Later, BJP president Amit Shah hit back at the Congress during his maiden speech in Rajya Sabha. He said that selling pakoda was not shameful, and in fact better than unemployment. Hitting out at Chidambaram, Shah had said, "Some people are saying things about selling pakodas. I also read P Chidambaram's tweet. Yes, I agree that selling pakodas is better than being unemployed."
"Making and selling pakodas is not shameful, but equating it with begging is certainly shameful," Shah said.
"Today if a person is earning livelihood by selling pakodas, tomorrow his son would become a big industrialist. A tea vendor's son can become the Prime Minister of this country," he added.