NEW DELHI: Bharatiya Janata Party chief Amit Shah on Tuesday made an inadvertent error by saying that BJP's Yeddyurappa 'ran the most corrupt government ever'. Soon after, the short clipping of the faux pas was tweeted by Congress President Rahul Gandhi calling it 'a sneak preview of our top secret campaign video!' "Gifted to us by the BJP President, our campaign in Karnataka is off to a fabulous start. He says Yeddyurappa ran the most corrupt Govt ever...," Rahul had tweeted.
Hitting back at the Congress, the BJP called Rahul 'silly' for basing its party's campaign on a 'slip of tongue'. "You prove your silliness by wanting to base your campaign on a slip of tongue! Btw, unlike you, we have no secrets, we believe in complete transparency. Visit https://twitter.com/RahulGandhi to know our star campaigner, gifted to us by India's most corrupt dynasty," BJP Karnataka tweeted.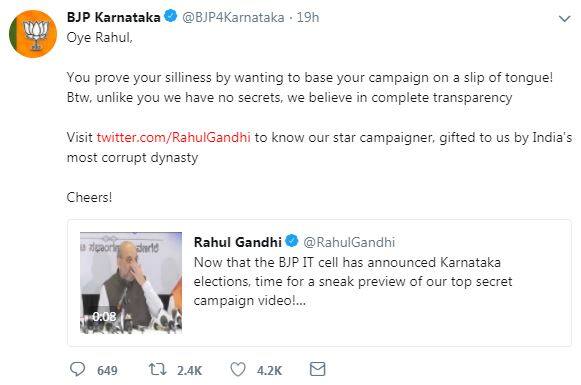 However, BJP in its reply addressed the Congress chief as 'Oye Rahul', something that Twitterati raised an objection to. 
Dear @BJP4Karnataka you are doing great & i have been a fan of whoever is operating this account, Now please don't spoil it by using words like 'Oye Rahul' & maintain the dignity of the official account. Many might disagree but I felt like saying this.

— Bhaiyyaji (@bhaiyyajispeaks) March 27, 2018
Oye Rahul ?? Seriously ! What a level of politics _

— Abhishek kumar (@mpbsvs) March 28, 2018
I don't think it is right language used by a national party office against Congress president..."Oye Rahul" @narendramodi_in pic.twitter.com/rNHZlSqB64

— Niranjan Sinha (@sinha_nir67) March 28, 2018
Amit Shah made the mistake on Tuesday when the Assembly election dates were announced in Karnataka. The BJP chief was caught on camera saying that 'Yeddyurappa ran the most corrupt government ever'. "If there were ever a competition for the most corrupt government then the Yeddyurappa government would come first". Shah was immediately informed about the gaffe following which he corrected himself.
Yeddyurappa served as the chief minister of the Karnataka during the first BJP-ruled government in the state in 2008. However, he had to step down from his post in August 2011 after corruption allegations were levelled against him.
Karnataka Chief Minister Siddaramaiah also took a jibe on Shah saying: "He (Amit Shah) has spoken the truth and he is right."
The assembly elections will be held in Karnataka in a single phase. Voting will be held on May 12, and the results will be declared on May 15.