21 July 2015, 17:25 PM
Apart from Mumbai, the neighbouring Thane district received 143 mm rain in the last 24 hours while Thane city alone got 85 mm downpour. Besides, Kalyan recorded 195 mm rain, Bhiwandi 195 mm, Shahapur 138 mm, Ulhasnagar 150 mm, Ambernath 142 mm and Murbad 98.50 mm, according to official figures.
21 July 2015, 17:22 PM
We are having good to very good clouding at the offshores and expect good rainfall in next 48 hours, says Indian Meteorological Department (IMD) Mumbai centre's director VK Rajiv.
21 July 2015, 14:48 PM
As per media reports, 29.5 mm rain has been recorded in Mumbai between 8.30 am and 12 noon.
21 July 2015, 14:45 PM
Services have now been restored on the Bandra-Andheri section of the western line. Trains are, however, running with a delay of 20-25 minutes.
21 July 2015, 14:44 PM
Western Railway has tweeted that extra local trains will be run from Mumbai Central to Borivali to connect Karnavati and Double Decker trains.
Extra local trains to be run from Mumbai Central to Borivali to connect Karnavati & Double Decker trains.

— Western Railway (@WesternRly) July 21, 2015
Update at 12.30hrs; WR suburban trains on Churchgate-Virar section are running normal

— Western Railway (@WesternRly) July 21, 2015
21 July 2015, 13:55 PM
IANS reports that all flights at Mumbai's Chhatrapati Shivaji International Airport suffered around 15 minutes of delay today due to low visibility but there were no cancellations.
21 July 2015, 13:17 PM
The MET department has issued a high tide warning for Mumbai. The high tide is expected to hit shores at 3.40 pm and is likely to be 3.98 metres high.
21 July 2015, 12:52 PM
Waterlogging has also been reported from Thane due to continuous heavy rains. Daily life of public has been affected, reports ANI.
21 July 2015, 12:49 PM
An advisory for air travellers in Mumbai:
Due to the #MumbaiRains we advise our passengers to leave early for the airport & to avoid traffic prone / water logged routes @TrafflineMUM

— CSIA (@CSIAMumbai) July 21, 2015
We recommend our passengers to kindly confirm their flight schedule with the respective airlines before they leave for the airport. 1/2

— CSIA (@CSIAMumbai) July 21, 2015
In case of any assistance or support when at the airport you can contact our helpline at 022-66851010. 2/2

— CSIA (@CSIAMumbai) July 21, 2015
21 July 2015, 12:47 PM
PTI has reported that a footwear shop was gutted in a fire in suburban Bandra this morning. Police said no one was reported hurt in the blaze that occurred in the shop on Link Road in Bandra (West), near a KFC outlet.
Prima facie, the fire is suspected to have been caused due to a short-circuit in the shop which was closed when the mishap occurred, police added. 
21 July 2015, 12:26 PM
Palghar District Collector Abhijit Bhangar today declared a holiday in schools and other educational institutions in the taluka on account of heavy rains. A total of 445 mm rainfall was recorded till 7 am this morning in Palghar.
As a precaution, all Mahavitaran (MSEB) feeders in Palghar city were shut down. The Palghar-Boisar road was closed due to water on road near ST Workshop, Umroli and Saravli.
21 July 2015, 12:23 PM
During the last 24 hours, Colaba in south Mumbai has received 15.8 mm rainfall while Santacruz weather station has recorded 61 mm downpour.
21 July 2015, 12:22 PM
PTI has reported that some express trains of Western Railway were cancelled today due to waterlogging. Also, local train services of Central Railway were suspended for a short while between Kurla and Chhatrapati Shivaji Terminus (CST) after tracks got submerged between Sion and Kurla.
The cancelled trains are Ahmedabad Express, Bandra-Surat Inter-city Express, Mumbai Central-Ahmedabad Shatabdi Express, Mumbai Central-Porbundar Express and Bandra Terminus-Vapi passenger train.
21 July 2015, 11:44 AM
A fire has broken out near a KFC restaurant at Linking Road, say reports.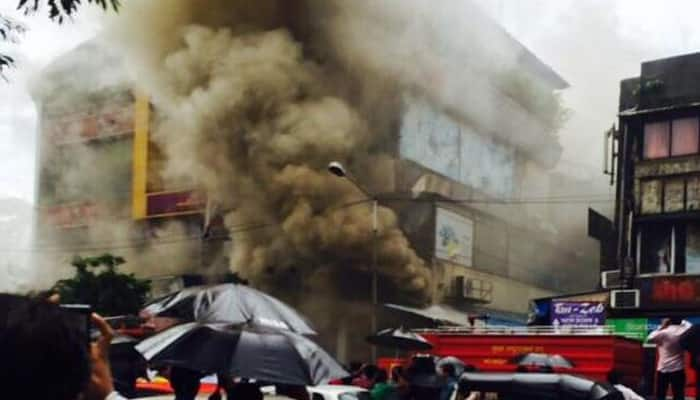 (Pic courtesy: Twitter / Priti Gandhi / @MrsGandhi)
21 July 2015, 11:37 AM
There are reports of traffic jam on the Western Express Highway in Andheri.
21 July 2015, 11:36 AM
Central Railway has tweeted that services on all four suburban line have resumed after brief halt.
21 July 2015, 11:35 AM
Several subways in the city are reported to be waterlogged. Public have been advised to avoid them.
Also, several BEST buses routes have been changed to avoid waterlogged areas, say news website reports.
21 July 2015, 11:32 AM
An elevated parking lot and adjoining wall have collapsed at Carter Road in Bandra due to heavy rains. No casualties have been reported from there.
21 July 2015, 11:31 AM
Commuters are reporting on social media that trains are terminating at Andheri station and not moving towards Bandra due to flooding on tracks afterwards. Same is the situation at Bandra station where trains are halting and not moving towards Andheri.
21 July 2015, 11:29 AM
There are reports of trees falling in several areas. Traffic jams are being reported from areas where fallen trees have blocked roads.
21 July 2015, 11:24 AM
Normal life was disrupted in Mumbai once again on Tuesday as heavy rains lashed the city.
Incessant rains beginning yesterday have caused waterlogging at several places.
According to DNA, waterlogging has been reported from low-lying areas like Hindmata, King Circle, Wadala, Sion, Matunga, Mahim, Kurla and Dharavi.
As per reports, suburban train services were also affected on the central and western lines.
Trains were running with a delay of upto 20 minutes on the western line while services on the central line have been delayed by about 30 minutes.
DNA reported that schools and colleges in Thane (rural) district have declared Tuesday as a holiday.