Lok Sabha 2019 election: Narendra Modi is the only gamechanger, says FM Arun Jaitley
With 16 days left for the first-phase voting, political parties are leaving no stone unturned to ensure their election strategy is absolutely perfect.
New Delhi: Political parties led by BJP and Congress have moved into top gear to ensure that their respective election machinery is functioning without flaw. On Tuesday, a day after the final day of filing nomination for the first phase of voting, political parties continued to take on each other in a bid to connect with voters across the country.
Campaigning is on in full swing with leaders from various national and regional parties reaching out to the masses. Promises, as expected, are galore to ensure electoral win in a country where 900 million people are eligible to cast their vote across one million polling stations.
Thank you for joining us. Do come again on Wednesday (March 27) for election live updates.
Here are updates from Tuesday (March 26):
* AAP's Gautam Buddh Nagar candidate Shweta Sharma fails to find proposers, nomination rejected.
* Satyadev Pachauri replaced Murli Manohar Joshi in Kanpur constituency.
* Political and economic ideology of the Communists have been rejected worldwide: Jaitley
* Jammu and Kashmir saw one community being pushed out of its homeland. But there was no hue and cry over it, says Finance Minister
* I pray that everyone has a political opponent like Rahul Gandhi: Jaitley
* If you take out lies and bluffs from Rahul Gandhi's speech, then he will have just three words to say: Arun Jaitley
* The voters are more capable than politicians and journalists. They know what is true, says Jaitley
* Even the IMF has accepted and agreed to the economic data released by our government, the opposition is not ready to believe it: FM
* I have two terms for the opposition - "compulsive contrarian" and "nawabs of negativity". They see no positive in India today: Jaitley
* India is the fastest growing economy in the world since 2014 when Modiji won the election. Show me a year from 1947 to 2013 when India was the fastest growing economy. Yet, the opposition alleges that our government has not done any development: Arun Jaitley
* We have not waived the loans of any business house as claimed by Rahul Gandhi, says Jaitley
* India was used to seeing an increase in tax rates. We implemented GST and now there is a uniform rate: FM Jaitley
* We have moved the tax system online and it has led to an end of corruption, says the Finance Minister
* Our policy on Pakistan is consistent. We want peace with Pakistan and its territory should not be used for terror activities against India. We not only crossed the LoC but entered deep into Pakistan to target terror camps. The entire world has accepted our stand. The day Pakistan stops exporting terror, it will lead to peace and betterment of relationship with us: Jaitley
* I am fully confident of Narendra Modi returning to power: Jaitley
* Pulwama attackers and masterminds were liquidated by our forces and the Army. Balakot air strike would have taken place even without Pulwama as there were intelligence reports of big terror camps with hundreds of terrorists being trained. The strike would have been carried out to kill them. We could not have been idle and waited for the terrorists too come here and then kill them: Jaitley
* Balakot was not just an act of revenge of Pulwama terror attack, says Arun Jaitley
* Where we should have been united on Balakot air strike, 29 opposition parties raised doubts about the air raid. They demanded proof and even alleged that Narendra Modi allowed Pulwama for political gains during Lok Sabha election. They were speaking in the same language as Pakistani Prime Minister Imran Khan. The fools (opposition leaders) here have played into the hands of Pakistan: Jaitley
* Surgical strike and air strike are turning points. They (Pakistan) have been sending terrorists across the LoC and we were talking about the sanctity of LoC for the last several years. Now we will not be on the back foot but play the game on front foot and target terrorists at the origin point: FM
* There is just one gamechanger in this election and his name is Narendra Modi. He is a strong leader, works for the development of the country, gives no space to the corrupt people and takes action on terrorism. There have been surgical strikes, air raids on terror camps and in this election, there is only one gamechanger: Arun Jaitley
* Opposition CM in Kerala has a Left government but it is implementing all the schemes of the Central government. Southern states are better. Two states which do not cooperate at all are West Bengal and Delhi: Jaitley
* Our government has already implemented several schemes to help the poor. They are enjoying all the benefits of the central government. Congress announced such loan waiver schemes in states it is ruling. But there is no progress: Jaitley
* Our government increased the tax base, did not increase income tax, in fact, it has come down. The data is available about every scheme and there has been a positive development in all the spheres, says FM
* Rahul Gandhi is bluffing. Jawaharlal Nehru and Indira Gandhi also gave similar slogans about removing poverty. Rajiv Gandhi was the "Mr Clean" and he became the prime minister but there were so many scams. Why did Congress not implemented such a scheme when it was in power for the last 50 years: Jaitley
* There is always a generational change and that is what is happening in BJP. There is no exception to this and this was decided way back in 2014, the Finance Minister said when asked about Advani and MM Joshi not contesting the Lok Sabha election
* On one side there is a leader who comes from a family where it is all about the dynasty. On the other side, we had a leader who came from a humble and poor background. He sold tea during his childhood to earn his living. All the dynasty-based parties were demolished in the last Lok Sabha election. The real change will be when even a common person will be able to become a minister due to his or her hard work and merit, Jaitley slams Congress
* Due to PM Modi's strong stand on corruption, the Congress president Rahul Gandhi started to abuse him, says Jaitley
* PM Modi has been a chowkidar for the last five years. He has been extremely strict on corruption and has acted against anyone who has been involved in scams: Jaitley
* Union Finance Minister Arun Jaitley speaks to Zee News Editor-in-chief Sudhir Chaudhary on Lok Sabha election 2019.
* Meanwhile, BJP has also announced list of 29 candidates for Uttar Pradesh and 10 candidates for West Bengal.
* Congress releases list of three candidates - two from Gujarat and one from Uttar Pradesh.
* BJP releases a list of 42 star campaigners for phase 1 and phase 2 of Lok Sabha poll from Bihar.
* Tollywood film actor Manchu Mohan Babu joins YSR Congress Party.
* Rajendra Gavit, BJP's sitting MP from Palghar Lok Sabha seat, has joined Shiv Sena. He will be Shiv Sena's candidate from Palghar: Uddhav Thackeray
* BJP has released a campaign song for PM Narendra Modi.
* At election rally in Sri Ganganagar, Rahul takes on PM Modi. "He says he is a chowkidar but have you ever seen poor families who have chowkidars. Only the rich have chowkidars. He is chowkidar of Anil Ambani and Nirav Modi."
* Jaya Prada joins BJP. As a member of Samajwadi Party previously, she had won the Rampur Lok Sabha seat in 2004 and 2009.
"I have worked in TDP and then for Samajwadi Party. Now, I have a chance to work with a heroic leader in Narendra Modi. I submit myself to this party and to the country," she said. "Whether it is cinema or politics, I have always given my best effort. I am grateful to the party for a warm welcome."
* A group of BJP workers raise slogans against party leader Ravi Shankar Prasad - BJP candidate from Patna Sahib - outside Patna airport. They also raised slogans in favour of BJP MP RK Sinha.
#WATCH Group of BJP workers protest outside Patna airport, raise slogans "Ravi Shankar Prasad, go back, go back! RK Sinha (BJP Rajya Sabha MP) zindabad, zindabad!" #Bihar #LokSabhaElections pic.twitter.com/mFBHaGdiCD — ANI (@ANI) March 26, 2019
* News agency ANI confirms that Jaya Prada will join BJP today.
* Delhi Congress chief Sheila Dikshit to address a press conference at 1500hrs.
* Footballer turned politician Bhaichung Bhutia, founder of Hamro Sikkim Party, to present the election manifesto today at 1600hrs. Bhutia is leading the opposition party in Sikkim against the longest serving Chief Minister and SDF party supremo Pawan Chamling.
* Chowkidar chor nahi, chowkidar pure hai: When Rajnath turned to verses to make case for PM Modi. (Read full report here)
* Nitin Gadkari has declared his assets in poll affidavit. (Read full report here)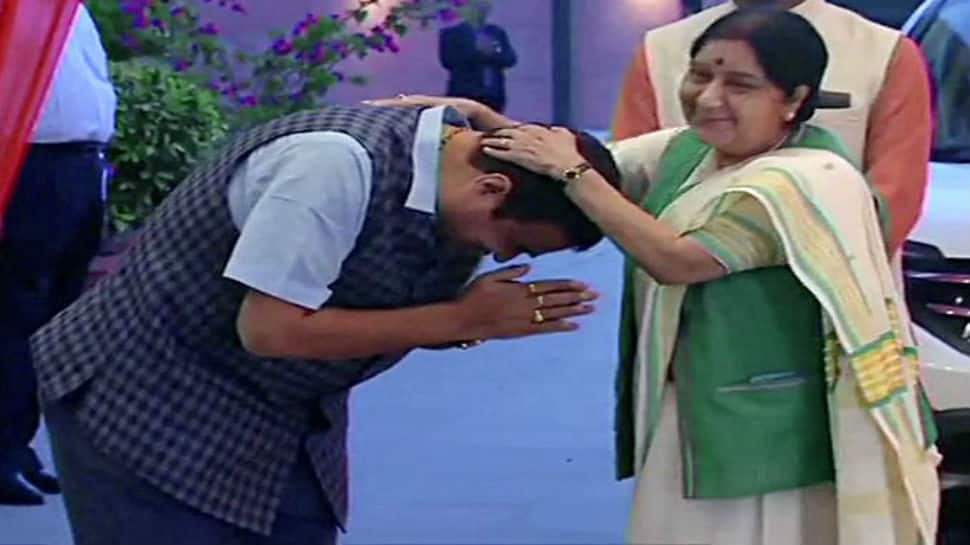 * Nishad Party and Janvadi Party (Socialist) are now a part of Samajwadi Party-Bahujan Samaj Party-Rashtriya Lok Dal alliance in Uttar Pradesh: Akhilesh Yadav
* Congress releases list of star campaigners for first and second phase from Maharashtra. Cricketer-turned-politician Azharuddin makes it to the list. (Read full report here)
* BJP picks a 28-year-old as its candidate for Bangalore South constituency. Did you know? If he wins, he can be India's youngest MP ever (Read report here)
* BJP declares Sanat Gadtia as its candidate against Odisha CM Naveen Patnaik for Bijepur constituency.
* Bollywood actress Urmila Matondkar likely to join Congress. (Read full report here)
* BJP releases list of star campaigners in UP. PM Narendra Modi, Amit Shah, Rajnath Singh, Nitin Gadkari, Arun Jaitley and Sushma Swaraj among 40 named. (Read full report here)
* Who is going where today?
- Uttar Pradesh CM Yogi Adityanath is touring Varanasi and Gorakhpur.
- BJP chief Amit Shah will be in Moradabad.
- Congress chief Rahul Gandhi to hold an election rally in Rajasthan's Suratgarh.
- Home minister Rajnath Singh and defence minister Nirmala Sitharaman to address BJP rallies in New Delhi.
- Union minister Mukhtar Abbas Naqvi will be in Amroha.
- SP leader Akhilesh Yadav to address a press conference at 1100hrs.
Live Tv