Mumbai rain and local train live updates: 'Red Alert' issued as Maximum City braces for heavy showers
Monsoon made a delayed entry but ever since it did reach Mumbai, the rain-bearing clouds have made their presence felt in the city with heavy to very heavy showers.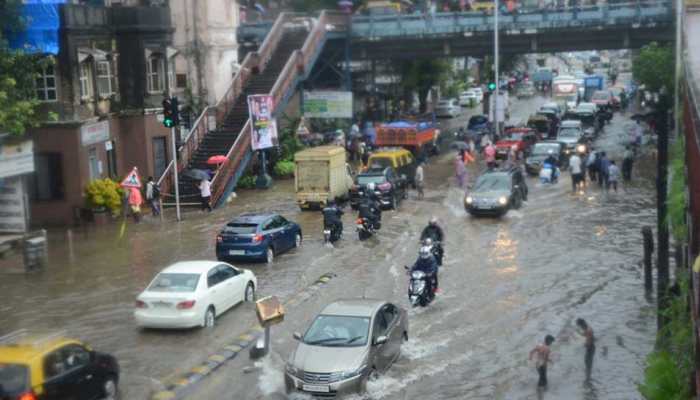 LIVE Blog
Monsoon rains are predicted to intensify on Tuesday as Mumbai braces for a day of incessant showers which could throw daily lives of locals out of gear once again.
Heavy showers most of last week and on Monday caused trouble for Mumbaikars with waterlogged roads resulting in massive traffic snarls. Airport operations too took a hit and Tuesday may see a repeat of the same as the Met department has predicted very heavy rainfall in most parts of the city and its suburbs.
Auto drivers in the city had threatened to go on strike over a host of issues, promising to compound the woes of commuters. The strike, however, was called off late Monday in what would be a massive relief for locals.
Rains almost all of last week also took a toll on local train services and more showers could once again result in delays.
Here are the live and latest updates from across Mumbai as another very wet day beckons:
11:26 AM
Mumbai Police has requested locals in the city to take necessary precautions as heavy rainfall is predicted for the city for all of today.
India Meteorological Department (IMD), has shared forecast of heavy to very heavy rainfall (upto 200 mm) in the next 24 hours.

We request Mumbaikars to take precautions & ensure safety. #Dial100 in case of any emergency.

Take care Mumbai #MumbaiRains

— CP Mumbai Police (@CPMumbaiPolice) July 8, 2019
10:37 AM
High tide of 4.13 metres predicted at 5.23 pm today.
09:41 AM
Mumbai Police asks locals in the city to exercise maximum caution when venturing out today.
07:56 AM
Mumbai may witness heavy rainfall making commuting a nightmare but there is some cheer for locals who use public transportation in the city. Click here to find out more.
07:23 AM
No water-logging reported, rainfall of 13 mm recorded in Kurla to Mulund section during last one hour. Middle line cleared and safe in South East Ghat section. Now all three lines, Up, Down and Middle are operational: Central Railway
06:33 AM
It has been raining heavily in many parts of the city since late night yesterday and again from the wee hours today.