Mumbai: Singer Vishal Dadlani, who had stirred a controversy with his tweets on Digambar Jain monk Tarun Sagar on Saturday, quit politics after expressing his apology for insulting the spiritual leader. 
"It feel bad that I hurt my Jain friends & my friends @ArvindKejriwal & @SatyendarJain . I hereby quit all active political work/affiliation," Dadlani tweeted on Saturday. 
Yesterday, the singer had tweeted:
"If you voted for these people, YOU are responsible for this absurd nonsense! No #AchcheDin, just @NoKachcheDin ."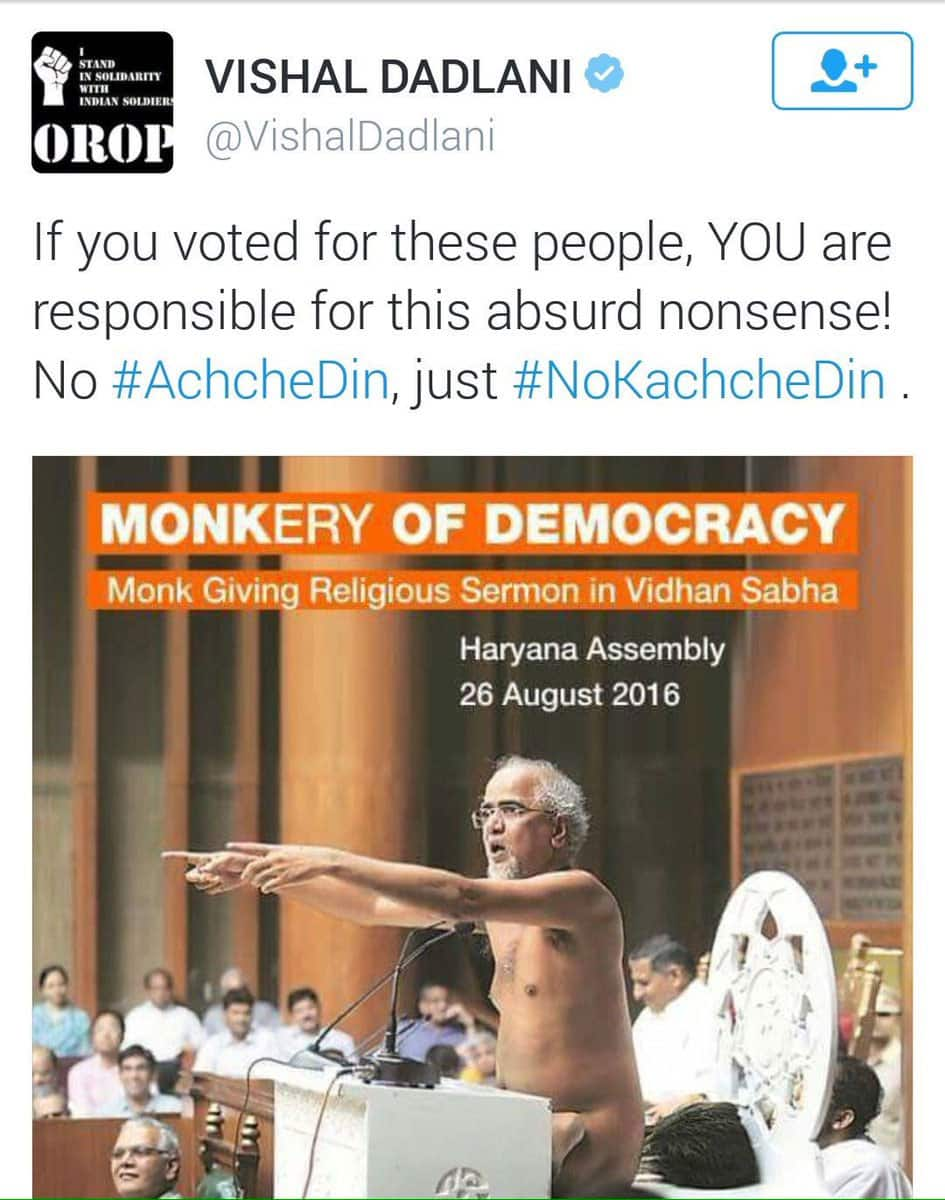 Soon after the singer tweeted on the Jain guru, he was ridiculed by several Jain sect followers.
However, Dadlani was quick to reply with an apology where he also appealed everyone to not mix religion and politics.
I apologise if I've upset Jain feelings. The intent was to ridicule the merger of religion & governance, and not any religion in particular.

— VISHAL DADLANI (@VishalDadlani) August 27, 2016
Happy to apologise to each person I may have upset. But let's also talk about disconnecting religion & governance. https://t.co/FFXe0crAJ1

— VISHAL DADLANI (@VishalDadlani) August 27, 2016
Delhi Chief Minister and AAP convener Arvind Kejriwal took to Twitter and said that his family deeply respects Tarun Sagar.
I met Shri Tarun Sagar ji Maharaj last year. Our family regularly listens to his discourses on TV. We deeply respect him and his thoughts

— Arvind Kejriwal (@ArvindKejriwal) August 27, 2016
Tarun Sagar ji Maharaj is a very reverred saint, not just for jains but everyone. Those showing disrespect is unfortunate and shud stop

— Arvind Kejriwal (@ArvindKejriwal) August 27, 2016
Delhi Home Minister Satyendra Jain also took to Twitter to apologise on Dadlani's behalf. "I apologise for hurting feelings of Jain community by my friend @VishalDadlani. I seek kshama from Muni Shri Tarun Sagar ji Maharaj," he tweeted. 
On Friday, after the adjournment of the first day of the monsoon session of Haryana Vidhan Sabha, Tarun Sagar had addressed the Haryana Legislative Assembly, which was attended by Haryana Governor Kaptan Singh Solanki, members of the House as well as bureaucrats.