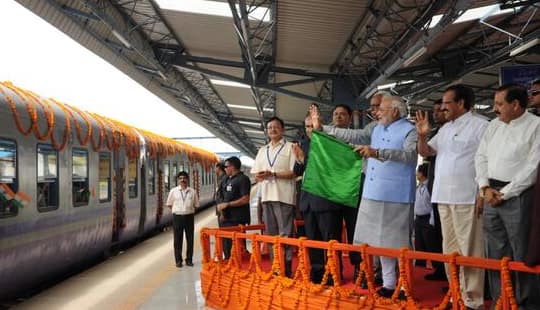 Zee Media Bureau
The Prime Minister addressed Army officers and jawans at a `Sainik Sammelan`.
The Prime Minister has attended security review meeting.
Modi laid a floral wreath at the War Memorial at the Srinagar-based Chinar Corps of the Army in Badami Bagh Cantonment.
PM Modi has arrived at Badami Bagh cantonment headquarters of Army`s 15th corps in summer capital Srinagar to attend a security review meeting. He will also address a Sainik Sammelan. The PM is also scheduled to inaugurate a 240 megawatt NHPC owned hydro-power project in Uri border town before concluding his day`s visit to the state.
Chhattisgarh Chief Minister Raman Singh, on microblogging website Twitter, congratulated the PM and the Railway Minister, and said the new train will be helpful for the pilgrims from all over India.
Congress general secretary Digvijay Singh hailed those who were involved in connecting Jammu with Srinagar.

Connecting Jammu with Srinagar by rail is one of the most challenging Engineering Feat. Kudos to all those who are making it possible.

— digvijaya singh (@digvijaya_28) July 4, 2014
Stating that the Indian Railways is committed to the balanced development of railway network across regions, Union Railways Minister DV Sadananda Gowda welcomed the Katra-Udhampur rail inauguration by Prime Minister Narendra Modi.
Jammu and Kashmir Chief Minister Omar Abdullah thanked Prime Minister Narendra Modi for flagging off the Katra-Udhampur train.
The PM will now leave for Srinagar to attend a security review meeting.
I dedicate this `Shree Shakti Express` to the nation, says PM Modi as he concludes his address.

Also Read: Vajpayee`s Kashmir dream will be realised: Narendra Modi
My priority is to win the hearts of the people of Jammu and Kashmir, says PM.
People in the remotest parts of the country should be a part of national development, says Modi.
J&K is facing a lot of problems. It is the duty of all Indians to make J&K prosperous – Modi.
Environment-friendly transportation will be very integral to Jammu and Kashmir`s tourism – Modi.
There needs to be a separate model of development for the Himalayan states - PM Modi.
When I had started my election campaign, I had taken blessings of Mata Vaishno Devi as well – Modi.
Today`s events will give speed and energy to J&K – Modi.
I agree with what the CM said, we need to improve the quality and facilities at our railway stations, says PM Modi
We have to take forward former PM Atal Bihari Vajpayee`s dream of bringing rail links to Jammu and Kashmir.
The development of Jammu and Kashmir will continue, assures PM.
Modi assures the opening of rail link to Katra will not hurt the people of Jammu.
Modi says the first train to Katra will be called `Shree Shakti Express`.
This rail link is a bheint to over 100 crore Indians who wish to seek Mata Vaishno Devi`s blessings – Modi.
The rail link has been inaugurated at a time when the holy Amarnath Yatra and the holy month of Ramazan are underway, says Modi.
PM Modi is now addressing the gathering.


Also Read: Omar Abdullah thanks Modi for Katra-Udhampur rail link
Crores of people will now be able to get Mata Vaishno Devi`s blessings due to this train, says Omar.
We were waiting for this for a long time, it will be a big boon for the locals as well, adds Omar.
I want to recount the invaluable contribution of Vajpayee ji`s government in the development of this rail link, says J&K CM Omar Abdullah.
Indian Railways is committed to balanced development of railway network across regions, Gowda adds.
Railway Minister Sadananda Gowda addresses the gathering, says Katra rail connectivity will provide opportunities to local artisans, traders and students.
PM Narendra Modi flags off the first train from the station nestled in Trikuta Hills in Jammu and Kashmir`s Reasi district today. After a prolonged wait, pilgrims will be able to directly reach Katra, the base camp of Mata Vaishno Devi shrine, by rail.
The PM, who is at Katra station, met Railway officials present there. Jammu and Kashmir CM Omar Abdullah and Railways Minister DV Sadananda Gowda are accompanying the PM.
Railway Minister Sadananda Gowda and Minister of State in the PMO Jitendra Singh are already in Katra town to oversee the arrangements for the Prime Minister`s visit.
PM Modi has arrived in Katra to inaugurate new train.
National Security Advisor Ajeet Doval is accompanying PM Modi on his maiden visit to Jammu and Kashmir after he took over as the country`s Prime Minister.
The PM`s special aircraft has landed in the technical area of Jammu airport. From here, he will fly in a chopper to reach Katra. He was received by Governor NN Vohra, Chief Minister Omar Abdullah, state Minister for Higher Education Muhammad Akbar Lone, state Chief Secretary Muhammad Iqbal Khandey, state police chief K Rajendra Kumar and other senior officials.
In a keenly-awaited visit, Prime Minister Narendra Modi will on Friday arrive in Jammu and then proceed to Katra to inaugurate the Katra-Udhampur train.

The PM visits the Kashmir Valley amid a shutdown called by separatists and warnings by Muslim groups not to create a separate enclave for Kashmiri Pandits.

Separatists have called a shutdown in the Kashmir Valley. Kashmiri separatist leaders, including Syed Ali Geelani, Mirwaiz Umer Farooq, Muhammad Yasin Malik and Shabir Ahmad Shah, have all called for a the shutdown.

Sharp shooters, barricades, luggage checks and more - the security forces are taking no chances in Srinagar and other parts of the Valley.

Also Read: Restrictions in Srinagar ahead of PM Narendra Modi`s visit
PM Modi will also chair a high-level security review meeting at the Badami Bagh headquarters of the Army`s 15th corps here. The meeting will also be attended by GOC-n-C Army`s Northern Command Lt Gen DS Hooda, Director General of Police K Rajendra Kumar and other agencies.

He is also to inaugurate a 240 MW hydro-power in the border town of Uri in Baramulla district.

The 87-km highway from Srinagar to Uri is being secured by over 2,000 security personnel though the same would not be used by the Prime Minister to reach Uri town.

"Modi will fly to Uri but his entourage and other officials will be using the highway to reach Uri," an official said here.

This will be Modi`s first visit to Jammu and Kashmir since he became the Prime Minister May 26 at the head of a government of the Bharatiya Janata Party (BJP), which bitterly opposes any special status for Kashmir.
After a prolonged wait, pilgrims will be able to directly reach Katra, the base camp of Mata Vaishno Devi shrine, by rail after PM Modi flags off the first train from the station nestled in Trikuta Hills in Jammu and Kashmir`s Reasi district today.

The train for Jammu will chug along the newly-constructed line from the Shri Mata Vaishno Devi Katra Station after Modi along with Railway Minister Sadananda Gowda waves the green flag.

The train will traverse through seven tunnels and over 30 small and large bridges. There will be a small station - Chakrakhwal - between Udhampur and Katra.

The 25-km long Udhampur-Katra line, which is being commissioned today after prolonged delays, has been built at an estimated cost of Rs 1,132.75 crore.

Trains will be able to reach Katra directly as the 53-km Jammu-Udhampur rail line is already operational and now the Udhampur-Katra line, which is a part of the Kashmir rail link project, is being commissioned. This would enable pilgrims headed to the Vaishno Devi shrine to travel directly to the base camp at Katra.

Railways is considering extending Jammu Mail and Sampark Kranti Express up to Katra, besides introducing new trains, including Katra-Kalka Express, New Delhi-Katra AC express.

There is also a possibility of launching a new train between Varanasi and Katra, said the official, adding the purpose is to connect two holy places by train.

According to the official, there are demands from several zones for train services to Katra.

A set of local trains from Jammu to Katra and Pathankot to Katra is also likely to be introduced to cater to the rush of Vaishno Devi pilgrims. An estimated 10 million devotees visit the shrine every year.

Railway Protection Force (RPF) has been stationed at vulnerable locations all along the track in protected bunkers to maintain round-the-clock vigil.

Katra station is equipped with modern facilities, including tourist guide counter, cloak room, waiting hall, VIP lounge, escalators and lifts and parking spaces.

(With Agency inputs)