Mumbai/Thane: A day after the Supreme Court said that human pyramids can't go beyond 20 feet on Krishna Janmashtami, an organiser of the event in Thane on Thursday tied dahi handi at 49 feet, while 'Govindas' showed a black flag against the order in Mumbai's Dadar.
According to Avinash Jadhav, the man who has organised Janamashtmi celebrations in Mumbai suburb Thane, said it was done on the order of Maharashtra Navnirman Sena (MNS) chief Raj Thackeray.
Raj Thackery has criticised the SC's intervention and asked the organisers to celebrate dahi handi with full gaiety.
The Shiv Sena has also expressed displeasure and said the government should have come out with an Ordinance reversing the apex court order.
Meanwhile, news agency ANI has posted a picture of an MNS worker donning a T-shirt which reads "I will break the law".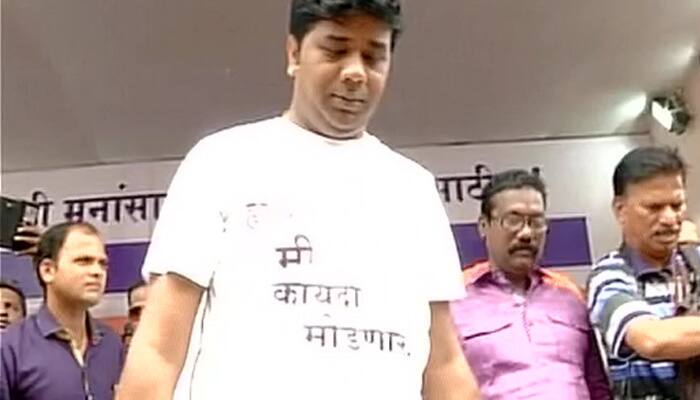 In Dadar, 'Govindas' (youth who form human pyramids to break a pot of curd) showed black flags in protest against the Supreme Court order. They also used a ladder to break the dahi handi as a sign of protest.
Expressing displeasure over the order, the youngsters laid down on the road and formed a pyramid. "The Supreme Court has put a ban on 20 plus feet pyramids, so this is our symbolic way of expressing displeasure. We are lying on the ground as a mark of protest," said Amar, one of the locals.
The Mumbai Police has, meanwhile, decided not to disrupt the dahi handi festivities even when they notice violations.
In a bid to ensure that there is no law and order problem, police have decided to videograph the event as proof of any violation by organisers.
The top court has also barred teenagers below the age of 18 from taking part in a human pyramid while fixing its height to a maximum of 20 feet.