Zee Media Bureau
New Delhi: Bharatiya Janata Party`s prime ministerial candidate Narendra Modi has emerged as the favourite choice for the post of country`s next PM in a pre-poll survey conducted by Zee Media Corp commissioned through Taleem Research Foundation. Congress party scion Rahul Gandhi emerged as the second most-preferred candidate for the PM`s post.
When asked "In your opinion who would be best Prime Minister..?", as many as 46.1 percent respondents voted for Narendra Modi while 21.2 percent voted for Rahul Gandhi.
In case of Jammu & Kashmir there very few voters (6.7 percent) who indicated their preference for Narendra Modi as prime minister. Similar was the case for Kerala (12.8 percent).
In case of Rahul Gandhi, in Gujarat (home state of Narendra Modi), highest percentage (40.8 percent) of voters thought Rahul Gandhi was the best prime ministerial candidate.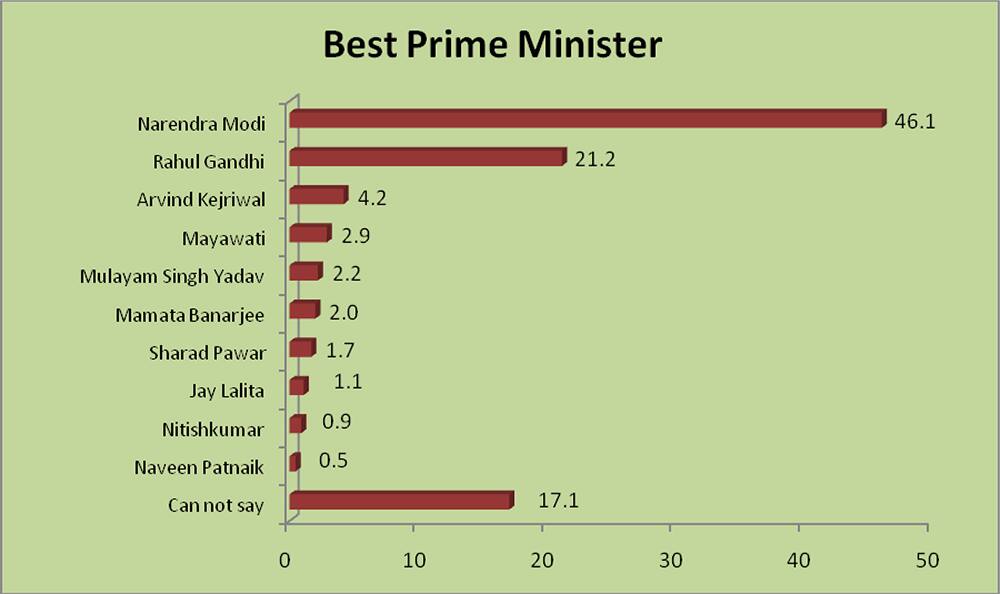 Other names mentioned by small number were Arvind Kejriwal (4.2 percent), Mayawati (2.9 percent), Mulayam Singh Yadav (2.2 percent) and Mamta Banerjee (2.0 percent). All other names mentioned garnered below 2.0 percent votes. The important point to be noted is that as much as 17.1 percent voters voted for the "Can't say" option for this question.
Muslim Votes and Narendra Modi
The voters were asked "BJP would get more votes if Narendra Modi was not declared as a Prime Ministerial candidate". Surprisingly, only about one-fourth or 25.8 percent voters thought so, whereas 34.6 percent voters did not think so. Four out of ten or 39.6 percent responded "Can't say" thereby indicating that Narendra Modi's candidature for the prime minister`s post would not affect the voting pattern of Muslim voters.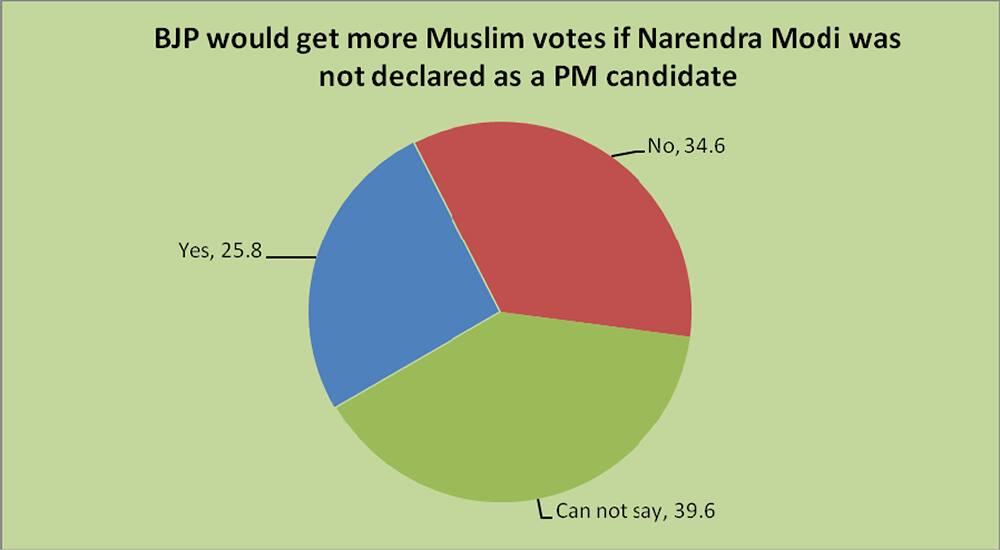 BJP Option for Prime Minister If Not Narendra Modi
Lal Krishna Advani emerged as second best option for prime minister, after Narendra Modi, according to 34.5 percent voters. Advani was followed by Sushma Swaraj (16.9 percent) and Rajnath Singh (13.3 percent). Several other names were mentioned including Shivraj Singh Chouhan, Chief Minister of Madhya Pradesh (5.9 percent) and Arun Jaitley, Leader of Opposition in Rajya Sabha (3.8 percent).