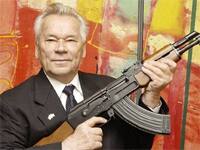 Zee Media Bureau
Born on 10 November 1919 into a Russian peasant family in the village of Kurya, Mikhail Timofeevitch Kalashnikov, was one of 18 children, of whom only six survived.
Also Read: Inventor of AK-47 assault rifles, Mikhail Kalashnikov, dead
It is reported that during the 1930s, Kalashnikov`s parents lost their land holdings to Joseph Stalin's dekulakization campaigns. Some unofficial biographers claim his family was exiled to Siberia during the same time.
Gift with engineering skills, young Mikhail chose to enter the tank brigade of the Red Army in 1938. He used his acumen to enhance weapons of the Russian army.
In 1941, while in hospital nursing wounds inflicted on him when his tank was struck by a German shell, the idea for designing an assault rifle germinated.
The initial blueprints of the "Avtomat Kalashnikova" (the automatic weapon of Kalashnikov) that combined the functionalities of British, Russian and Italian rifles had many faults. But by 1947 the feared AK-47 had been almost perfected.
The most admired quality of the weapon was its simplicity—it could be assembled by anyone, sans any technical prowess and could brave toughest weather conditions without getting jammed.
And these were perhaps the reasons why the AK-47 was the weapon of choice of revolutions and guerilla warriors around the world, be it Angola, Vietnam, Algeria and Afghanistan, to name a few.
But the biggest strength of the AK-47 — its simplicity — was also Kalashnikov`s biggest banes. The fact that the weapon was simple to replicate and assemble meant that anyone and everyone with a need for an assault weapon was manufacturing AK replicas around the world without paying a dime to Mikhail Kalashnikov for royalty.
Kalashnikov was all his life badgered by detractors who held him guilty for inevitably providing a monstrous weapon in the hands of radicals around the world. And this coupled with the fact that he never really benefited much from his invention meant that he often quoted as saying, "I would prefer to have invented a machine that people could use and that would help farmers with their work – for example a lawnmower."
The AK-47 infamously also appeared in the hands of the dreaded al Qaeda militant, Osama bin Laden.
After his rifle was adopted by Soviet army in 1949, he was awarded the Stalin Prize First Class and on his 75th birthday, he was promoted to Major-General by President Boris Yeltsin.
At a lavish Kremlin ceremony on Kalashnikov`s 90th birthday, then-President Dmitry Medvedev bestowed on him the highest state honour - the Hero of Russia gold star medal - and lauded him for creating "the national brand every Russian is proud of".
He passed away at the age of 94 on December 23, 2013 in Izhevsk – the town where he resided and the place where the eponymous rifles are produced.