GOLD COAST: On the Day 2 of the 21st edition of the Commonwealth Games (CWG) in Australia's Gold Coast, here is the medal tally so far. For India, weightlifters Sanjitha Chanu and Deepak Lather clinched a Gold and a Bronze respectively, taking the country's tally in the overall medal count to 4. India has already won four medals in weightlifting and the number can go to five as boxer Amit Phangal on Friday beat Tetteh Sulemanu (Ghana) in men's 46-49-kg Round of 16 in unanimous verdict. Amit Kumar thus became the second Indian boxer after Naman Tanwar to reach the quarter-finals. Like Tanwar, all five judges unanimously declared Phangal a winner with a 5-0 verdict in his favour. (Judge 1: 30-26, Judge 2: 30-26, Judge 3: 30-27, Judge 4: 30-27, Judge 5: 30-25)
On Thursday, weightlifters S Mirabai Chanu and Gururaja sparkled to deliver a Gold and a Silver, respectively, while the table tennis teams and the badminton teams advanced to the knockouts. In another good news, Indian women's hockey team thrashed their Malaysian rivals 4-1 in the Group A match on Friday. The India side had suffered a shocking loss to Wales which was a wake-up call on the opening day of the 21st edition of the Commonwealth Games here on Thursday.
Overall, Australia are the clear leaders with 14 gold medals, taking their toal tally to 36. England and Canada are on second and third spot with two gold each but their total count stands at 18 and 11 respectively. India are currently fifth on the table and will be expected to climb up. 
Here is the current medal count from the 21st Commonwealth Games 2018 being held in Gold Coast.
MEDAL TALLY
Rank Nation Gold Silver Bronze Total
1 Australia 14 9 13 36
2 England    9 6 3 18
3 Canada    2 4 5 11
4 Scotland   2 4 4 10
5 India    2 1 1 4
6 S Africa    2 0 1 3
7 Malaysia    2 0 0 2
8 New Zealand 1 3 3 7
9 Wales    1 2 0 3
10 Bermuda 1 0 0 1
11 PNG    0 2 0 2
12 SL    0 1 2 3
13 Jamaica   0 1 0 1
13 Mauritius 0 1 0 1
13 T&T    0 1 0 1
16 Pakistan  0 0 1 1
16 Solomon Islands 0 0 1 1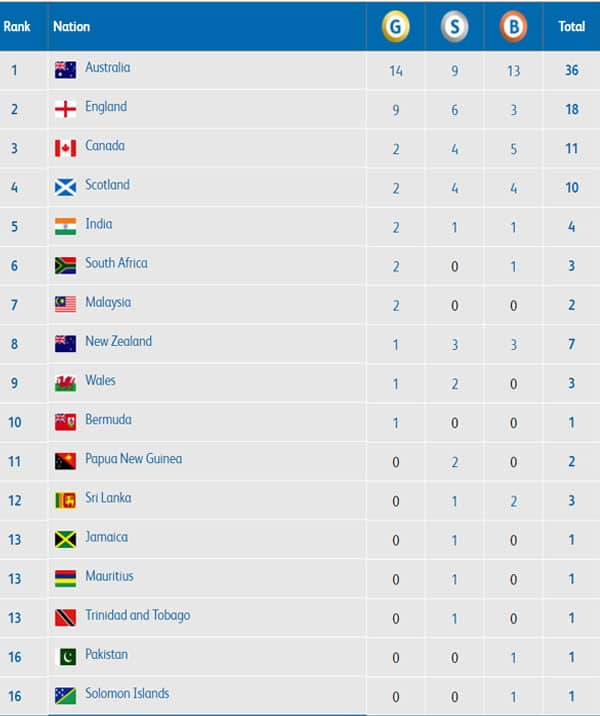 (Medals tally updated at end of Day 2, on April 6, 2018)
After Indian weightlifters bagged two medals on the first day of the Commonwealth Games 2018 at Gold Coast in weightlifting, Manipuri lifter Sanjita Chanu made the country proud by winning the second gold medal in women's 53-kg weightlifting event on Friday. Sanjita Chanu also broke the Commonwealth Games record by lifting 84kg in Snatch. She lifted a total of 192 kg (84 kg in Snatch and 108 kg in Clean and Jerk) to win the medal for India. 
Defending champions Loa Dika Toua of Papua New Guinea was distant second with 182 kg, while New Zealand's Rachel Leblanc-Bazinet took bronze with 181 kg. Sanjita had earlier won the gold in the women's 48 kg category at Glasglow in the 2014 Commonwealth Games and she lived up to expectations of her coach and countrymen by winning another one in Gold Coast. With Sanjita Chanu winning a gold, India's medal count has now reached 3 on the Day 2 as of now. They are third in the table after England and Australia.  
Deepak Lather
Teenager Deepak Lather became the youngest Indian weightlifter to claim a Commonwealth Games medal, clinching a bronze in the men's 69-kg category in Australia's Gold Coast on Friday.
The 18-year-old from Haryana lifted a total of 295kg (136kg+159kg) to finish third after his nearest rival, Vaipava Loane, fouled his last two lifts to end with a total of 292kg. Gareth Evans of Wales won Gold with a combined weight lift of 299kg and Sri Lanka's Indika clinched Silver with a lift of 297kg.
Lather, competing in his maiden Commonwealth Games, holds the distinction of being the youngest to hold the national record as well. He held the 62kg category national record at 15. He trained at the Army Sports Institute as a diver before being pushed into weightlifting by the coaches there.
India began its 2018 Commonwealth Games (CWG) campaign on Thursday with a gold and silver medal provided by its fancied weightlifters, while the shuttlers swept Pakistan and Sri Lanka 5-0 each to enter the quarterfinals of the badminton team event as the other highlight of the day. 
Here are India's medal winners from Day 1:
Mirabai Chanu: The world champion smashed the Games' records in 48kg category snatch, clean and jerk and overall en route her gold-medal winning performance, which fetched her a thunderous applause from the Australian fans, who queued up to take her autograph after the medal ceremony. 
Chanu managed to lift 196kg (86kg+110kg) in a remarkable effort. 
"I was not expecting to break records but I certainly wanted to break them when I came here. I can't put in words, how it feels right now," an exhausted but jubilant Chanu said.
Gururaja Poojary: In the morning, Gururaja survived a few anxious moments after two failed attempts in clean and jerk to claim a silver medal in men's 56kg division. The 25-year-old son of a truck driver equalled his personal best of 249kg (111kg+138kg) to finish second in the event and ensure that India woke up to the news of a medal on the very first day of competitions.
"After I failed the first two attempts, my coach reminded me how much my life depends on this. I remembered my family and my country," he said when asked what went through his mind in those nervy moments.
(With PTI Inputs)