New Delhi: In a shocking development, senior journalist Vinod Dua was accused of sexual misconduct by filmmaker Nishtha Jain. 
In a long Twitter post, Nishtha wrote about how he openly cracked a lewd joke before her on their first official meeting (1989) and demeaned her. She revealed that after she got a job in another company, the senior journalist would often stalk her and on one occasion, even attacked her physically inside his car.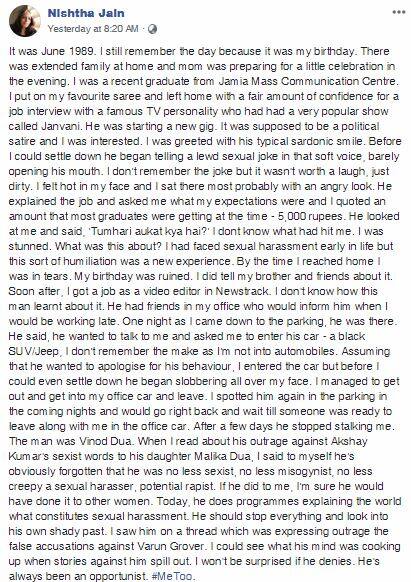 Nishtha's post has raised another storm in the industry. While people from all walks of life have come forward and expressed their support to the filmmaker, Vinod's daughter Mallika Dua, also a popular face on social media, has come out and issued a statement that 'even though it's his battle, she will stand by him'.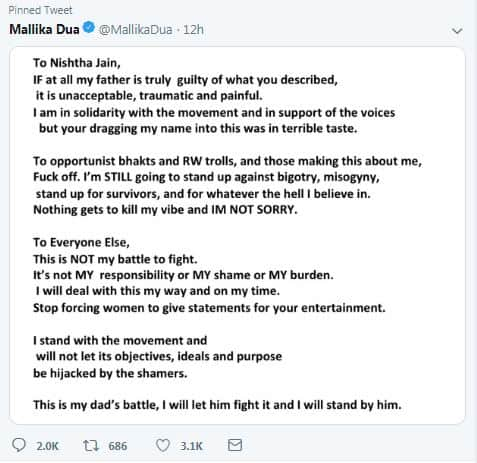 Mallika made her stand clear in an Instagram post she shared on Sunday, which is addressed to the filmmaker Nishtha Jain who accused Vinod Dua of sexually harassing her almost three decades ago. Her post opens with the endorsement of the movement in which she said, "If at all my father is truly guilty of what you described, it is unacceptable, traumatic and painful." 
However, she lashed out at the filmmaker for dragging her name into the matter and said 'it was in a terrible taste'. After Mallika's post, Nishtha issued an online apology to the well-known comedian saying, "Sorry, if I have inadvertently shamed Mallika Dua. I had no such intention. Thanks for friends and supporters for pointing this out. She's in no way responsible for her father's acts. However, I do hope she'll be able to, believe me, empathize with me as well as the other women he has harassed." But in the next post, she said, "the daughter will stand by her predator father. Wife will stand by her predator husband. Bloodlines run deeper than #MeToo".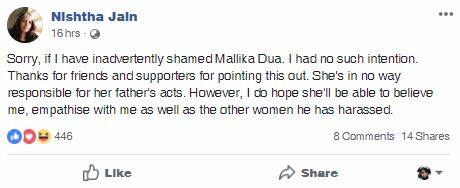 It is to be noted that Vinod Dua had openly lashed out at actor Akshay Kumar for passing sexist remarks on her daughter Mallika during the shooting of 'The Great Indian Laughter Challenge'.