New Delhi: The latest teaser of Anushka Sharma's upcoming supernatural horror film 'Pari' is out and it has spooked everyone including 'Padmaavat' star Ranveer Singh. 
The actor, who is known for expressing himself in the most carefree way has left not one but two comments (the same comment twice) on Anushka's Instagram post in which she had shared the teaser. 
"Aree BAAAAAP re," Ranveer said in his post, with a spooky emoticon. 
Here's the teaser of Anushka Sharma's 'Pari'. Watch at your own risk: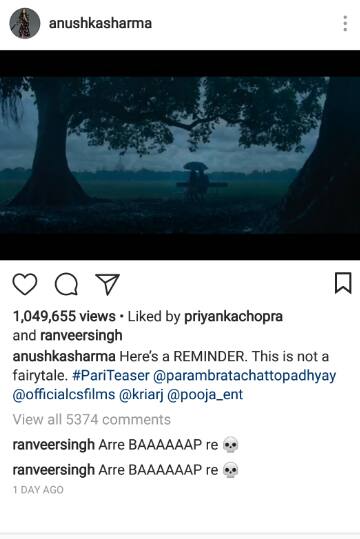 Releasing during Holi on March 2, the movie has the frequently used tagline 'Be safe this Holi'. Apart from Anushka, the film also stars Parambrata Chatterjee, Ritabhari Chakraborty and Rajat Kapoor. This is the third film of Anushka as producer.