New Delhi: Aadhaar, which captures an individual's personal details along with biometrics like fingerprint and iris, has been mandated to be used for authentication of identity with banks and telecom companies, among others.
But not many know or perhaps use a feature called the biometric lock that allows a user to seal or lock their biometric information.
The Aadhaar-issuing authority UIDAI had set in place a 'biometric lock' as an additional layer of protection against outside intrusions or breach.
The biometric lock in existing Aadhaar system is aimed at allowing users to safeguard or lock down their biometrics as and when they want.
Here is how you can use the privacy feature to seal or lock your biometric information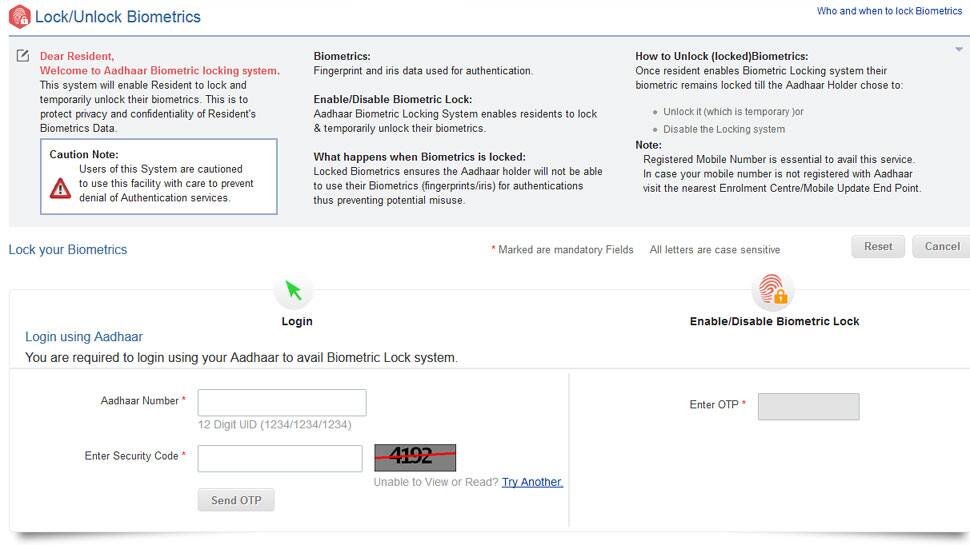 User can ring-fence their biometrics by simply going to the Unique Identification Authority of India (UIDAI) website or its app.
Now choose the option and enter your Aadhaar number.
A registered mobile number is essential to avail this service.
Once you enter security code/captcha, you will be required to enter the OTP that you have recieved on your registered mobile number.
Once the lock clicks into place and the system is enabled, it will simply not accept a biometric request, much like a physical lock blocking an unauthorised access.
A user can unlock for specific transactions and then lock the biometrics back again.
When residents enable biometric locking system, their biometric remains locked till the Aadhaar holder chooses to either unlock it (which is for a temporary period) or disable the locking system.
The unlocking procedure is the same as the above one.
UIDAI believes that the idea behind the facility was to "rule out" possibility of anyone even attempting to misuse biometric information.
The Aadhaar-issuing authority expects the existing biometric lock feature along with new virtual ID facility being rolled out in coming months to address various security and privacy concerns.
The UIDAI, last week, announced the biggest overhaul of the system by allowing Aadhaar owners to create and use a virtual ID to avoid sharing their unique identity numbers, when using government and other services.
Under the new system, at the user-end, the Aadhaar holder will have the choice not to share their Aadhaar number at the time of authentication. Instead, a random 16-digit Virtual ID number would be generated and could be used in lieu of Aadhaar with the authorised agency like banks and telecom service providers.
VID will be a temporary, revocable 16-digit random number mapped with the Aadhaar number. It will not be possible to derive Aadhaar number from VID.
With Agency Inputs