Congress president Rahul Gandhi on Monday posted a link of a story about the achievement of girls in Mizoram. Little did he know that a congratulatory message for them would make him the subject of criticism on Twitter, yet again. 
While applauding the girls, Rahul referred to the story as that of Manipur instead of Mizoram. The Bharatiya Janata Party (BJP) was quick to spot the error and put the Congress president in the dock. 

BJP's IT cell chief Amit Malviya pointed out the error and said that the tweet reflected Rahul's ignorance about the Northeast and called it 'so problematic'. "Rahul Gandhi shares an article on Mizoram and writes Manipur. It is this ignorance about the Northeast that is so problematic!" he tweeted.
Soon after, the Congress realised the error and the tweeted was taken down. However, the BJP kept mounting its attack.
Malviya tweeted again and this time even gave the Congress chief a punishment, just like in school. "Rahul Gandhi go and write this a hundred times, "Mizoram and Manipur are two different states in the North East of India and I will remember that for the rest of my term as President of the Congress party!" (Edits note after being called out!)," he tweeted.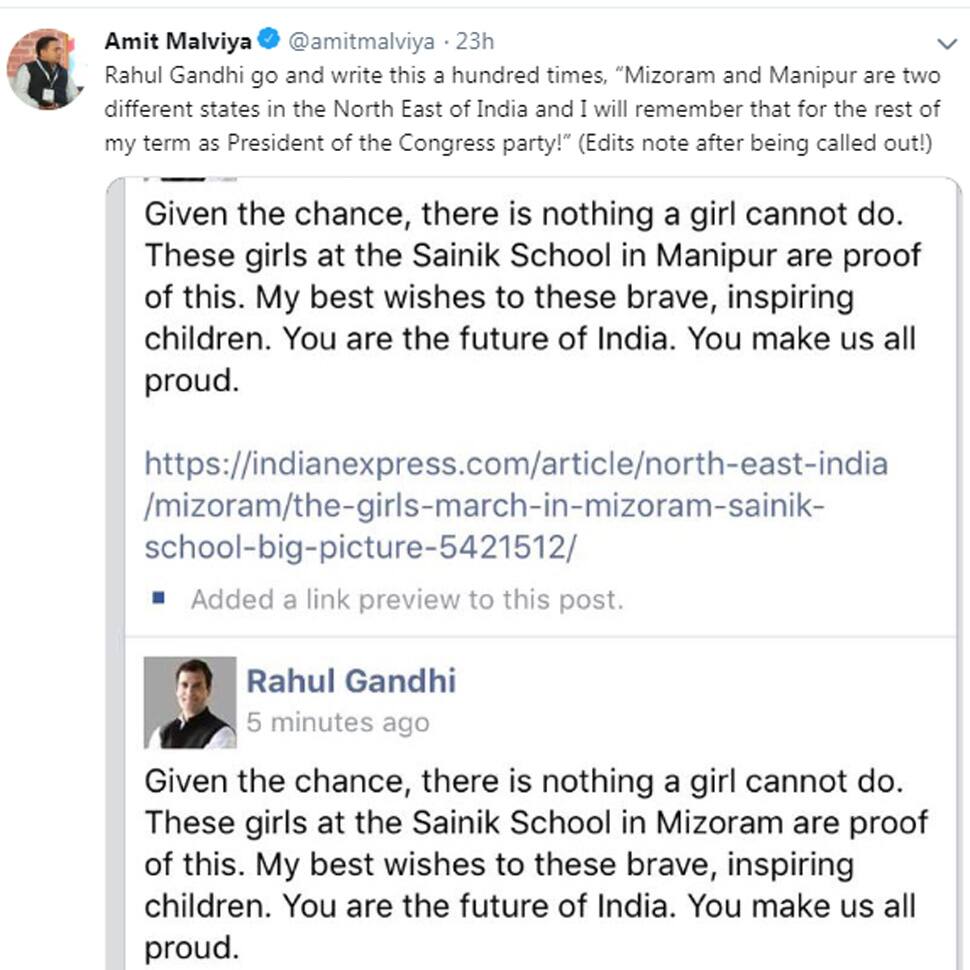 The BJP has mocked Rahul on several occasions in the past and listed out the gaffes made by him to target the Congress. During the campaign for the Karnataka elections, the BJP had also referred to him as their 'star campaigner. "Oye Rahul, You prove your silliness by wanting to base your campaign on a slip of tongue! Btw, unlike you we have no secrets, we believe in complete transparency. Visit https://twitter.com/RahulGandhi  to know our star campaigner, gifted to us by India's most corrupt dynasty," BJP had tweeted.
It was in response to a video tweeted by Rahul in which BJP president Amit Shah mistakenly called his party's former CM Yeddyurappa 'most corrupt' instead of naming Congress leader Siddaramaiah. "Gifted to us by the BJP President, our campaign in Karnataka is off to a fabulous start. He says Yeddyurappa ran the most corrupt Govt ever...True," Rahul had tweeted.