Welcome to our live coverage of the Closing Ceremony of 17th Asian Games.
===================================================================================
FULL COVERAGE || MEDAL TALLY || INDIA'S MEDALLISTS || CLOSING CEREMONY REPORT
===================================================================================
Thus, the 17th Asian Games was concluded. And the countdown on 18th Asiad started.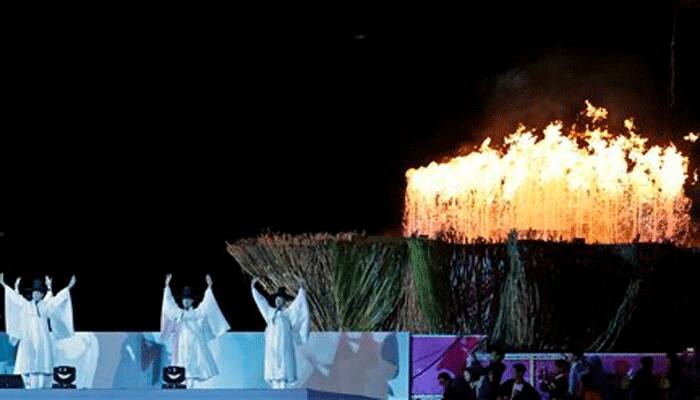 A traditional Korean folk dance troupe performed the concluding act with resonant theme of humanity and brotherhood, before the games flame was extinguished. It was followed by a sparkling light show.
Sheikh Ahmad handed over the Asian Games torch and flag to Indonesian delegation. A cultural program performance from Indonesia followed.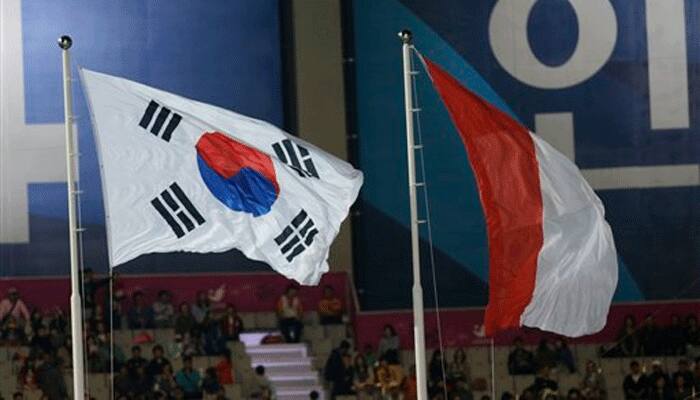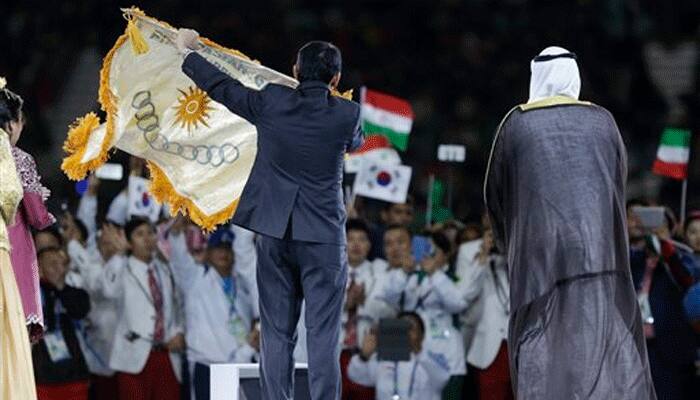 The OCA flag was brought down with the OCA hymn playing in the background. Then, the national flag of Indonesia, host of 18th Asiad, was hoisted. Jakarta will host the next edition of Asian Games after Hanoi surrendered their right host it.
Sheikh Ahmad Al-Fahad Al-Sabah then declared the 17th Asian Games CLOSED.
Kim Youngsoo, the President of the 2014 Incheon Asian Games Organsising Committee thanked athletes for making it a grand speech. Sheikh Ahmad Al-Fahad Al-Sabah, President of the Olympic Council of Asia (OCA) and President of Kuwait Olympic Committee followed it up with a Korean greeting, congratulated all the athletes and urged them to compete in Olympics. He also plegded OCA's support to them.
Hagino, 20, won gold medals in men's 200m freestyle, 200m and 400m individual medleys, and the 800m freestyle relay, in addition to one silver in the 400m freestyle and two bronze medals in the 100m and 200m backstroke events.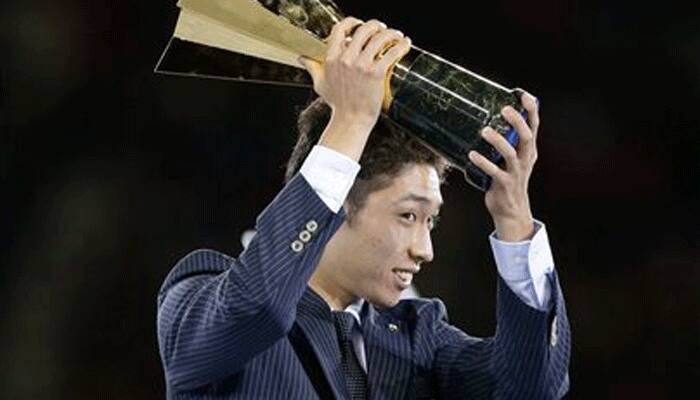 Time for the Samsung MVP award ceremony, to be given to the ultimate athlete of the Games. Eight candidates were nominated for the Samsung MVP, but Japanese swimmer Kosuke Hagino won the award for his seven medals.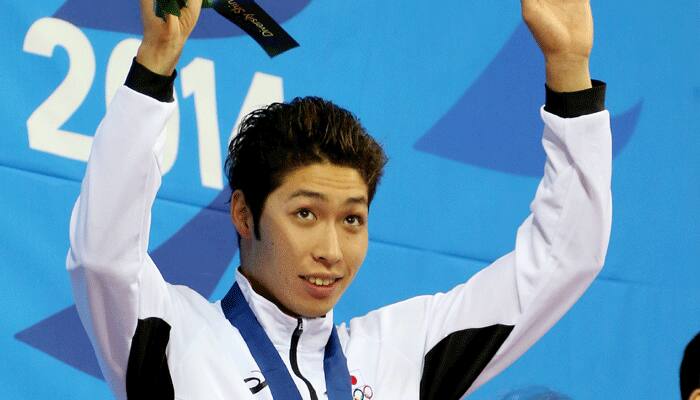 CN Blue, after their two song performance, introduced the feature film on 'everyone'  who made the Games a success.
After last of the contingents arrived, South Korean band CN Blue will perform, then Big Bang will wrap up the Congratulatory Performance.
Athletes continued to stream in inside the stadium. The loudest cheer, so far, was saved for the North Korean athletes.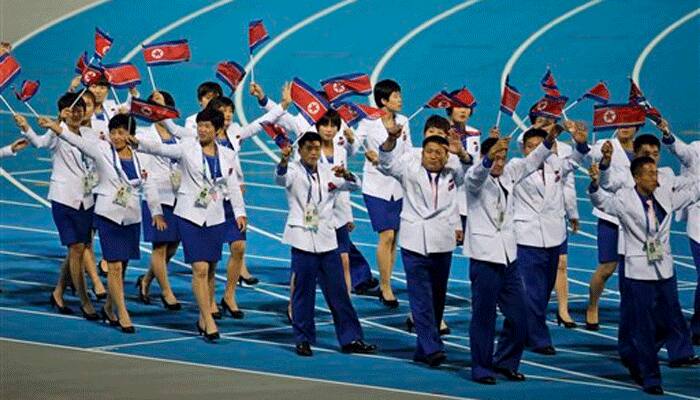 There's players arriving, all mingled and happy.
And national flags of all the 45 nations arriving, this time, only with their respective flag bearers, and of course the national flowers.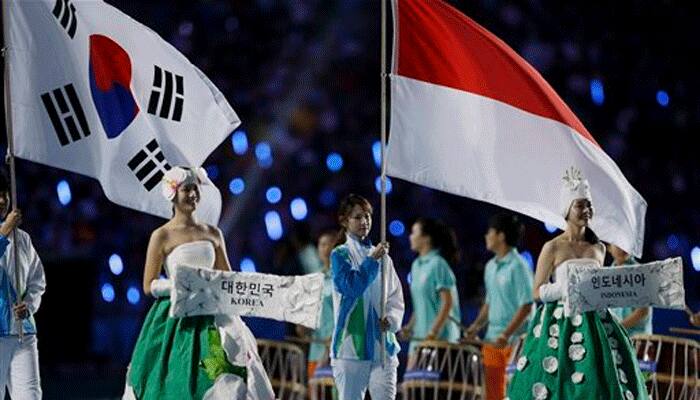 Time for South Korea's nation anthem. It's followed by a percussion program, welcoming the athletes with sounds of drum.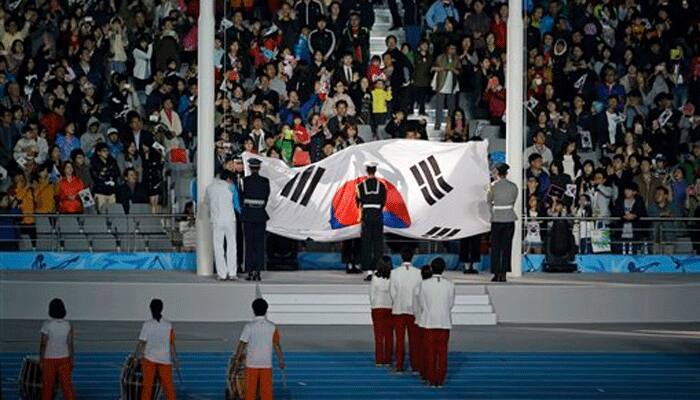 After a video montage depicting, rather reliving the past two week's actions, there is the national flag of hosts nation South Korea making an entrance inside the stadium.
Some more visuals from the performance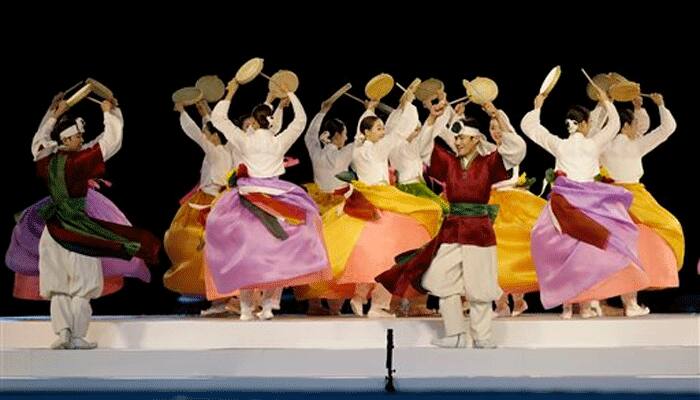 It's followed by a martial arts exhibition, on how tae-kwon-do was originated and how deeply this martial arts form is rooted in the Korean culture. It became an Olympic sport in 2000 under the world Taekwondo Federation, but as a sports, it had already established a world-wide phenomenon as early as 1980s. The exhibition was performed by Kukkiwon.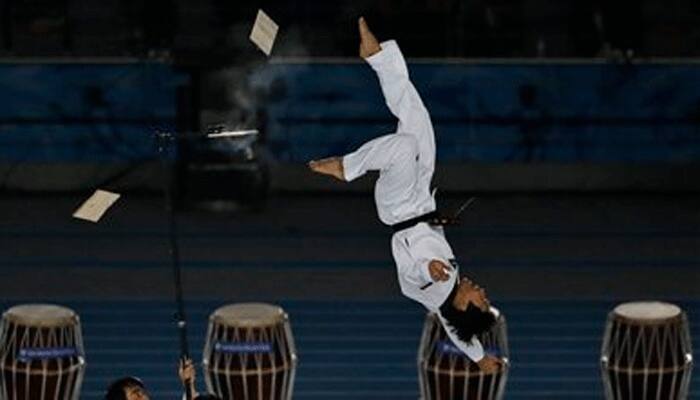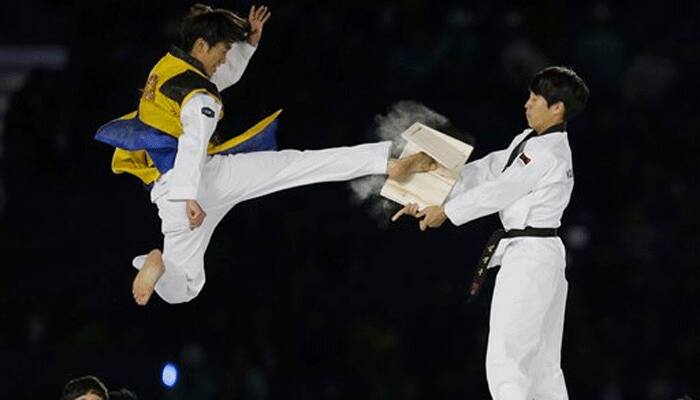 Before the countdown, as a part of the 'Welcoming', South Korean girl group 'Sistar' performed to entertain the crowd.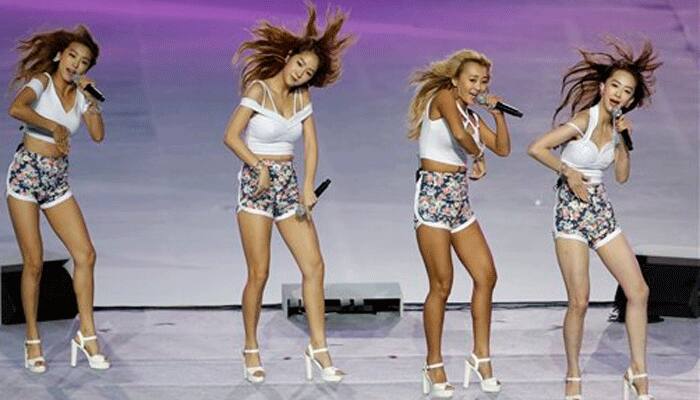 Next is a routine on Korean folk dance. As in other cultures, Korean folk dance is also about community congregation and social congregation. Aptly depicted by these artists in tune to the captivating music.
Prime Minister of Korea, Jung Hong-won arrived with the games official to preside the ceremony. In between, a musical dance routine is being performed. It's the story about South Korea's national flower 'Mugunghwa.' And performing that awesome routine was the troupe from National Dance Academy.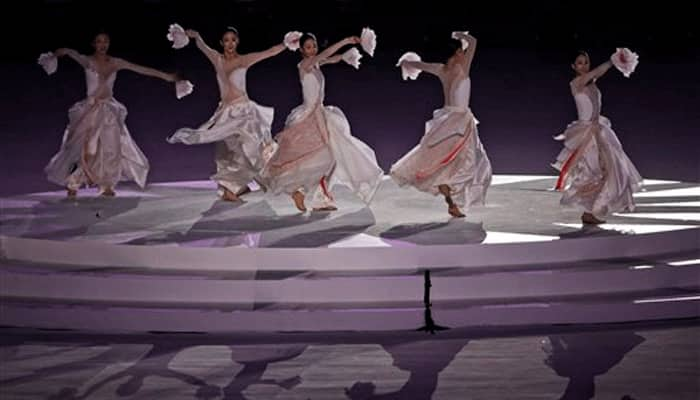 On the sporting side, there have been 14 world records and 80 Games records. 9,501 athletes from 45 nations competed for 439 gold medals in 36 sports. And as expected China dominated the Games winning a whopping 151 of those and a total of 343 medals. India won 57 medals in total, including 11 golds.
First glimpse of the stadium arrived with a count-down, then followed it up with a performance from Rainbow Choir, mainly constituting children, attired in traditional Korean dress. The song "Harmony of Dreams" lived up to the expectation.
After action two week's of action sporting extravaganza, athletes from 45 participating nations will gather one last time in Incheon.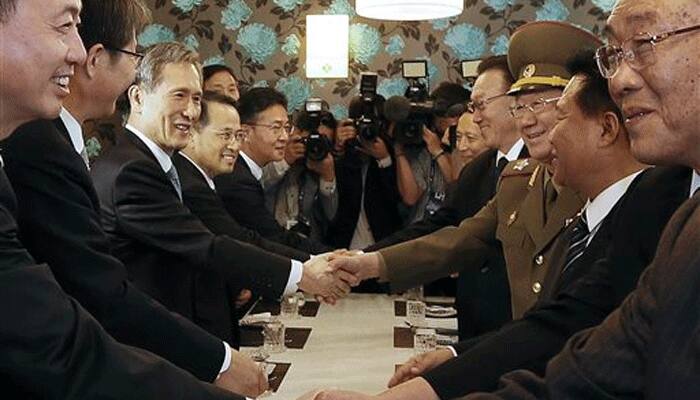 In the run up to the Closing Ceremony, North Korea's high ranking officers, National Defense Commission Vice Chairman Hwang Pyong So, and North Korea's ruling Workers Party Secretaries, Choe Ryong Hae arrived in South Korea and held talks with South Korean officials. This is their highest level face-to-face talks in five years.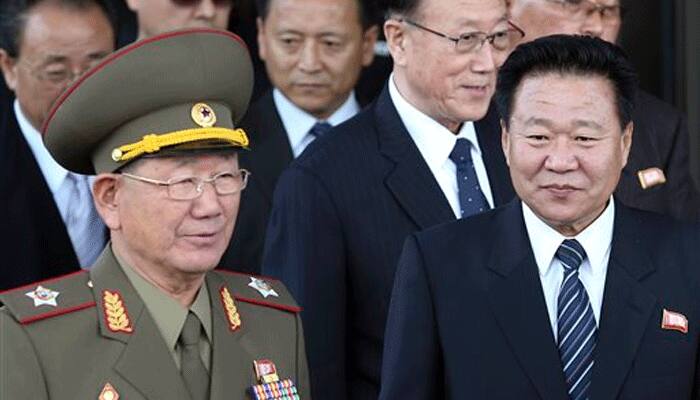 ===================================================================================
Sporting legacy:
The 16-day sporting jamboree witnessed new sporting feats achieved, new records created and despite some unsavory incidents – including those of poor referring and judging, Incheon Asiad will be remembered as one of the most successful games ever held.
Highlight of the games, once again, was the domination of China. But, on the sidelines, many heroes rose and proved their worth. New world records were created in archery, shooting and weightlifting. But there were many more continental and games records in athletics, cycling and swimming making the 17th Asiad a truly memorable one.
Yes, there were stories of inspiration and controversies, as in other multi-sporting events this size and magnitude. The hijab row, badminton and boxing controversies did occupy prime spot during the games but Incheon also witnessed inspirational and heart-warming stories.
Taekwondo sensation Sorn Seavmey won gold medal in women's under 73-kg class to end Cambodia's 44-year medal drought. Hong Kong gymnast Shek Wai-Hung who made news for all the wrong reasons at London Olympics, won countries' first-ever Asian Games gymnastics gold medal, by topping men's vault routine. 17-year-old South Korean shooter Kim Cheong-yong won two gold medals in shooting and he became the youngest to do so.
Indian hockey team defeated their arch-rivals Pakistan in a nerve-wrecking final shoot-out to win gold after 16 years. In kabaddi, India continued their domination, taking the top honours for the seventh successive time. Likewise, Chinese diving team won all ten titles available. For the record, in four years, since diving was introduced in the Games in 1974, China have never lost an event.
The Ceremony:
The Closing Ceremony programme are directed by Korean directors Im Kwon Taek and Jang Jin, who were also in charge of the Opening Ceremony. The duo have planned the ceremony with the theme: Our Cherished Memories of Incheon.
The Closing Ceremony will have three parts: Part One to be started off with Countdown, Part Two where everyone can remember the Games with special featured film and Final Part where Congratulatory Performance will be held.
Part One will start with the countdown and Korean Cultural Performances such as National Dance Company of Korea, Gugak Center Dance Troupe and Kukkiwon. Part Two will start with Host Nation's Flag by will be enter the Closing Ceremony Venue. The Samsung MVP Award will be presented during second act. Japanese swimmer Kosuke Hagino, who won seven medals in the pool, has already been announced as the winner of the coveted award. It will be followed by a special Feature Film that remembers everyone that made 2014 Incheon Asian Games special will be shown.
The Congratulatory Performance is planned at the last part of the Closing Ceremony. And it will feature Korea's famous K-pop stars such as CN Blue, Big Bang and Sistar. Then, the games flag will be handed over to Indonesian representatives for the next edition. Extinguishing of the Flame will be conducted at the end part of the of the Closing Ceremony.