Popular Youtuber Mr Beast Helps 1000 Blind People to See First Time in Life; Patients' Expressions Melt Netizens' Heart | Watch
Jimmy Donaldson aka Mr. Beast has become the most followed individual youtuber after overtaking PewDiePie a few months back. He currently has over 130 M susbscribers on his YouTube channel with the same name.
YouTuber Mr. Beast helps 1000 blind people to see first time.
Mr Beast posts the video of some cured people on his youtube handle.
He is the most followed individual youtuber in the world.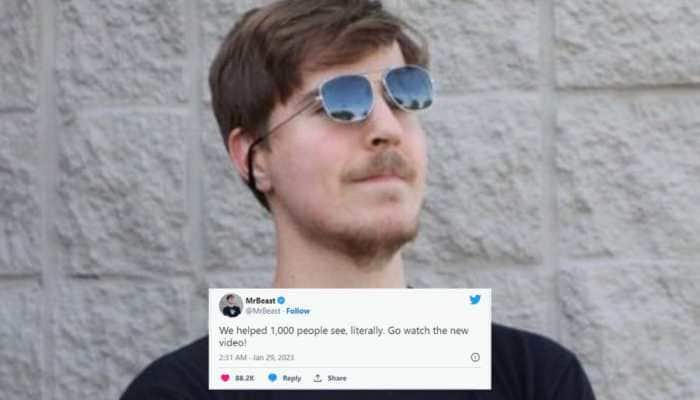 New Delhi: The most followed Individual YouTuber in the world Jimmy aka Mr.Beast has announced in his latest YouTube video and Twitter update to help 1000 blind people to get the cure. After that, they all were able to see first time in their life. He said in his post that they "helped 1000 people see, literally'. His YouTube video has so far received over 2.6M likes and 1.33 lakh comments.
Netizens are praising the YouTuber for making a difference. The 8-minute YouTube video has showed some patients among 1000 who got the cure from their blindness and how their expression when the first time they saw with their eyes.
Mr. Beast piped Pewedepie to become the most followed individual youtuber in the world. His followers currently pegs at 130 M. He is known for posting different initiative videos including spending 50 hours in Antarctica, surviving 100 days in circle, and so on.
We helped 1,000 people see, literally. Go watch the new video! — MrBeast (@MrBeast) January 28, 2023
One netizen wrote on YouTube video, "Mr, Beast healing the blind now? Goat'ed YouTUber, hands down. Huge props to you, Jimmy!'
Another netizen commented, "The fact Jimmy went from doing challenges to saving lives around the world is admirable, massive respect for great work,"
One netizen says that was amazing, from donating food to curing people blindness, Jimmy really was the best.
Some Twitteraits also commented on his Twitter announcement. One Twitter user Otto Mattic said keep making a difference bro.
Another user wrote, "This is an amazing video. Would love to have @GamerAdvantage participate in an initiative like this."
Live Tv