&PrivéHD brings a collection of tales for every mood with Privé Mix
Witness movies tailored to your whims as &PrivéHD presents a diverse collection of genres with Privé Mix, this November, weeknights at 9 PM.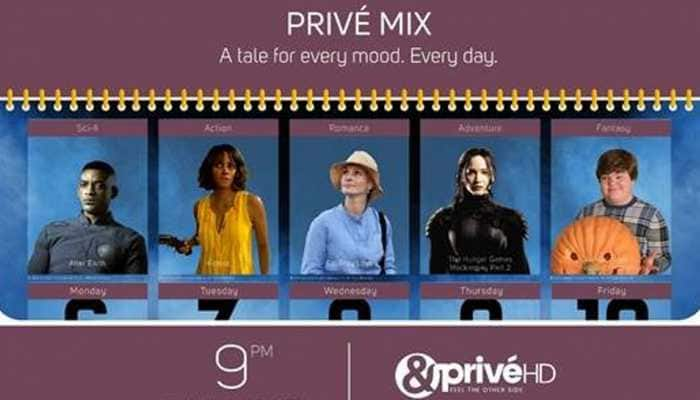 Not every day is the same. On some days, we wake up with a rush of enthusiasm and are ready to take on the world, and on other days we prefer taking it easy. For those whose moods oscillate between romantic to energetic, for those whose tastes in cinema change by the day and for those who simply play it by the ear, &PrivéHD, the premium destination of nuanced cinema, launches Privé Mix.
Showcasing spellbinding stories of fiery showdowns, mystical creatures, or of two souls on a quest for love –the channel presents a new genre every day of the week all through November, with Privé Mix, weeknights at 9 PM.
What are the horrors of the virtual world? Is there life beyond the Earth? Putting all curiosity to rest, the property presents a collection of the ultimate sci-fi movies such as After Earth, Tron Legacy, Star Wars: The Force Awakens, Star Trek Into Darkness and Chappie. Feel the other side of the catastrophic events and venture into the dark future with a series of award-winning science-fiction dramas from some of the biggest franchises only on Privé Mix.

For the daily dose of adrenaline, the property also presents a plethora of high-voltage action movies such as Kung Fu Yoga, Real Steel, Jack Reacher Never Go Back and Kidnap among others. Witness Jackie Chan in his element as he teams up with an Indian professor, essayed by Sonu Sood, on a hunt for India's lost treasure in Kung Fu Yoga. Join Charlie (Hugh Jackman) in the Academy Award-nominated action-drama Real Steel, as the former boxer discovers a new champion, making his mark in the world of robot boxing.
Prepare for your hearts to turn to mush with a breeze of romance on Privé Mix. The library features top-rated romantic dramas of all time such as Playing It Cool, Juliet, Naked, Eat Pray Love, My Best Friend's Wedding and Sleepless in Seattle to name a few. Join Julianne (Julia Roberts) as she copes with the flux of emotions in the Academy Award-nominated movie My Best Friend's Wedding, witness a timeless romance, set against the backdrop of Seattle, in the Academy Award and Golden Globe Nominee Sleepless in Seattle and join Elizabeth (Julia Roberts) in rediscovering the meaning of love and life in Eat, Pray, Love.
That's not all! For those who seek adventures and those who fascinated by mystic beings, Privé Mix on &PrivéHD presents a collection of exhilarating adventure tales such as Around The World In 80 Days, Chronicles of Narnia: Prince Caspian, Hunger Games Mockingjay part 2 coupled with enchanting fantasy dramas like Maleficent, Alice through the looking glass and Hotel Transylvania 3.
For those who appreciate nuanced cinema, &PrivéHD brings riveting and award-winning films that stimulate the minds and bring alive the other side of the story with Zee Prime English HD Pack comprising - &PrivéHD, Zee Café HD, &flix HD, LF HD is priced at Rs 25/-
Witness movies tailored to your whims as &PrivéHD presents a diverse collection of genres with Privé Mix, this November, weeknights at 9 PM