Jharkhand election result 2019: List of Jharkhand Mukti Morcha (JMM) winners
The alliance of JMM-Congress-RJD has declared JMM's working president Hemant Soren as its chief ministerial candidate. Leaders of this alliance are fairly confident after the reports of dissatisfaction in the BJP ranks after ticket distribution surfaced.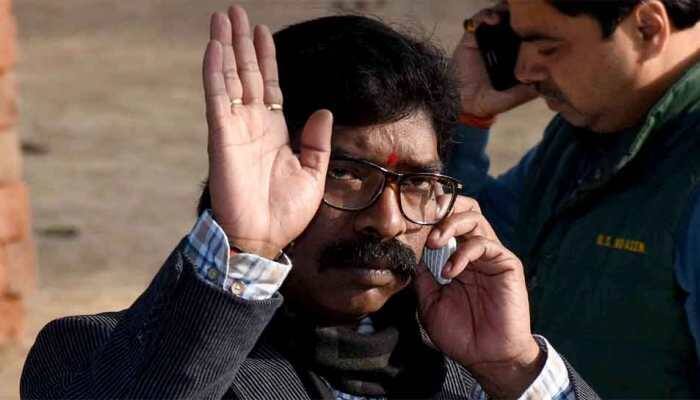 Jharkhand Mukti Morcha (JMM) emerged as the largest party by winning 30 seats in the Jharkhand assembly election 2019. JMM contested the election in alliance with Congress and Rashtriya Janata Dal (RJD) which bagged 16 and 1 seats respectively. In total the alliance has 47 seats, easily crossing the majority mark of 41 seats in Jharkhand.
JMM chief Hemant Soren who won from Barhait and Dumka seat of Jharkhand will take oath as the new chief minister of Jharkhand. Expressing his happiness over the win Soren said,"People have given a very clear mandate, I am thankful to them." He added, "We are very common people. I will work like a son of the soil not as a Chief Minister of the state."
In 2014's assembly election JMM managed to secure 19 seats and played the role of opposition in the five years of BJP government in the state.
Here is the list of winners from JMM:
Name of Constituenc

y

Winner

Party

Rajmahal
Borio
Lobin Hembrom
JMM
Barhait
HEMANT SOREN
JMM
Litipara
Dinesh William Marandi
JMM
Pakur
Maheshpur
STEPHEN MARANDI
JMM
Sikaripara
NALIN SOREN
JMM
Nala
RABINDRA NATH MAHATO
JMM
Jamtara
Dumka
HEMANT SOREN
JMM
Jama
SITA MURMU
JMM
Jarmundi
Madhupur
Haji Hussain Ansari
JMM
Sarath
Devghar
Poreyahat
Godda
Mahagama
Kodarma
Barkatha
Barhi
Barkagaon
Ramgarh
Mandu
Hazaribagh
Simaria
Chatra
Dhanwar
Bagodar
Jamua
Gandey
DR SARFRAZ AHMAD
JMM
Giridih
SUDIVYA KUMAR
JMM
Dumri
JAGARNATH MAHTO
JMM
Gomia
Bermo
Bokaro
Chandan kiyari
Sindri
Nirsa
Dhanbad
Jharia
Tundi
MATHURA PRASAD MAHATO
JMM
Baghmara
Baharagora
SAMIR Kr. MOHANTY
JMM
Ghatsila
Ramdas Soren
JMM
Potka
Sanjib Sardar
JMM
Jugsalai
MANGAL KALINDI
JMM
Jamshedpur East
Jamshedpur West
Ichagarh
SABITA MAHATO
JMM
Seraikella
CHAMPAI SOREN
JMM
Chaibasa
DEEPAK BIRUA
JMM
Majhgaon
NIRAL PURTY
JMM
Jaganathpur
Manoharpur
JOBA MAJHI
JMM
Chakradharpur
SUKHRAM ORAON
JMM
Kharsawan
DASHRATH GAGRAI
JMM
Tamar
VIKAS KUMAR MUNDA
JMM
Torpa
Khunti
Silli
Khijri
Ranchi
Hatia
Kanke
Mandar
Sisai
JIGA SUSARAN HORO
JMM
Gumla
BHUSHAN TIRKEY
JMM
Bishunpur
CHAMRA LINDA
JMM
Simdega
Kolebira
Lohardaga
Manika
Latehar
BAIDYANATH RAM
JMM
Panki
Daltonganj
Bishrampur
Chhatarpur
Hussainabad
Garhwa
MITHILESH KUMAR THAKUR
JMM
Bhawanathpur
The election in Jharkhand was held in five-phases from November 30 - December 20. This was the fourth Assembly election in Jharkhand since the state was carved out of Bihar in 2000. The results were declared by the Election Commission on December 23.