New Delhi: Multi-starrer Bhojpuri film 'Kahar' starring Gaurav Jha and Monalisa has opened to the positive word of mouth at cinema halls across Bihar and Jharkhand. The film is a complete package of action-romance-family emotions and comedy and has been running housefull at all the cinema halls. 
The film has been directed by Aanand D Gahatraj and produced by Avdesh Singh under the banner of Nath Film Productions. The trailer of the film was shared on YouTube which turned out to be very popular among Bhojpuri cine lovers. 
Take a look at the film poster here: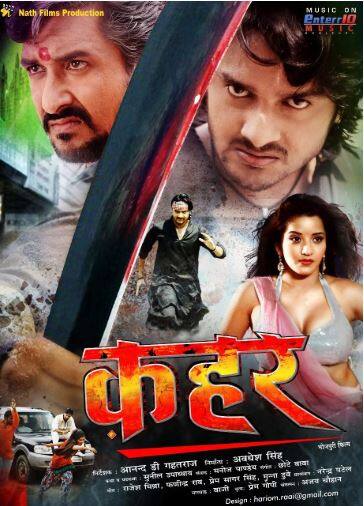 Overall, it can be said that the film has been loved by Bhojpuri audience. 'Kahar' story was written by Sunil Upadhyaya while dialogues were penned down by Manoj Pandey. Music has been composed by Chhote Baba while lyrics have been given by Rajesh Mishra, Phanindra Rao, Prem Sagar and Munna Dubey. 
Cinematography: Narendra Patel
Action director: Baaji 
Dance: Prem Gopi
Compilation: Ajay Chauhan
Publicity design: Hariom Rai 
'Kahar' also features Aanchal Soni, Sanjay Pandey, Umesh Singh, Baaleshwar Singh, Manoj Tiger, Ram Mishra, Gopal Rai, Sonia Mishra, Kavya Singh, Avdesh Singh among others.