Just as we celebrated the Internation Yoga Day on June 21, this year—the importance of the maintaining a healthy and holistic balance between mind, body and soul got reinstated. So, to not let this feeling be a fleeting one, Ritika Handoo of Zee News.com in an exclusive interview with Kamlesh Barwal, Director of the Art of Living Yoga program got to know how women specifically can benefit from Yoga. In this freewheeling interview, Kamlesh shares her views on how Yoga can greatly enable women to be efficient, enthusiastic, healthy, calm and yet productive as they multi-task their way to excellence, both at home, work and society. Here are some useful excerpts: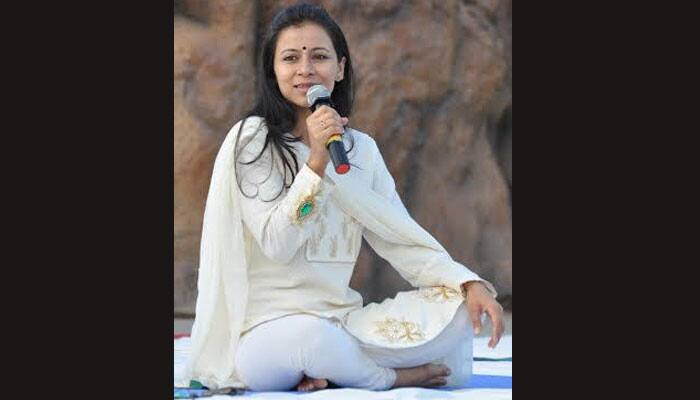 (Kamlesh Barwal)
Q. How important is it for a modern day woman to exercise in general? Is it possible for a working woman to perform yoga asanas with ease at home?
A. Definitely, yes. In fact, it's needed more than ever before for a woman to practice yoga. The role of a woman especially in modern India has changed a lot now. She is no more just the home maker but her ability to multitask has made her a mother, a wife, an entrepreneur, a marketer, a daughter in law, a friend, a coach-All of this in one.While she is the central pillar at home, she is also the shining light at office. The demand on her time and mind, her decision making and choices have really gone up. Since the demand is higher the need to rest also goes up. This kind of rest cannot be achieved from sleep alone. A deep rest from meditation yoga and pranyama is most important.
Q. Can yoga help a working woman battle stress?
A. Yes, yoga is the biggest stress buster in today's world. No wonder the whole world is celebrating this knowledge. There are many kinds of days that we celebrate from mother's day to environment day. But none of the other days are celebrated at the scale that yoga is. This only goes to establish the power of healing that this knowledge contains. Billions have benefited from it and everybody knows if one practices yoga life becomes simple and a fulfilling experience. We are able to see life through a new perspective, in its truest and purest form, relieving us of stress and fears.
Q. How feasible is it to practice yoga asanas at home without any guide?
A. It is best to learn yoga under a master. Once few practices are learnt properly with a guide, then we may continue our home practice on our own. In Art of Living we have designed very effective programs that anyone can learn with an experienced teacher for few hours a week and then practice at home every day.
Q. Can you list some easy-to-do asanas for females?
A. Women can practice-
-Cat stretch
-Child pose
-Downward-Facing Dog
-Vajrasana
-Trikonasana
-Warrior pose
-Tree pose (Vrikshasana)
-KatiChakrasana
-Paschimottan asana
-Badhkonasana
-Naukasana
-Pawanmuktasana
-Setubandhasana
-Bhujangasana
-Spine twists
-Breathing exercises like- Nadi shodhan pranyam, sheetali pranayama or practice Art of Living Padmasadhana everyday.
Q. Women bear a lot of emotional stress both at work and home. Suggest some expert advice for a better lifestyle.
A. Every woman must take out some time either in the morning or in the evening to practice some asanas and pranayamas. During the day at work some easy stretches can be practiced at the desktop itself. A short meditation break must start replacing those small gossip sessions we hold here and there. These small changes to our lifestyle will help us live a more productive and stress-free life and at the same time bring harmony to our home and work place. The benefits of Yoga on body are well known, so with a healthy body and higher energy, sailing through all ups and downs of life will become easier.
Q. Any special message for women on International Yoga Day?
A. Today's woman is much more than her traditional role of a housewife, a mother or a daughter. She plays an equal role in the decisions of socio-economic and political life she leads. She is a multi-faceted, dynamic and uniquely influential part of our society and is forever naturally striving for perfection in every aspect of life. Moreover, the responsibilities thrust upon her by nature are greater than men. However, to carry out all her roles with grace, flair and perfection, it is essential that women maintain good health, mental peace and poise in life. And what could be the best way to attain all of these than YOGA. One this IYD I want every woman to make a promise to herself that by doing everything else that she is, she will take out just 20-30 minutes only for herself and her yoga practice.
Q. Yoga is essential for holistic living. Suggest some ways to improve our daily lifestyle.
A. Going to bed early. Have dinner a few hours before you go to sleep. Begin your day with a simple asana and pranayama routine. If you have learnt Sudarshan Kriya, then that is what you start your day with. Find time to relax. Take short breaks at work, stretch, gaze out of the window, go in a corner just practice few breaths of Bhastrika or Bhramari or Nadi shodhan pranayam.
Put a meditation CD and even if for 10 mins just close your eyes before lunch. Smile more and take a walk alone. STOP and ask yourself what you really want in life. See your life with respect to this infinite time and space. Billions of years and infinite universes-what is your life in this cosmos, why make such a big deal out of it. Breath in, Breath out and relax!