Cyclone Vayu live updates: Airports in Gujarat will be closed from today midnight to tomorrow midnight
Cyclone Vayu is expected to hit Gujarat's coast by the morning of Thursday (June 13).
Cyclone Vayu is raging its way towards Gujarat's coastline and is expected to make landfall by Thursday morning here. Its impact, however, is being felt in several other states with coastal areas of Maharashtra especially affected due to rain and high-speed winds.
State administrations have begun preparations in earnest to ensure that locals are aware of do's and don'ts while those in low-lying areas in coastal parts - specifially in Gujarat - are being taken to safer locations. Here, it is estimated that over three lakh people will be taken to higher grounds and 700 shelter homes have been kept ready. As many as 26 teams of National Disaster Response Force - each with 45 personnel - have been deployed in Gujarat for carrying out relief operations. An additional 12 teams are en route as well. 34 teams of the Indian Army are on standby while the Indian Navy, Coast Guard and Air Force have also been requested to assist if and when needed.
Thank you for staying with us for the live updates. Please join us tomorrow for latest updates on Cyclone Vayu. For more details, visit here.
* Six dead in Gujarat due to Cyclone Vayu. Two people died in Narmada and two in Tapi, while one person died in Dang and one in Gandhinagar.
* IMD: The VSCS VAYU over East-central Arabian Sea lay centred at 1730 IST on Wednesday about 200 km south-southwest of Veraval (Gujarat). It is very likely to cross Gujarat coast between Dwarka and Veraval as VSCS with wind speed 155-165 kmph on Thursday afternoon.
* 194 flights for departure and 192 flights for arrival are delayed at Mumbai Airport. Two flights were diverted due to bad weather.
* Western Railway: Three special evacuation trains are scheduled to run in Rajkot Division, Bhavnagar division & Veraval today to evacuate passengers of coastal areas affected by Cyclone Vayu.
* Western Railway: In addition to the earlier 15 trains, 25 more mainline trains have been cancelled, while in addition to the earlier 16 trains, 12 other mainline trains will be short terminated with partial cancellation as a precautionary measure in Cyclone Vayu prone areas.
* Airports in Gujarat will be closed from today (Wednesday) midnight to tomorrow (Thursday) midnight.
* Cyclone Vayu to hit coastal region of Saurashtra in afternoon and not in the morning, says Ahmedabad IMD director Jayant Sarkar
* Gujarat: 1.6 lakh people evacuated as Cyclone Vayu inches closer.
* An earthquake measuring 2.3 on the Richter scale rocked Gujarat on Wednesday, hours ahead of the scheduled landfall of Cyclone Vayu. Read more.
* Maharashtra government shuts down all beaches in Konkan region on June 12 and 13 for public in wake of Cylone Vayu. These beaches are — Palgahar, Thane, Mumbai (city/suburban), Raigad, Ratnagiri and Sindhudurg.
*Strong winds and dust hit the Somnath temple in Gujarat's Gir Somnath district ahead of landfall.
#WATCH Gujarat: Strong winds and dust hit the Somnath temple in Gir Somnath district ahead of the landfall of #CycloneVayu, expected tomorrow. pic.twitter.com/CgVFYJvpeH — ANI (@ANI) June 12, 2019
* Maharashtra government says all beaches in the Konkan region - Palgahar, Thane, Mumbai(city/suburban), Raigad, Ratnagiri and Sindhudurg - may be shut for the public for the next two days.
* Gujarat CM Vijay Rupani chairs a meeting with senior state officials to take stock of preparations made so far.
* IMD's 12 noon bulletin says Cyclone Vayu has moved north-northwestwards at a speed of 11 kmph in the last six hours. It is very likely to move northwards and cross Gujarat coast between Porbandar and Diu around west of Veraval on Thursday morning at speeds of 140 kmph to 150 kmph.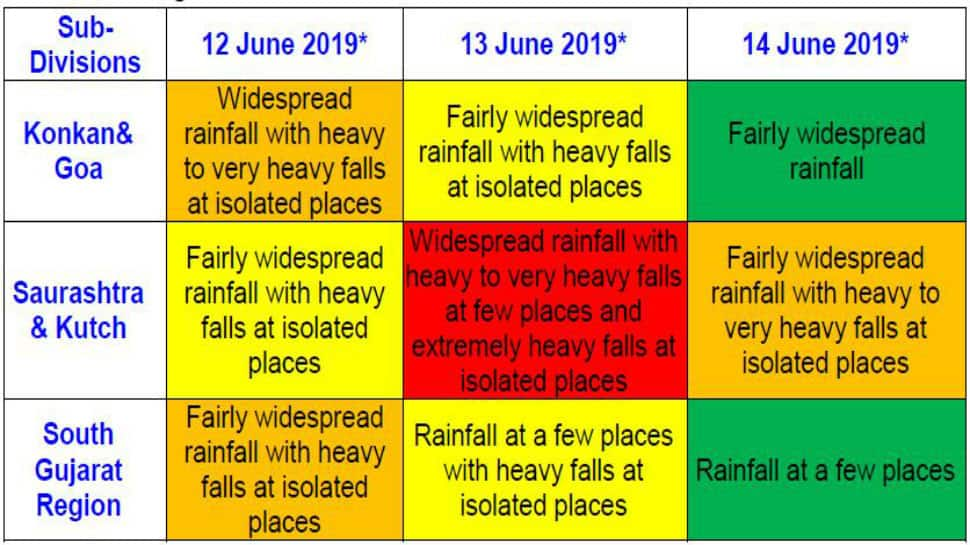 * Western Railway has issued a notification informing measures taken in view of Cyclone Vayu. A number of passenger trains to various stations have been cancelled while special trains have been arranged.
- Passenger and goods' trains to Veraval, Okha, Porbandar, Bhavnagar, Bhuj and Gandhidham have been cancelled between 6 pm on Wednesday and morning of Friday.
- One special train each to be deployed from Gandhidham, Bhavnagar Para, Porbandar, Veraval and Okha to evacuate people.
- Coaching stock at depots in coastal areas of Gujarat are being moved to safe locations.
- Special trains with six to ten coaches are being formed. These would be at safe location and will be deployed to emergency areas if and when required.
- 24-hour control room at Western Railway HQ. All offices under Western Railway to closely coordinate with state authorities.
* Indian Air Force presses a C-17 aircraft into service. It is bound for Arakkonam where it will take NDRF personnel and relief materials, and then take off for Jamnagar in Gujarat. Another C-17 is bound for Patna from where it will take NDRF men and relief materials to Jamnagar. (Full report here)
* Kandla Port in Gujarat has been shut. Locals in the area are being evacuated to safer locations.
* News agency ANI reports that 20 villages in Gujarat's Valsad district have been put on alert. Fire and rescue teams have been put on alert.
* NDRF teams carry out awareness programs to help locals in Navlakhi (Gandhidham, Gujarat):
* Indian Coast Guard forms relief teams:
@IndiaCoastGuard Western Region #DisasterReliefTeams formed and kept on immediate notice at #Daman #Dahanu #Mumbai #MurudJanjira #Ratnagiri #Goa #Karwar #Mangalore #Beypore #Vijhinjam & #Kochi for immediate response to the impending #SevereCyclonicStormVayu @DefenceMinIndia pic.twitter.com/CZm34VcCK4 — Indian Coast Guard (@IndiaCoastGuard) June 12, 2019
* Cyclone Vayu around 330 kilometres from Veraval in Gujarat on Wednesday morning. Gujarat state government has asked for 12 additional teams of NDRF - six from Patna and six from Chennai.
* Gujarat Chief Secretary J N Singh expected to call his counterpart in Odisha to learn about how the state dealt with Cyclone Fani in April. (Read all about Cyclone Fani here)
* News agency ANI reports that tourists in Gujarat's Dwarka, Somnath, Sasan and Kutch are being requested to leave for safer locations.
* IMD and BMC have warned locals in Mumbai to avoid the shoreline here. People are also being asked to exercise maximum caution against potential threats from flying objects. (Read full report here)
* By Wednesday morning, Cyclone Vayu was around 280 kilometres south-southwest of Mumbai. The city has witnessed high-speed winds which led to several trees being uprooted.
* The landfall is expected in Gujarat on Thursday morning.
* Vayu turned into 'Very Severe Cylonic Storm on Tuesday night'. It is expected to make landfall in Gujarat's Veraval. (Read full report here)