Highlights from Karnataka Assembly: Kumaraswamy loses trust vote, JDS-Congress government falls
HD Kumaraswamy's tenure as CM comes to an end as he loses trust vote 99 to 105.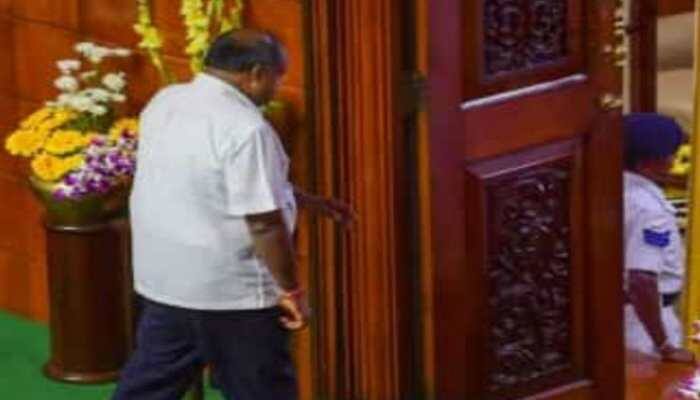 LIVE Blog
In a spectacular fall from shaky grace, HD Kumaraswamy's stint as Karnataka CM came apart at the seams after weeks of political turmoil in the state. The JDS-Congress government on Tuesday evening lost the trust vote 99 to 105 despite its repeated attempts to win back the support - and love - of MLAs who had rebelled.
The coalition had also tried its best to delay the trust vote by as much as is possible but Speaker KR Ramesh eventually called for the process to start Tuesday evening.
It could be a massive shot in the arm for the Bharatiya Janata Party with BS Yeddyurappa flashing the 'Victory' symbol after the result of the trust vote was announced by the Speaker.
Here are the highlights from all that transpired within the Assembly on Tuesday (July 23):
23:15 PM
Fireworks bring what has been a superb day for BJP in Karnataka to an end. BJP's Legislature Party meeting has ended and there will be another meeting at 11 am tomorrow.
That is all the updates from a thrilling Tuesday's political action from Bengaluru.
#WATCH: Fire works outside Ramada Hotel in Bengaluru where Bharatiya Janata Party (BJP) Legislature Party meeting is underway. HD Kumaraswamy led Congress-JD(S) government lost trust vote in the assembly, today. #Karnataka pic.twitter.com/D7dCyPeTv0

— ANI (@ANI) July 23, 2019
22:23 PM
It is party time in BJP's Karnataka unit:
#WATCH Karnataka BJP MLA Renukacharya dances with supporters outside the Ramada Hotel in Bengaluru. HD Kumaraswamy led Congress-JD(S) government lost trust vote in the assembly, today. pic.twitter.com/6MBQNgzg4R

— ANI (@ANI) July 23, 2019
20:53 PM
BSP expels party MLA N Mahesh for not voting in favour of Kumaraswamy as per directions. 
"Party has taken this seriously & expelled him with immediate effect," tweets Mayawati.
20:49 PM
Kumaraswamy submits his resignation letter to Governor Vajubhai Vala.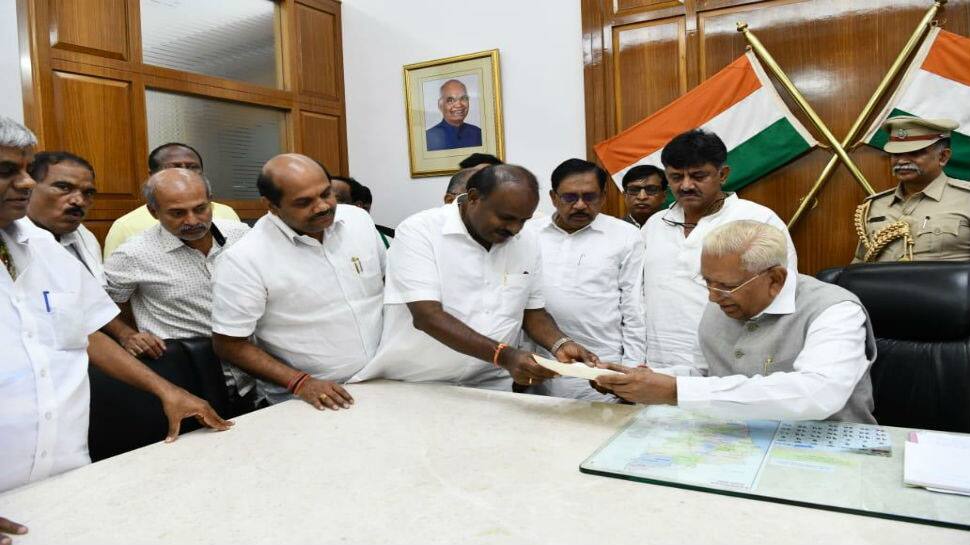 20:48 PM
Kumaraswamy arrives at Rajbhavan to submit resignation.
20:37 PM
Siddaramaiah on proceedings at Vidhana Soudha:
15-16 of our MLAs violated the whip by abstaining from the House during trust vote, thereby, it is a clear violation of Schedule 10 (of the Constitution) and attracts disqualification.
20:35 PM
"This defeat is because of betrayal of our party legislators," says Congress leader HK Patil. "We have come under the influence of various things. I am people of Karnataka will not tolerate this type of betrayal to the Party."
20:31 PM
Kumaraswamy arrives at Raj Bhavan to submit resignation.
20:07 PM
It is victory of democracy. People were fed up with the Kumaraswamy government. I want to assure people of Karnataka that a new era of development will start now. We assure the farmers that we will give more importance to them in the coming days. We will take an appropriate decision at the soonest: BS Yeddyurappa
20:01 PM
BJP's JC Madhuswamy says his party ready to take oath:
For 14 months, the people were upset that we were not in power. We saw this in BJP's victory in the Lok Sabha polls. No matter what happens, this is good for the state. Would like to thank 105 MLAs for their support, without any complaints at any time. They have been patient and we have won the appreciation of the people. We will keep their faith alive once we officially take oath.
19:57 PM
Missing from action in today's trust vote were 15 rebel MLAs, 2 MLAs in hospital, 2 Independents who did not turn up as well as one BSP MLA who too did not show up.
19:44 PM
The coalition government in Karnataka was formed on May 23 of 2018. Its 14-month stay in power was marked by several controversies which eventually culminates today.
19:44 PM
BJP MLAs celebrate, show 'Victory' sign towards BS Yeddyurappa. Yeddyurappa returns the favour, beaming from ear to ear.
19:43 PM
It is all over for the JDS-Congress government in Karnataka.
After weeks of political turmoil, the nail in the coffin has been driven as Kumaraswamy loses 99 to 105.
19:37 PM
Speaker asks for result sheet after row-wise counting concludes.
19:30 PM
Row-wise counting of those in favour of the coalition government has ended.
Counting in the same process begins for those against.
19:25 PM
Speaker conducting head count.
Rebel Congress MLA Ramalinga Reddy votes in favour of JDS-Congress coalition.
19:22 PM
Much-awaited voting finally begins inside Vidhana Soudha.
19:03 PM
CM Kumaraswamy says trust vote can take place after his speech ends. " I am ready," he says.
17:55 PM
We are imposing Section 144 across Bengaluru for today (Tuesday) and tomorrow (Wednesday). All pubs, wine shops will be closed till July 25. If anyone is found violating these rules, they will be punished: Bengaluru Police Commissioner Alok Kumar
17:48 PM
Talking about people rebelling in a bunch, Siddaramaih said that those who defect can never win again. "This wholesale trade is a problem. If there is retail trade of one or two members then it's not a problem. The MLAs (rebel) who have gone have indulged in wholesale trade. Rs 25 crore, 30 crore, 50 crore, where is this money coming from? They (rebel MLAs) will be disqualified. Their political 'samadhi' will be built. Whoever defected since 2013 lost. The same fate awaits those who have resigned this time. It should happen," the Congress leader said.
17:11 PM
Congress and BJP supporters get into a fight outside Nitesh Apartments on Race Course road in Bengaluru over reports that two Independent MLAs have been holed up an apartment before taking part in the floor test. The two Independents had withdrawn support to the JDS-Congress coalition and submitted their letter to the Governor in favour of BJP.
#WATCH Karnataka: Congress workers protest outside an apartment on Race Course road in Bengaluru alleging that independent MLAs have been lodged here. pic.twitter.com/sNyTnr6bZR

— ANI (@ANI) July 23, 2019
15:19 PM
Karnataka Congress chief Dinesh Gundu Rao has said that the situation in the state is fit for application for anti-defection law. "Our advocate has argued on our behalf before the Speaker on disqualification petition...These members who have betrayed us will stand to get disqualified. It is a fit case for the Anti-Defection Law to apply," he said.
15:17 PM
Yes I was the reason MTB Nagaraj got a ticket. We spoke to him and he gave a statement as well. Couldn't we have locked them up? No, because we have trust in them. Bring them here, let them vote against this government, says Congress leader DK Shivakumar.
13:38 PM
Congress leader DK Shivakumar takes a dig at former chief minister BS Yeddyurappa, says, "I appreciate Yeddyurappa's perseverance. He failed six times and now he looks close to succeed. But I don't know how those rebels will become ministers."
12:29 PM
Plea in Supreme Court seeking immediate trust vote in Karnataka deferred till Wednesday - READ FULL STORY
12:11 PM
A plea by two rebel MLAs, seeking immediate trust vote in Karnataka Assembly, will be heard by the Supreme Court on Wednesday. In the plea, the MLAs have alleged that Chief Minister HD Kumaraswamy-led Congress-JDS government has lost majority and was trying to stall the trust vote.
11:24 AM
Shivalinge Gowda of the JDS says the government will go for trust vote if the BJP assures that none of the rebel MLAs would be given ministerial berth if they come to power. "We are stretching this because of the dubious manner in which our MLAs have been carried away.Everybody in the state knows that this conspiracy was hatched by the BJP, every child knows. Let them admit on the floor of the house. Why hide this? Let them say it openly," he says.
10:51 AM
Hitting out at the government, Jagdhish Shettar of the BJP says the ruling coalition is taking trust vote lightly. "Look at how lightly the coalition is taking this. They assured us that it will be done today but they haven't even come. Chief minister HD Kumaraswamy sits in his chamber and clears files instead of sitting for discussions. They don't have the mindset to prove their majority, they want to drag this. The people are disgusted with this. We cannot wait for people who are holed up in Mumbai."
10:51 AM
Bharatiya Janata Party MLAs attend the Assembly in full number while many members of the Congress-JDS ruling alliance remain absent. Shivalinge Gowda seeks 30-minute time from Speaker, says everyone will be in by then.
09:58 AM
They don't have the numbers. They're a minority government. MLAs are in Mumbai. They don't want to come. Let's see what happens by this evening. (We are) confident that this government will definitely go. This isn't a people's government. People are upset, MLAs are upset, says Shobha Karandlaje of BJP.
09:50 AM
Karnataka Speaker KR Ramesh Kumar arrives at Vidhana Soudha. HD Kumaraswamy government will face floor test in the Assembly today.
Bengaluru: Karnataka Speaker KR Ramesh Kumar arrives at Vidhana Soudha. HD Kumaraswamy government will face floor test in the Assembly today. pic.twitter.com/Bc37dHNk3L

— ANI (@ANI) July 23, 2019
09:49 AM
Karnataka Speaker KR Ramesh Kumar on 'rebel MLAs' seeking four weeks time to appear before him': It is all related to court proceedings. It will all be dealt with in the court.
#Karnataka Speaker KR Ramesh Kumar on 'Rebel MLAs' letter to him seeking four weeks time to appear before the speaker': It is all related to court proceedings. It will all be dealt with in the court. pic.twitter.com/rQzKltlpnK

— ANI (@ANI) July 23, 2019
09:48 AM
Karnataka Speaker KR Ramesh Kumar on 'allegation that he is intentionally providing more time to ruling parties to prove majority': I convey my thanks to them. I pray to God to give some sense to them.
08:38 AM
Karnataka rebel MLAs requests Vidhan Souda Speaker for 4-week time to appear before his office. The rebels MLAs are currently staying at a hotel in Mumbai..
 
07:11 AM
DK Shivakumar, Congress: Speaker has served notice to rebel MLAs, giving them time till 11 AM Tuesday. BJP is trying to convince them that they won't be disqualified & they will be made ministers. As per Constitution of India, you can't be made a member once you're disqualified.
DK Shivakumar, Congress: Speaker has served notice to rebel MLAs, giving them time till 11 AM tomorrow. BJP is trying to convince them that they won't be disqualified & they will be made ministers. As per Constitution of India, you can't be made a member once you're disqualified pic.twitter.com/RyKrLWeNCs

— ANI (@ANI) July 22, 2019
07:10 AM
On Tuesday, we will finish the floor test, after some of our members speak. By 4 PM Tuesday we will finish discussion, by 6 PM we will finish the floor test: Congress leader Siddaramaiah
Siddaramaiah, Congress at Vidhana Soudha: Tomorrow we will finish the floor test, after some of our members speak. By 4 PM tomorrow we will finish discussion, by 6 PM we will finish the floor test. #Karnataka pic.twitter.com/9OmLEHvpFW

— ANI (@ANI) July 22, 2019
07:06 AM
Shiv Sena's mouthpiece Saamna on Monday slammed Karnataka Chief Minister HD Kumaraswamy for clinging on to power and said that majority must be determined inside the Assembly but Kumaraswamy, who has already lost the majority, is wasting time by holding a debate over this matter in Assembly. (Read full report here)