Mamata Banerjee vs CBI, Day 3: SC orders Kolkata top cop to appear before CBI, issues notice in contempt case
The chief minister declared her agitation to save the "Constitution and country" will continue till February 8.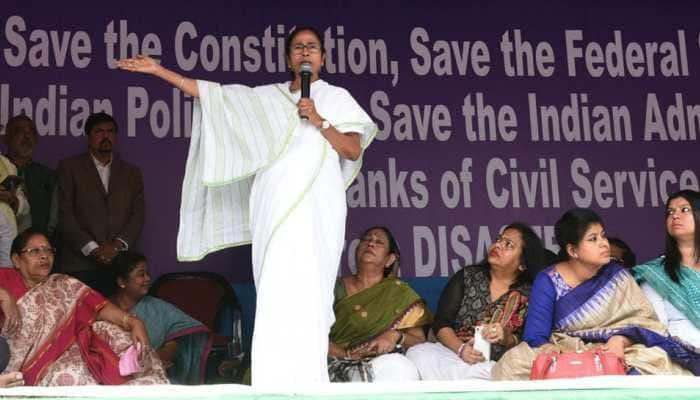 LIVE Blog
A political firestorm raged in West Bengal's Kolkata as CM Mamata Banerjee's sit-in protest against CBI's attempt to grill Kolkata Police Commissioner Rajeev Kumar in chit fund scam cases entered the third day on Tuesday. The chief minister declared her agitation to save the "Constitution and country" will continue till February 8.
READ: Calcutta HC adjourns hearing in Kolkata Police chief case till Thursday
The Supreme Court Tuesday directed Kolkata Police Commissioner Rajeev Kumar to make himself available before the CBI and "faithfully" cooperate with the agency in the investigation of cases arising out of the Saradha chit fund scam probe. The apex court said Kumar will appear before the Central Bureau of Investigation (CBI) for investigation at Shillong in Meghalaya.
READ: West Bengal CM hails SC order
The apex court also said no coercive steps, including the arrest of the Kolkata Police chief, will take place during the course of the investigation.
A bench headed by Chief Justice of India (CJI) Ranjan Gogoi also issued a notice to Kumar and sought his response before February 20, the next date of hearing on the allegations by the CBI that he was tampering with electronic evidence and that the SIT headed by him provided the agency with doctored materials. The court directed Kumar to make himself available before the CBI and "faithfully cooperate" in the Saradha scam probe.
On Monday, the CBI filed a contempt plea in the apex court against West Bengal Chief Secretary, Director General of Police and Kolkata Police Commissioner for wilful and deliberate violation of the apex court orders. A three-judge SC bench comprising Chief Justice Ranjan Gogoi, Justice Deepak Gupta and Justice Sanjiv Khanna will hear the pleas. Meanwhile, Rajeev Kumar is said to have moved the Calcutta High Court against the issue.
Virtually all opposition parties rallied behind Banerjee's direct confrontation with the Modi government, even as the BJP called it an "alliance of corrupt" and Home Minister Rajnath Singh told Parliament that developments in West Bengal were indicative of a "breakdown of the Constitution".
Trinamool workers took to streets burning effigies of Prime Minister Narendra Modi and BJP chief Amit Shah and blocked trains, while the BJP lined up its top leaders to step up the counter-offensive against Banerjee and other opposition leaders.
Here are the LIVE UPDATES:
14:41 PM
When asked if there has been any communication with West Bengal Chief Minister Mamata Banerjee over the CBI matter, Odisha CM Naveen Patnaik said, "No one from TMC has been in contact with us for at least a year. Our party statement yesterday had to do with events in our state. We would like CBI to do a professional and non political job."
13:12 PM
BJP National General Secretary Kailash Vijayvargiya thanked the Supreme Court for directing Kumar to appear before the CBI, saying it was a "victory of democracy" and demanded the resignation of West Bengal Chief Minister Mamata Banerjee. "The SC verdict is a victory of democracy. Mamata Banerjee should immediately tender resignation," said Vijayvergiya. "Mamata Banerjee is on dharna to stop CBI from questioning a police officer. The people of this country would have loved to see Banerjee holding dharna to return the money of chit fund investors," Vijayvargiya said.
13:02 PM
Delhi Chief Minister Arvind Kejriwal and his Andhra Pradesh counterpart Chandrababu Naidu will arrive in Kolkata and meet CM Mamata Banerjee at the dharna site - Metro Channel - around 3 PM. 
12:11 PM
Uttar Pradesh Deputy Chief Minister Keshav Prasad Maurya alleged that Chief Minister Mamata Banerjee had put democracy in peril in West Bengal and sought to know if Kolkata Police chief Rajeev Kumar was an office bearer of her party TMC.  "I feel that in West Bengal democracy is in peril. Someone occupying a constitutional post is violating the federal structure of the country. This certainly does not augur well for the democracy of the country," said Maurya.
12:11 PM
The Shiv Sena attacked the Modi government over the face-off between the West Bengal government and the CBI, alleging that it was "orchestrated" for political gains in the upcoming Lok Sabha elections. The Sena, in an editorial in party mouthpiece 'Saamana', said what was happening in Kolkata was a "threat to democracy". The Sena said the Centre could have acted against the Kolkata Police chief two months back and the CBI should have carried proper summons before visiting his house to question him.
"No one involved in the Saradha chit fund scam should be spared, but how does the CBI look at the 'cheat India' matter which has been going on for the last four-and-a-half years," the Uddhav Thackeray-led party remarked.
Without elaborating its point, it said Narendra Modi should look in to the crisis in West Bengal as a prime minister of the country and not as a leader of the BJP. The Sena claimed that the BJP was going to fall short of 100 Lok Sabha seats from north India to Maharashtra (in the west) in the Lok Sabha polls.
"To fill the gap, the BJP has laid its hopes on states like West Bengal to win 10 to 15 seats... All this (the all-out war between the Centre and the Mamata Banerjee government) is being orchestrated with an eye on the Lok Sabha polls," said the Sena, which is an ally of the BJP at the Centre and in Maharashtra.
11:59 AM
Calling Mamata Banerjee delusional, BJP leader Babul Supriyo said, "Mamtaji is delusional, claiming victory. When did CBI say that they went 2 arrest Rajeev Kumar? She was BLOCKING the probe by instructing Rajiv to not cooperate in the CBI probe!! Supreme Court has ORDERED him to present himself before CBI, something he didn't do for 3years•Period"
11:49 AM
"Today we've to ask larger questions on behalf of the party. Lakhs of small investors were cheated and looted off their money. Is it not our moral obligation for an investigation? Why is Mamata ji silent on this? Why are the other political parties silent on this? This order was given by SC to investigate the conspiracy angle & also money laundering angle. This investigation must be done in a fair manner. Let's not politicise it. This is a great moral victory for CBI," said Union Minister Ravi Shankar Prasad.
11:49 AM
After the SC verdict, West Bengal CM Mamata Banerjee said, "We welcome the verdict of the Supreme Court. It's a moral victory. We have great respect for the judiciary and all institutions. We are so grateful and so obliged. This is our win. Rajeev Kumar never said he'll not be available. He said we want to meet at mutual place, if you want to ask for any clarification, you can come and we can sit. But what they started doing? They wanted to arrest him. They went to his house, on a secret operation, on Sunday, without any notice. That court said 'no arrest'. We are so obliged. It will strengthen the morale of the officers."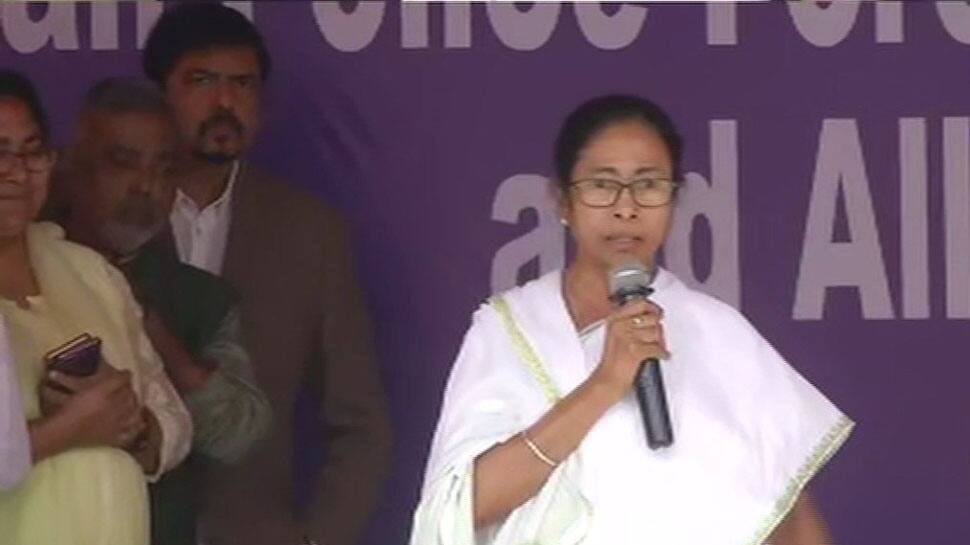 11:45 AM
Congress leader Mallikarjun Kharge said, "The govt is settling scores with opposition after interfering in autonomous bodies. We are fighting against those elements. It is not about an individual, an officer or a party, we are fighting against govt's attempt to discredit autonomous bodies."
11:09 AM
"CJI bench ordered that Rajeev Kumar would make himself available in the light of prayer of the application of CBI to join the investigation, make himself available & cooperate fully. The SC pointed out that no coercive steps would be taken," said Nalin Kohli, senior lawyer and BJP leader.
11:08 AM
Supreme Court also says no coercive steps including arrest against Rajeev Kumar. Questioning should be done at a neutral place. 
11:07 AM
The Kolkata Police Commissioner Rajeev Kumar will appear before the Central Bureau of Investigation (CBI) in Shillong, Meghalaya, as a neutral place. The next hearing is February 20: SC
10:51 AM
"We will direct the Police Commissioner to make himself available and fully cooperate. We will deal with contempt petition later," observed CJI.
10:51 AM
Calcutta HC adjourns hearing in Kolkata Police chief Rajeev Kumar case till Thursday as the Supreme Court is seized of the matter.
10:48 AM
"We were going through your prayers. It might not be difficult to make Rajeev Kumar available. But contempt we cannot decide now. To decide contempt, we will have to issue notice and hear the other party," remarks CJI Ranjan Gogoi. 
10:46 AM
Attorney General KK Venugopal commenced submissions, citing 2014 judgment of Supreme Court to transfer the probe to CBI. "The material handed over to us was not the entire material. We had serious doubts over the documents which were handed over to us. Call data records which were given to us were incomplete," KK Venugopal.
10:42 AM
Attorney General K K Venugopal opens argument on behalf of CBI, alleges destruction of evidence in Saradha chitfund scam case. The affidavit said that there are several incriminating material/correspondence that was collected during the investigation by the CBI against the senior police officials as well as senior politicians. The affidavit says the investigation was being done by SIT and crucial evidence such as laptops, mobile phones etc. were handed over to the main accused in Saradha scam case by the investigating officer of West Bengal police working under direct supervision of Kolkata Police Commissioner Rajeev Kumar.
The affidavit also states that the return of crucial evidence to main accused by the SIT, despite regular monitoring by HC, clearly show connivance of SIT to a larger conspiracy wherein local authorities obstructed probe and attempted to destroy evidence prior to transfer of the case to CBI by SC.
Earlier the SC had said that "if the police commissioner is even remotely trying to destroy evidence, we will come down so heavily on him that he will regret". The top court had said all material or evidence and additional documents have to be placed before it by means of affidavit.
10:40 AM
The Supreme Court starts hearing in the matter.
10:33 AM
Congress leader Siddaramaiah, "With bad intention and by keeping election in mind, they are (Centre) misusing the power and conducted raid at Commissioner's house. Mamata Banerjee opposed it by saying this is part of political vendetta. I support it. Mamata Banerjee did the right thing. She'll face court later but nobody should misuse ED, IT or any agency. PM Narendra Modi is creating anarchy. Can anybody raid your house?They have rights to work as per law. They didn't have any order or warrant."
10:32 AM
Actress Indrani Halder and senior ministers Arup Biswas and Indranil Sen were present Tuesday morning at the 'dharna mancha'.
10:32 AM
Delhi Chief Minister Arvind Kejriwal and his Andhra Pradesh counterpart Chandrababu Naidu are expected to visit the dharna site at Metro Channel on Tuesday, news agency PTI reported citing sources.
09:17 AM
Actress and TMC leader Indrani Halder meets Chief Minister Mamata Banerjee at 'Save the Constitution' dharna in Kolkata.
West Bengal: Actress and TMC's Indrani Halder meets Chief Minister Mamata Banerjee at 'Save the Constitution' dharna in Kolkata. The CM has been on the dharna since the night of February 3. pic.twitter.com/ZTdoUwy50T

— ANI (@ANI) February 5, 2019
08:35 AM
Along with SC hearing, hearing at Calcutta High Court will also be heard where the Kolkata Police commissioner Rajeev Kumar had moved the stop operations petition for several notices served by the CBI.
08:35 AM
RJD leader Tejaswi Yadav, who turned up on Monday night alongside DMK leader Kanimozhi, has stayed back and will be joining the dharna on Monday morning with West Bengal CM Mamata Banerjee. However, Kanimozhi has left.
07:32 AM
West Bengal CM Mamata Banerjee's 'Save the Constitution' dharna near Metro Channel in Kolkata. The stage is currently covered with curtains.
Kolkata: Latest #visuals from the site of West Bengal CM Mamata Banerjee's 'Save the Constitution' dharna near Metro Channel. The stage is currently covered with curtains. The dharna over the CBI issue began on the night of February 3. pic.twitter.com/orN4Krt6sB

— ANI (@ANI) February 5, 2019
07:25 AM
A quick recap of the ongoing turmoil in Kolkata:
07:25 AM
The CBI, which has proof that Kumar destroyed evidence in the chit fund scam, on Monday moved the Supreme Court to seek direction on how to act against Kumar, a senior IPS officer. A full-blown face-off between Mamata Banerjee government and the Centre erupted on Sunday evening after a CBI team moved to arrest Kumar, but were instead detained themselves by the Kolkata police. CBI's interim chief Nageswara Rao alleged that the Kolkata Police Commissioner had hampered evidence in the chit fund scam and the CBI has evidence to prove the same.  
07:24 AM
The BJP asked, "We want to ask Mamata Banerjee - why is she staging a dharna? Who does she want to shield? Police Commissioner (Rajeev Kumar) or herself?" Terming Sunday night's incident as "murder of democracy", Union Human Resources Development Minister Prakash Javadekar said never before has a CBI investigating team been taken into custody by the state police. "This is Mamata`s Emergency in Bengal. This is not ours, it`s Mamata," he said.
07:23 AM
On Monday morning, Mamata addressed a gathering of party supporters, attacking the central Modi-led government, particularly on farmers' issue, and declaring that West Bengal will not accept any funds from the Centre as part of any scheme. She termed the interim budget as a "farce" and claimed that the schemes announced by the Centre will not be fulfilled as the Central government lacks the requisite funds.
07:22 AM
Clad in her trademark white sari and some warm clothing and with senior party leaders in attendance, the Trinamool Congress supremo sat under the canopy till around 2 am of Monday. Towards the evening, Opposition leaders, including RJD leader Tejashwi Yadav and DMK leader Kanimozhi came to the protest venue to express solidarity with her. They also used the forum to attack the central government. As the full-blown face-off escalated, several parties including the Congress, Samajwadi Party, TDP,  DMK, JD(S), RJD, AAP, National Conference, PDP and Maharashtra Navnirman Party, extended support to her in her fight against the central NDA government. 
07:15 AM
On Monday, West Bengal Chief Minister Mamata Banerjee's dharna entered the second night, with her declaration that the protest will continue till February 8. A number of Opposition leaders flocked to Kolkata to express solidarity. The CM launched her dharna on Sunday night amidst the unprecedented face-off with the Centre over CBI versus state police issue. She launched her `Save the Constitution` sit-in at around 9 pm on Sunday after the CBI attempted to grill Kolkata Police Commissioner Rajeev Kumar in connection with the Saradha chit fund case.