Raids, stocking of essentials creates panic in Kashmir; J&K Governor urges calm
The Governor was informed of the dearth of the stocks available in the Valley due to the persistent closure of the Srinagar-Jammu highway.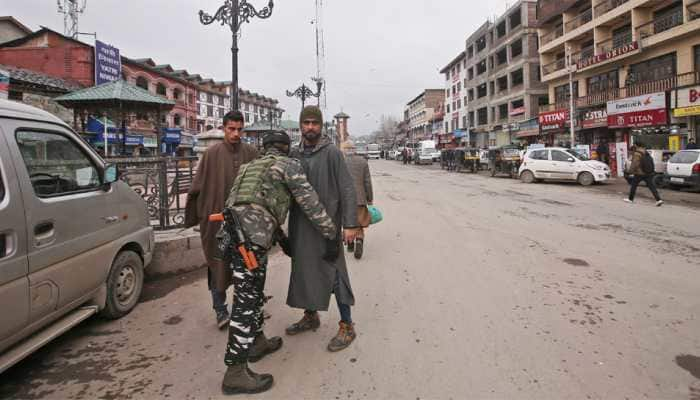 SRINAGAR: The Jammu and Kashmir administration on Sunday briefed Governor Satya Pal Malik to assess the situation in the state in the aftermath of the Pulwama terror attack. The Governor was also informed of the dearth of the stocks available in the Valley due to the persistent closure of the Srinagar-Jammu highway.
The administration assured that it is taking measures to enhance the supplies to the Kashmir region. Due to low availability of material, the administration had on Saturday ordered rationing of fuel. "The divisional administration in Kashmir has stated that rationing of fuel in the division has been ordered because of shortage of stocks having resulted from persistent closure of the Srinagar-Jammu highway," an official spokesperson said.
People have been buying fuel and food items aggressively since Saturday over rumours that the Centre is likely to favour abrogation of the Constitution's Article 35A, giving special rights on the state's people. What added to the worries were orders issued to chief medical officers that they must collect supplies of medicines, surgical items etc for various hospitals positively by Sunday and along with the order of the Consumer Affairs and Public Distribution Department that ration shops must be open on Sunday so that people can buy food grains.
However, the Department of Food, Civil Supplies and Consumer Affairs (FCS&CA) later in the day had clarified that the order to lift ration from its stores is a routine monthly exercise to make way for dumping next supplies. "This is a routine monthly exercise and people are advised not to panic," the spokesman said. The spokesman added that the said order also has been withdrawn to clear any confusion.
The worries of the commoners increased due to the raids in the Srinagar and other parts of the Kashmir Valley on Saturday which resulted in the detention of dozens of Jamaat-e-Islami (JI) cadres, including its top leadership. Shops and other business establishments were in Lal Chowk and other parts of Srinagar were closed as public transport also started thinning out on the roads.
A senior police officer had earlier said that the detentions and the additional CAPF deployment was nothing unusual since it was connected with the Election Commission's visit to the state in March.
The Centre has also deployed additional 100 companies of the Central Armed Police Force (CAPF) on an urgent basis in the valley. The administration has informed the Governor that in view of the upcoming election, more forces would be inducted in the coming weeks due to the possibility of an increase in terror activities against candidates and voters on a larger scale.