Lok Sabha Election 2019: PM Narendra Modi to file nomination from Varanasi on April 26
Here are all the election-related updates from April 24.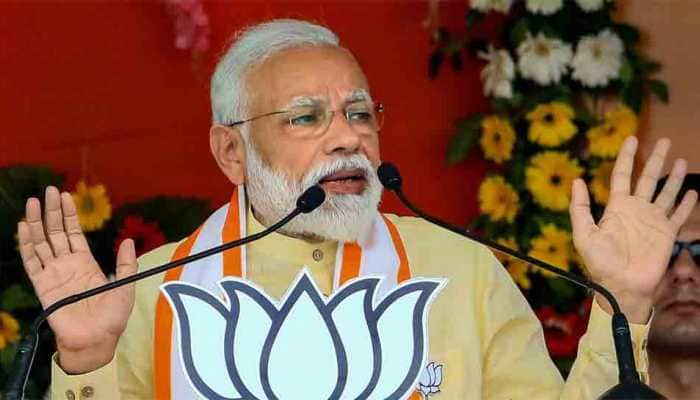 Day after voters sealed the fate of 1640 candidates in the third phase of Lok Sabha election 2019, a high-pitched campaign trail by political parties was witnessed on Wednesday.
Lok Sabha Election 2019: Here are all the developments that took place on April 24:
* An interesting mix of candidates, including Olympians, monks, members of erstwhile royal families and sons of former and present chief ministers, is in the fray for the 25 Lok Sabha seats in Rajasthan, which goes to polls in two phases on April 29 and May 6.
* Congress president Rahul Gandhi accuses Pm Modi of protecting the interest of 15 selected people while ignoring the farmers and the poor.
* An average of 81.97 percent votes were cast in the third phase election to five parliamentary constituencies in West Bengal.
* The Maharashtra State Commission for Women (MSCW) Wednesday issued notices to three Congress leaders for their remarks over the sexual abuse of tribal girls at a hostel in Rajura in Chandrapur district.
* The Election Commission will "soon" take a decision on complaints regarding political leaders invoking armed forces in campaigns, highly-placed sources said on Wednesday.
TMC boss Mamata Banerjee Wednesday alleged the prime minister is using black money made white during note ban to buy votes. "Modi Babu you may forcibly impose notebandi (demonetisation) on people to convert black money into white and spend them during elections to purchase votes, but you can never purchase voters in Bengal," she said.
* The Aam Aadmi Party said it would move high court challenging the returning officer's decision to accept the nomination papers of Ramesh Bidhuri, the BJP candidate from South Delhi Lok Sabha constituency.
* Gujarat recorded 64.11 per cent voter turnout in the Lok Sabha elections Tuesday, the highest since the state's formation, the Election Commission has said.
* Hardik Patel termed Congress the biggest nationalist party in the country and said several of its leaders have sacrificed their lives for the nation.
* The Congress will provide statutory status to the National Security Council and the office of the National Security Adviser if the party is voted to power, party President Rahul Gandhi said on Wednesday.
* PM Narendra Modi takes a jibe at TMC supremo Mamata Banerjee, calls her 'sticker didi' who labels central welfare schemes as those run by her government.
* The West Bengal CEO Ariz Aftab filed an FIR against Union Minister Babul Supriyo on the complaint of Trinamool Congress pertaining to the violation of Model Code of Conduct amid the ongoing Lok Sabha elections.
* BJP will get tea, sweets in Bengal but no votes: Mamata Banerjee
* Re-poll to be held at polling station 181 in Cooch Behar, West Bengal on April 29 following allegations that voters were stopped from casting vote.
* BSP supremo Mayawati accuses PM Narendra Modi of misguiding the country on the issue of reservation. She tweeted,"Efforts being made by PM Modi to misguide the country on the reservation that it will continue, is in fact another jumlebaji (rhetoric), as like the Congress, in their rule, reservation to SC/ST/OBC has been made completely inactive and ineffective."
* Like BJP, Congress too believes in threatening political opponents: SP chief Akhilesh Yadav at Kanpur election meeting.
* Read somewhere 'chaiwala' only made foreign trips in 5 years; India's might acknowledged everywhere because of these visits: Modi.
* It seems everyone wants to be PM, any party fighting from 20 or 25 seats wants to claim PM's post: Modi.
* Congress leader Priyanka Gandhi Vadra asked voters in Fatehpur to help end the politics of divisiveness and negativity and teach the BJP a lesson in the Lok Sabha elections.
* If Didi (Mamata Banerjee) has the power of goondas then we have strength of democracy: PM Modi in West Bengal
* ED attaches properties over Rs 40 crore of expelled DMK leader Alagiri in connection with money laundering case: Officials.
* Udit Raj, the BJP MP who on Wednesday jumped ship to the Congress, hit out at the saffron party, claiming that he was denied a ticket because he took stand on many issues against the party lines.
* The Election Commission (EC) on Wednesday announced the fresh poll schedule for Patkura Assembly constituency in Odisha where polls were postponed following the death of Biju Janata Dal (BJD) candidate Bed Prakash Agarwalla.
* We had an alliance with Congress, but their ego is too big: Samajwadi Party leader Akhilesh Yadav
* Priyanka Gandhi Vadra addresses a public meeting at Gazipur, Fatehpur, Uttar Pradesh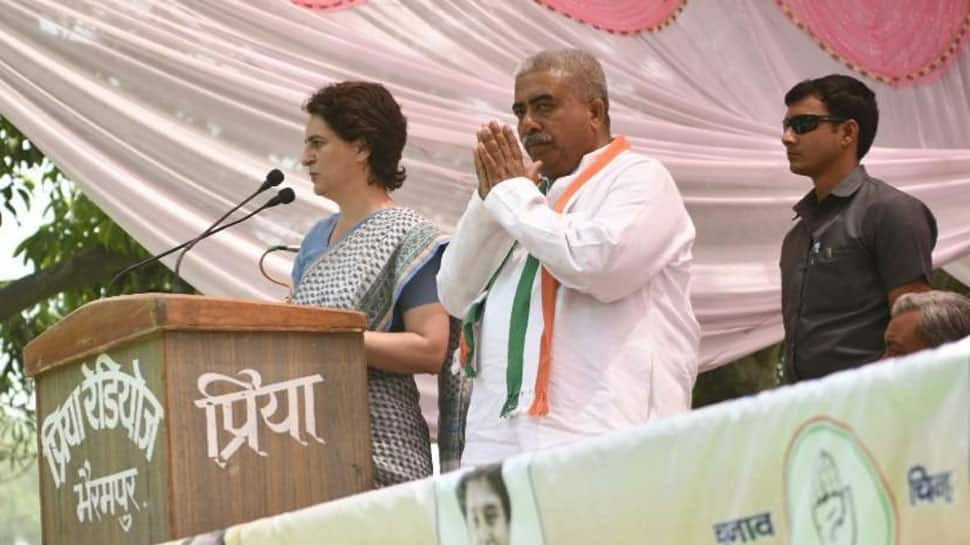 * Twenty-one opposition parties move Supreme Court, seeking direction to the EC to count 50% of the EVMs using VVPAT.
* Change politics not only of your area or for your needs, but for future generations and to save country.Remove politics of divisiveness and negativity, usher in politics which speaks about your grievances: Priyanka Gandhi Vadra in Fatehpur
* You would have seen how terrorists, couple of days ago, attacked Churches and other locations in Sri Lanka on the holy day of Easter. Before 2014 India too was going through a similar phase: PM Narendra Modi in Lohardaga, Jharkhand.
PM Narendra Modi in Lohardaga,Jharkhand: You would have seen how terrorists couple of days back attacked Churches and other locations in Sri Lanka on the holy day of Easter. Before 2014 India too was going through a similar phase pic.twitter.com/4g5q1bUW8J — ANI (@ANI) April 24, 2019
* Amit Shag addresses a public meeting in Munger, Bihar.
Shri @AmitShah is addressing a public meeting in Munger, Bihar. Watch LIVE at https://t.co/35lSgwXeou #BharatKaGarvModi pic.twitter.com/TEMhKCsblx — BJP LIVE (@BJPLive) April 24, 2019
* They used to abuse Modi but since yesterday they have started to abuse EVMs. It seems they have decided to pin the blame of the loss on EVMs, just like a student whose exam doesn't go well comes home and gives excuses like pen was not good etc: PM Modi at Lohardaga.
* Udit Raj, who was not given ticket by BJP in Delhi, has joined Congress.
Congress President @RahulGandhi welcomes Shri Udit Raj into the Congress party. pic.twitter.com/EZi9gygbyu — Congress (@INCIndia) April 24, 2019
*Excerpts from Akshay Kumar's interview with Prime Minister Narendra Modi
*Akshay: What was the last movie you watched?
PM Modi: When Amitabh Bachchan came to meet me when I was the CM, he asked me to watch Pa. Similarly when Anupam Kher visited me, we watch the movie Wednesday. But haven't been able to watch any movie during my time as a the PM.
* My family does not claim any medical or other benefits despite being the PM, unlike others: PM Modi
* Akshay Kumar shares memes with PM Modi. "I enjoy seeing these memes. Shows their creativity, their talent. The biggest advantage of social media is that it allows the common man to express his creativity," says Modi.
* I look at social media, so that I can know what's going on outside. I also see your and Twinkle's (Akshay's wife) twitter feeds. And the way she gets angry on me, I think it will give your family a lot of peace: PM Modi.
* Akshay: You have a unique fashion statement: beard, half-sleeved kurta etc.
PM Modi: I have a small bag with which I travel. Till I became the CM I used to wash my own clothes. Then I realised that carrying shorter kurtas help in saving space. I am also careful about my appearance - could possibly be due to psychological reaons and inferiority complex I felt because of being poor while growing up.
* PM Modi: If I get cold, I drink warm water, go on fasting for two days and puts mustard oil in nostrils -- it burns a bit, but helps.
* Akshay: Do you sleep for just 3.5-4 hours?
PM Modi: Doctors and well-wishers keep raising this up. When I met (former US president) Obama for the first time, the first thing he raised is why do I sleep for just these many hours.My sleep cycle is over in 3.5-4 hours. I am up and ready after that.
* PM Modi: Most PMs did not have CM's experience. I was the longest CM of Gujarat. No other PM had this fortune. Deve Gowda was also the CM, but for a short period. This experience has helped my a lot
* I avoid using humour in today's times as I fear that my words will be twisted & misinterpreted for TRP: PM Modi
*Akshay: What's your post-retirement plan?
PM Modi: I was once in a meeting with Rajamata Scindia, Pramod Mahajan when this topic came up. My responsibilities are my life.
*Akshay: If you get Aladdin's chirag (lamp), then what will your three wishes be?
PM Modi: I would ask it to stop educationists feed children and others folklores about Aladdin's lamp.
*Akshay: What is your bank balance today?
PM Modi: I have no bank account before being a CM. During childhood, we were once required to open an account, but no money was deposited in it. After being the CM we had to open the account. When I was about to become the PM, I thought what will I do with the money? Officers also asked me how will you manage the money. So I gave away a part of the money - Rs 21 lakh - to children of drivers.
* PM Modi: Mamata Banerjee sends me one-two kurtas every year. Sometimes, Sheikh Hasina sends me sweets from Bangladesh.
* PM Modi: Don't have an aura with my junior officers. We joke together, enjoy food together.
*Akshay Kumar: Do you get angry?
PM Modi: I never get angry -- a fact that surprises many. I have been the CM for so many years and PM for so long, but never got angry. I am strict, disciplined, but don't believe in humiliating others.
* Akshay Kumar: Were you always interested in being the PM? I heard you were interested in being a sanyasi?
PM Modi: During childhood, I used to see soldiers etc, used to be inspired. When Faujis used to come, I would go to visit them with tea, used to enjoy it. I heard about an Army School in my area. So I went to meet the head. I also met the head of the Ramakrishna Mission. He used to love me a lot, explain and talk about love. These were new experiences. By 18-22, I travelled a lot, learnt a lot.
But there was confusion too. Did not start out to be the PM, but life took its own shape.
*Akshay Kumar: My driver's daughter has a question for you. Does the PM eat mangos? Do you eat with kernels or cut it?
PM Modi: (laughs) Gujarat has the tradition of aamras. .... We used to go to the fields, eat ripe mangoes from the field, then there was no wash etc. But now I have to think before consuming large quantities.
*Akshay Kumar: Let's talk about you, move away from elections.
PM Modi: Happy that you are interested in knowing other things.
* Watch: Akshay Kumar in a freewheeling chat with PM Narendra Modi shortly
* Sitaram Yechury, the general secretary of Communist Party of India (Marxist) said that it is regrettable that the left party has not found a place in the Bihar "Mahagathbandan" (grand alliance)."It is very regrettable that we have not found a place in `mahagathbandhan`. The left and the RJD have very old relationship, both have fought together for secularism," said Sitaram Yechury.
* "You (Congress) committed 3 crimes. You defamed saffron, you meted out inhumane torture to a daughter of India, you misused laws. So I say this with full responsibility that yes BJP fielded Sadhvi Pragya against Digvijaya Singh, we're proud of her," says former MP chief minister Shivraj Chouhan, reports ANI.
* Leaders of various opposition parties on Tuesday launched a fresh attack on the Electronic Voting Machines (EVMs)-VVPATs, claiming they are ridden with glitches and vulnerable to programming errors. Andhra Pradesh Chief Minister and TDP chief Chandrababu Naidu, Nationalist Congress Party President Sharad Pawar, senior Congress leader Sushilkumar Shinde, Aam Aadmi Party (AAP) leader Sanjay Singh and SP leader Akhilesh Yadav question the glitches in EVM and VVPAT.
*Prime Minister Narendra Modi will hold two rallies in West Bengal – Birbhum district's Bolpur and Nadia district's Ranaghat. He'll also hold a public meeting in Jharkhand's Lohardaga.
Congress President Rahul Gandhi will travel in Uttar Pradesh and Bihar, campaigning in Lakhimpur Kheri, Unnao, Kanpur and Ujiarpur. Union Minister. Congress leader Priyanka Gandhi will hold rallies in UP's Fatehpur, Mahoba and Hamirpur.
BJP national president Amit Shah, accompanied by Bihar deputy chief minister Sushil Modi, will hold rallies in Patna, Munger and Begusarai. Uma Bharti will address two rallies in UP – Ayodhya and Faizabad's Rudauli Tanda.
In Maharashtra, Union Minister Rajnath Singh will hold a rally in Nalasopara, Nationalist Congress Party suprmeo in Nashik and All India Majlis-e-Ittehadul Muslimeen (AIMIM) chief Asaduddin Owaisi in Malegaon.
Bahujan Samaj Party supremo Mayawati will hold a rally in Kanpur, while Samajwadi Party chief Akhilesh Yadav will be in UP's Hardoi.
In West Bengal, state CM and Trinamool chief Mamata Banerjee will hold roadshows in Krishnanagar and Serampore while Defence Minister Nirmala Sitharaman will campaign in Jhargram's Gopiballavpur.
JD(U) chief Nitish Kumar will address rallies in Bihar's Madhubani, Darbhanga and Samastipur while RJD leader Tejashwi Yadav will campaign in Jharkhand's Palamu and Chatra.