NC, PDP responsible for problems Jammu and Kashmir face today: PM Modi
The election heatwave has hit the country with full force with political parties and their respective leaders unwilling to leave anything to chance.
With less than two weeks to go for voting in the first phase of Lok Sabha 2019 election, political parties are getting ready to move their respective campaigning into top gear.
Even as the list of leaders and celebrities either joining political parties or switching political allegiances continue to grow, the election heatwave has already set in across the country. A number of key issues are being highlighted and debated upon even as BJP and Congress entered into a tussle for credit for India's Mission Shakti.
The Model Code of Conduct has been in force in the country since March 10 and the Election Commission is going the extra mile to ensure that leaders and parties adhere to it. The EC is also working overtime to ensure that things are in place for an election that would surely corner the world's attention come April 11.
These were latest updates from all election-related developments on Thursday (March 28). Thanks for staying with us.
* Congress releases list of 31 candidates, Rajasthan Chief Minister Ashok Gehlot's son gets ticket from Jodhpur.
* Congress leader Divya Spandana writes to Election Commission of India against social media pages for allegedly offering free gifts to voters enticing them to support Prime Minister Narendra Modi.
* The Election Commission of India has nominated Vivek Dube as the Central Police Observer for West Bengal and Jharkhand. KK Sharma who was earlier nominated for these states has now been assigned Andhra Pradesh and Telangana.
* "They (BJP) tried to persuade Kumaraswamy to form govt with the support of BJP. Before the election they extended huge money for the expenditure of JD(S), they tried to persuade him to meet them in Mumbai where money was kept but Kumaraswamy refused to budge," JD(S) leader H D Deve Gowda told ANI.
* "NC & PDP are responsible for the problems Jammu & Kashmir faces today. It is because of them that Kashmiri Pandits faced so much trouble. Sadly, national security is not a priority for them, they only care about power," says PM Modi in Akhnoor.
* "What is beyond comprehension is Congress' attitude. Is it the same Congress that Sardar Patel was a part of? Is it the same Congress that Netaji Subhas Chandra Bose was a part of, and fought for India's independence?" asks PM Modi.
* Addressing a rally in Akhnoor, Jammu and Kashmir, Prime Minister Narendra Modi says, "Whole country is talking in one voice and these Congress people are talking in a different voice. Do you accept this language of Congress? Of PDP? of NC? Pakistan applauds their language."
* Tej Pratap Yadav tweets that he has resigned as Chief of RJD's Student Wing
* BJP Kozhikode Lok Sabha candidate Prakash Babu remanded to 14 days judicial custody by Pathanamthitta Court in connection with Sabarimala case violence.
* Samajwadi Party releases another list of five candidates for Lok Sabha poll. Puja Pal would contest from Unnao, Nasir Qureshi will contest from Moradabad, Bhagwat Sharan Gangwar from Bareily, Shyam Sunder Yadav from Jhansi and Nathuni Prasad Kushwaha from Kushinagar.
* RJD leader Girinath Singh joins BJP in presence of Defence Minister Nirmala Sitharaman.
* Zee News' Rakesh Tripathi reports that the rift between Congress and RJD has been fixed. An official announcement can be expected soon.
* PM Modi addresses rally in Rudrapur, Uttarakhand.
- "The reason for poverty in India is Congress and the party is now claiming to remove poverty. Truth is to remove poverty, remove Congress."
- "Congress has no regard for India's armed forces. They sat back on Rafale deal because they were not getting any 'malai'. They also held back on the OROP issue."
- "The values of BJP and Congress are vastly different. We believe in development, upliftment and inclusion. Congress believes in focusing only on getting power and corruption."
* Harinder Singh Khalsa, former member of AAP, has joined BJP. He is welcomed to the party by BJP. (Read full report here)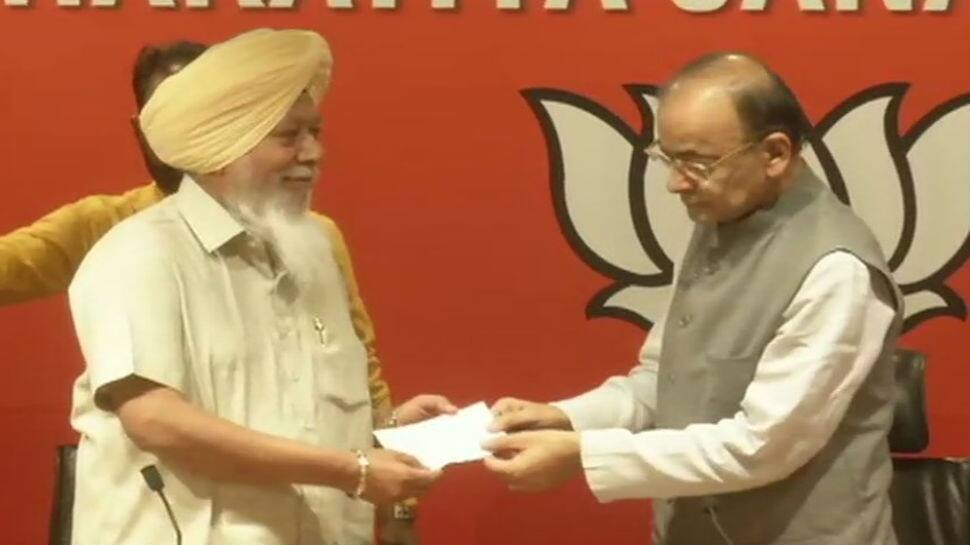 * Click here for full report from PM Modi's first campaign speech this year.
* PM Modi also taunts BSP and SP, says alliances have been formed between people who wanted to jail one another. He adds that BSP and SP know of nothing beyond grabbing political power.
* PM Modi accuses previous government (UPA) of being soft on terror, says they inquired about the religion of terrorists before deciding on what action to take. He also calls them 'Maha milawati'.
- "Our action against terror has been questioned. We need India's heroes, not Pakistani heroes."
- "If anything had gone wrong in the action against terror, they would have abused me, demanded my resignation. That is okay. I have nothing of my own, whatever I have has been given to me by the people of India."
- "They question our action to protect national integrity. They ask why we hit terror camps across LoC. They are competing with each other to become Pakistan's heroes. Does our country need India's heroes or Pakistan's heroes."
* PM Modi says India is ready to ensure BJP is voted back to power.
- "Compare work done by our government to that of the previous government."
- " Five years ago, I had said that I will return your blessings and love with interest. I had also said that I will give account of the work that I have done and on what others have done. Both will happen together."
- "You have to choose yet again between a party that works and a party that sleeps, between a damdaar chowkidaar and a daagdaar sarkar (referring to previous UPA regime).
* PM Modi ready to address rally in Meerut.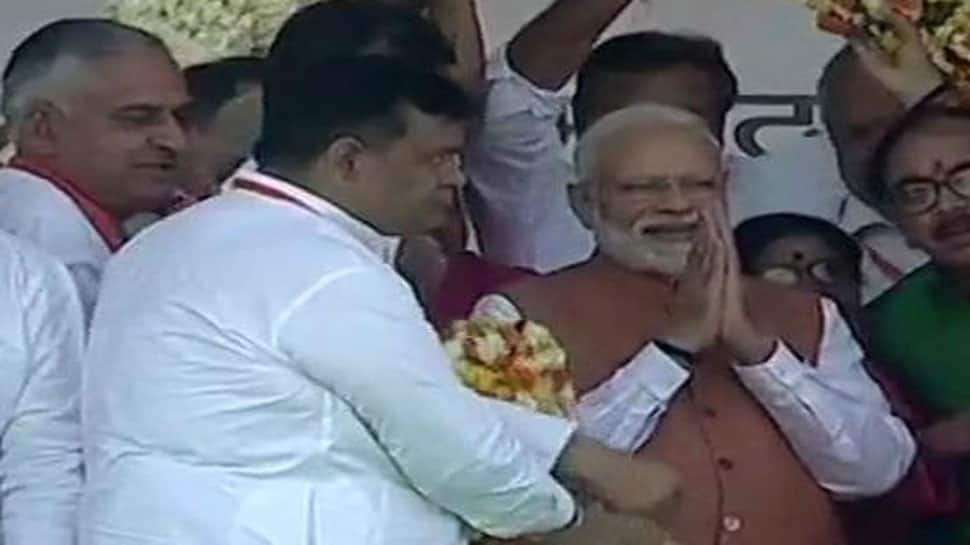 * UP CM Yogi Adityanath addresses people, lauds PM Modi's leadership. He says the Modi's government has ensured that terror infrastructure has been crippled, economy is in fast-forward and development projects in rural and urban India are being extensively carried out.
* According to sources, there are tensions between Congress and RJD over the seat-sharing arrangement.
* Sources say there is a rift among leaders of Mahagathbandhan in Bihar. Rahul Gandhi has reportedly called for a meeting of top leaders.
* Did you know? 240 bills were passed in the outgoing Lok Sabha. (Click here for more such interesting facts)
* PM Modi will address an election rally in Meerut shortly, at 1130hrs.
Interesting facts:
- PM Modi will launch his election campaign after a meeting near Sivaya toll plaza on Dehli-Dehradun highway. He had launched his campaign for 2014 Lok Sabha election from Meerut (Shatabdi Nagar) as well.
- On Monday, BJP leaders and workers had performed bhoomi pujan at PM Modi's meeting site.
- SPG teams have taken stock of the security situation at and around the Sivaya toll plaza.
- Six SPs from neighbouring districts, 10 Additional SP's, 30 Deputy SP's, 50 inspectors, 150 sub-inspectors and 900 constables along with ten companies of PAC and RAF will remain deployed during the meeting of the PM.
* The EC may hold a press conference later in the day on the issue of Model Code of Conduct. Some opposition leaders had accused PM Modi of violating MCC by addressing the nation and announcing the success of Mission Shakti.
* Naxals blast BJP leader's house in Gaya district to protest against Lok Sabha election. (Read full report here)
* After Rahul Gandhi's attack against her, Mamata has dismissed him as a 'small boy.' (Read full report here)
* Here's some of what can be expected today:
- PM Modi to address rallies today - in Meerut, Rudrapur and outside Jammu city.
- Actor-turned-politician Shatrughan Sinha likely to join Congress.
- The second leg of Priyanka Gandhi Vadra's UP campaigning continues. It had started on Wednesday.