Uttar Pradesh is India's largest state electorally and the state which sends 80 MPs to Lok Sabha will see polling in seven phases in the upcoming Lok Sabha election.
During the first phase, polling will be held for eight Lok Sabha seats namely– Saharanpur, Kairana, Muzaffarnagar, Bijnor, Meerut, Meerut, Baghpat, Ghaziabad and Gautam Buddha Nagar. All these parliamentary constituencies are in western Uttar Pradesh.
The data sourced from the ECI website showed that polling percentage on all eight seats was higher in 2014 Lok Sabha poll than 2009 General Election. In 2014, highest polling percentage among these eight seats was seen by the Saharanpur parliamentary constituency at 74.26 percent.
The detailed number of electors, voters and polling percentage for the above mentioned eight parliamentary constituencies for Lok Sabha poll -2009, 2004 and 2019 - is given below: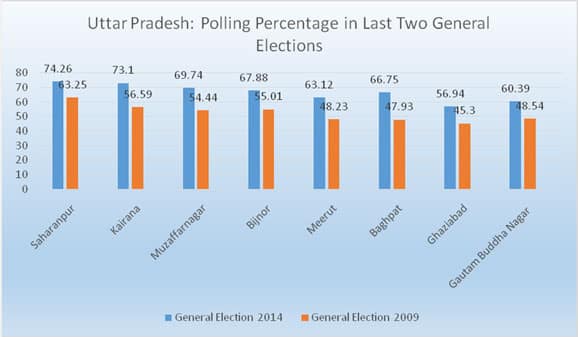 Constituency
General Election Year
Electors
Voters
Poll percentage
Saharanpur
2019*
1722580
-
-
1608833
1194649
74.26
 
1298132
821122
63.25
 
Kairana
2019*
1643934
-
-
1531767
1119747
73.10
 
1282551
725732
56.59
 
Muzaffarnagar
2019*
1685594
-
-
1588475
1107765
69.74
 
1370117
745827
54.44
 
Bijnor
2019*
1651105
-
-
1562081
1060410
67.88
 
1287070
708078
55.01
 
Meerut
2019*
1872146
-
-
1764388
1113671
63.12
 
1508788
727711
48.23
 
Baghpat
2019*
1592297
-
-
1505175
1004766
66.75
 
1280602
613748
47.93
 
Ghaziabad
2019*
2656779
-
-
2357553
1342471
56.94
 
1831688
829823
45.30
 
Gautam Buddha Nagar
2019*
2241247
-
-
1986109
1199365
60.39
 
1522397
738984
48.54
 
Total in first phase
2019*
15065682
-
-
Source - ECI website