BHOPAL: Two people have been arrested in connection with the alleged assault of the Madhya Pradesh-based model who had met with an accident following the incident.
The accused tried to 'pull' her skirt while she was travelling on her scooter. The incident allegedly took place at a busy stretch of road on Sunday morning.
Indore: 2 people have been arrested by the police for allegedly molesting a model. #MadhyaPradesh pic.twitter.com/VpKGpLbh30

— ANI (@ANI) April 24, 2018
The victim claimed that she was riding her scooter when two guys tried to pull her skirt. While trying to avoid them, she lost balance and met with an accident, receiving several injuries.
Taking to social media, the woman had written, "Two guys tried to pull my skirt while I was on my XXX and said, 'dikhao Iske niche Kya hai?' I tried to stop them and lost control and met with an accident."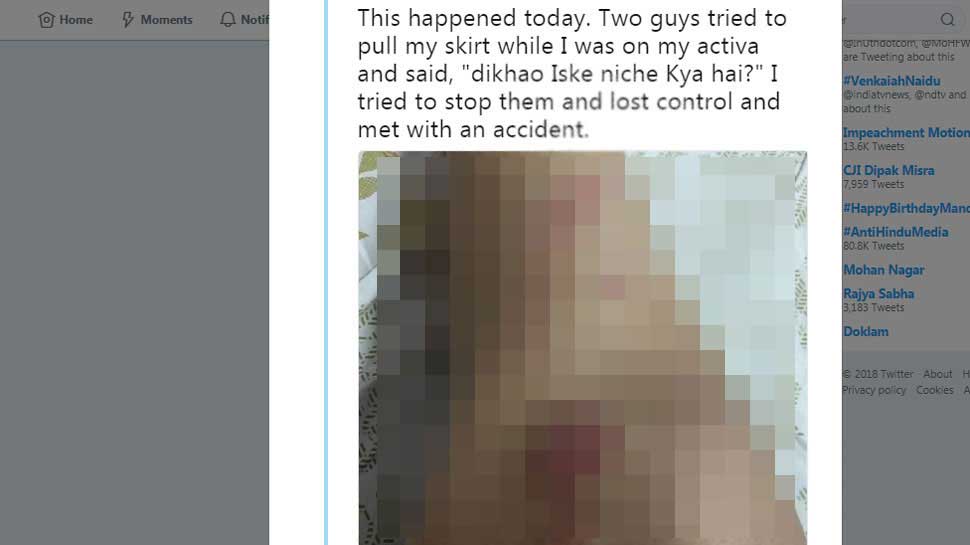 "It happened on one of the busiest roads and nobody tried to stop them. They ran away, and I couldn't even see their number. I've never felt so helpless. I'm not the kind of girl who will just sit and watch. Those fiends ran away, and I couldn't do anything.
The woman later revisited the area but could not find any CCTV cameras on the spot.
This incident comes days after the body of a six-month-old infant was recovered from the basement of a building in Indore, with the police arresting the victim's uncle for rape and murder.