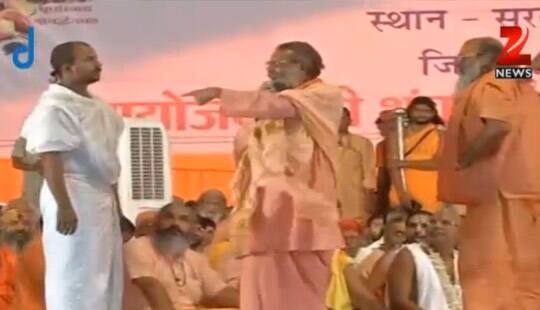 Zee Media Bureau/Tarun Khanna
Raipur: The ongoing spat between Shirdi Sai Baba devotees and Shankaracharya Swaroopanand Saraswati turned uglier on Monday when a scuffle broke out between their followers during a "Dharma Sansad" (Religious Parliament) organised at Kawardha in Chhattisgarh.
As per reports, the scuffle began when two Sai devotees, who had come to put forth their views on the holiness of Shirdi Sai baba, questioned Shankaracharya which irked his devotees.
The furious Shankaracharya supporters also pushed the Sai devotees down the stage.
Later, Shankarachrya himself had to intervene to ease off the situation and the police had to deploy extra force to prevent any untoward incident.
Around 400 religious leaders had come to attend the two-day long Dharma Sansad, which began here on Sunday.
The congregation which includes Shankaracharya Swami Swaroopanand Saraswati and representatives of 13 'Akharas' and other religious leaders discussed whether the status of `Saint` to be given to Shirdi Sai Baba or not on the first day.
Meanwhile, the Dharma Sansad today passed a resolution that Sai Baba, the 19th century saint from Shirdi, should not be worshipped as a deity by the followers of `Sanatan Dharma`.
Swaroopananda Saraswati has argued that Shiridi Saibaba cannot be accepted as god in Hinduism. The Dwarka seer has argued that the Hindu scriptures have accepted Shiv, Shakti, Vishnu, Ganesh and Surya and their respective reincarnations as Gods.
The Gods accepted by 'sanatan dharma' (Hinduism) have found mention in various religious scriptures pertaining to the religion, and Saibaba does not fall in either of the category.
The Shri Sai Baba Sansthan Trust, Shirdi had already decided not to send the representative at Dharam Sansad after they were invited by the Shankarachrya.