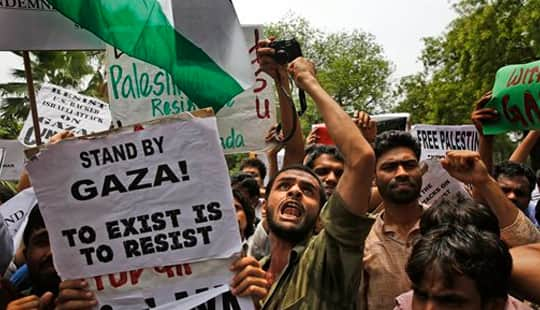 Zee Media Bureau/Supriya Jha
Jerusalem: As a UN call for ceasefire went unheeded, Israel and Hamas continued to exchange salvos of rockets, with hundreds of families leaving the northern Gaza Strip, fearing for their lives.
As the strikes continue unabated, the death toll in Gaza has shot up to 172 in six days of strikes, say Palestinian officials and according to the UN, over 17000 have sough refuge in its various facilities, reported the BBC.
According to Israel, Gaza had fired 130 rockets out of which 22 had been intercepted by the Iron Dome missile defense system.
Israel said that Gaza has fired some 971 rockets in last six days.
Israel also mocked Hamas, saying the militants hit their own people as their rockets fell short.
"Since July 8, 38 rockets fired from Gaza have fallen within Gaza. Hamas fires from civilian areas...and hits its own people," said IDF on Twitter.
Keeping in mind the football fever raging, Israeli Defence Forces also tweeted that since June 12, when the Football World Cup began, Gaza had fired over 1000 rockets towards Israel.
Since #WorldCup began on June 12, terrorists in Gaza have fired 1000+ rockets at Israel. RETWEET so that all enjoying #GERvsARG will know.

— IDF (@IDFSpokesperson) July 13, 2014
In response, Israel has continued to target Hamas targets in Gaza.
Meanwhile, Israeli Army tweeted that its Patriot missile downed an aerial drone from Gaza above the city of Ashdod on Monday, that is seventh day of Operation Protective Edge.
Israel added that a boy was lightly wounded from shrapnel after a rocket fired from Gaza struck Ashdod today.
An aerial drone from Gaza infiltrated Israel a short time ago. IDF forces shot it down with a Patriot missile above Ashdod.

— IDF (@IDFSpokesperson) July 14, 2014
On the sixth day of Operation Protective Edge, Israel said that it was targeting Hamas targets in Beit Lahiya in northern Gaza, adding that it was the greatest source of rocket fire on Israel.
Complying to the warning leaflets dropped by the IDF (Israeli Defence Forces), hundreds of families fled the town of Beit Lahiya.
Israeli Army had yesterday confirmed that it was dropping warning leaflets over Gaza, instructing civilians to evacuate the areas where missiles would be fired. 
"The IDF`s campaign is to be short and temporary. Those who fail to comply will endanger their lives. Beware!," reads one of the leaflets that Israel is distributing over Gaza. 
However, the evacuation of houses by thousands of dwellers is an unwelcome move for the authorities in Gaza, who do not want the residents to comply with Israeli demands.
According to the Haaretz, the Gazan Interior Ministry in a statement told civilians not to evacuate their houses at Israel`s command.
"We are in touch with international groups and with human rights groups operating in Gaza and up to this point there is nothing that requires the evacuation of the northern Gaza Strip," the report quoted an announcement made by the Ministry.
The Gazan Interior Ministry describes the calls for evacuation as part of a "war of nerves" waged by Israel against the Palestinians due to the failure of its occupation.
However,Israeli Army says that it was a part of strategy of Hamas as the militants were using civilians in Gaza as human shields.
"Hamas' strategy is simple: Use civilians as human shields. Fire rockets from residential areas. Store weapons in mosques. Hide in hospitals," the IDF posted on Twitter.
Six days of air strikes from both sides have resulted in more than 170 deaths in Gaza, 77% of those being civilians, according to the UN.
There has not been a single Israeli death due to their fierce Iron Dome Missile Defense System that can intercept Gazan rockets being fired by Hamas militants.
However, Israel is not immune to the rockets being fired by Hamas militants and the entire country has suffered with kindergartens near Gaza being closed, schools and universities suspended, trains being cancelled and power cuts caused by rockets destroying infrastructure.
Expressing serious concerns over the security of civilians trapped on both sides in the ongoing violence, the UN Security Council on Saturday urged both Hamas and Israel to restore the "calm and restitution of the November 2012 ceasefire." 
Also, the US, France and Germany on Sunday sought to broker a Gaza truce.