New Delhi: Filmmaker Hansal Mehta became one of the very first people from the Hindi film industry to call out Queen director Vikas Bahl over the sexual harassment allegations leveled against him by a woman employee at Phantom Films. The noted filmmaker also lashed out at Hrithik Roshan for being a part of Bahl's film 'Super 30'. 
On Saturday, he posted a series of tweets, that read: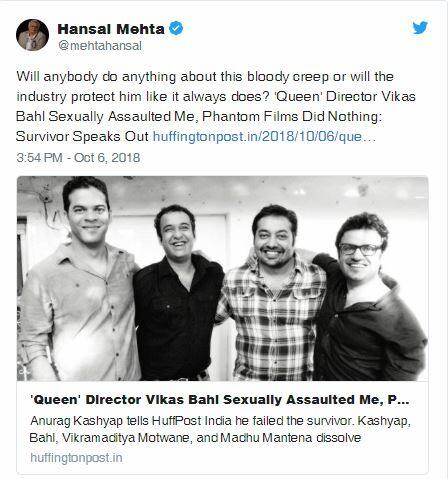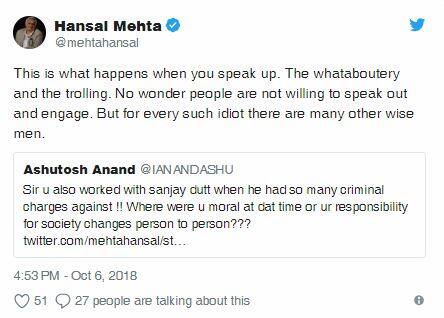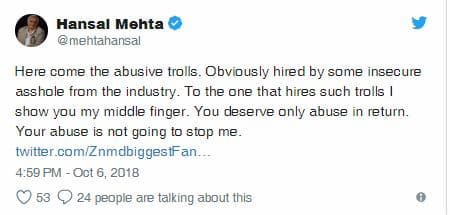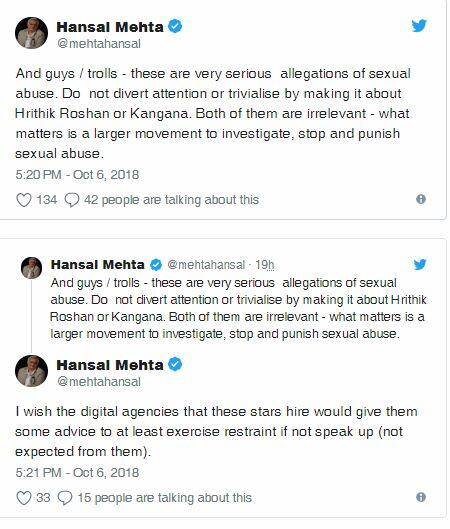 However, the filmmaker did not know that by voicing out his opinion on the matter and calling out the superstar would get him abusively trolled by the haters on the social media. 
For the unversed, last year, a woman employee at Phantom Films, which had Bahl as one of the partners alongside Anurag Kashyap, Vikramaditya Motwane and Madhu Mantena, had levelled allegations of molestation against Bahl, who she said behaved inappropriately during a trip to Goa.
In a recent article in HuffPost India, the woman has reiterated the allegations, sharing further details about the incident.
According to the report, in October 2015, the woman reached out to Kashyap and detailed her experience, but no action was taken while Bahl continued to harass her until she finally quit the company. 
In the article, which has since become viral on social media, Kashyap has admitted he had failed the woman, three years after he first learned of the allegations. 
"Whatever happened was wrong. We didn't handle it well, we failed. I cannot blame anyone but myself. But now we are determined to do better. We believe her completely. She has our undying support. What Bahl has done is horrifying. We are already on our path of course correction and will do everything in our capacity to fix it," Kashyap said.
According to the publication they had also sent detailed questionnaires to Phantom Films' remaining three partners -- Bahl, Motwane and Mantena.
Before the article was published, the four partners Saturday announced that have decided to dissolve their joint banner Phantom Films, without citing the reason for this decision. 
Bahl is currently directing his next venture 'Super 30', featuring Hrithik Roshan in the lead. The film is slated to release in January next year. Hrithik, meanwhile, has not yet reacted on the matter.