New Delhi: Actress Tanushree Dutta, who recently made shocking revelations on Nana Patekar and filmmaker Vivek Agnihotri of indecent behavior towards her, has received plenty of support from several biggies from the industry. 
In a recent TV interview, Tanushree said Patekar sexually harassed her on the sets of 'Horn Ok Pleassss' some 10 years ago. She also alleged that while shooting for her debut film 'Chocolate' in 2008, filmmaker Vivek Agnihotri commanded her to strip and dance off-camera to give cues to her co-star Irfan Khan. 
While several big names from the industry came forward and extended their support to the actress for letting out the dark secrets to the world, the Priyanka's address to Tanushree as a 'survivor' did not really go down with her. 
Tanushree, who apparently did not like being called a survivor by the formal Miss World, told Zoom TV, "Well, it's amazing. She (Priyanka Chopra) has finally decided to join the bandwagon. It's probably a smart thing to do at this point of time. But I just want people to know that I am not going to be reduced to a survivor. I have a name, I have a story and I have this truth that I am trying to get out because it's not for me but for people who will come forward in the generations to come."
Another report says that Tanushree, who is currently based in US, is totally appalled at filmmaker Farah Khan for posting a picture with actor Nana Patekar whom she has accused of sexual harassment.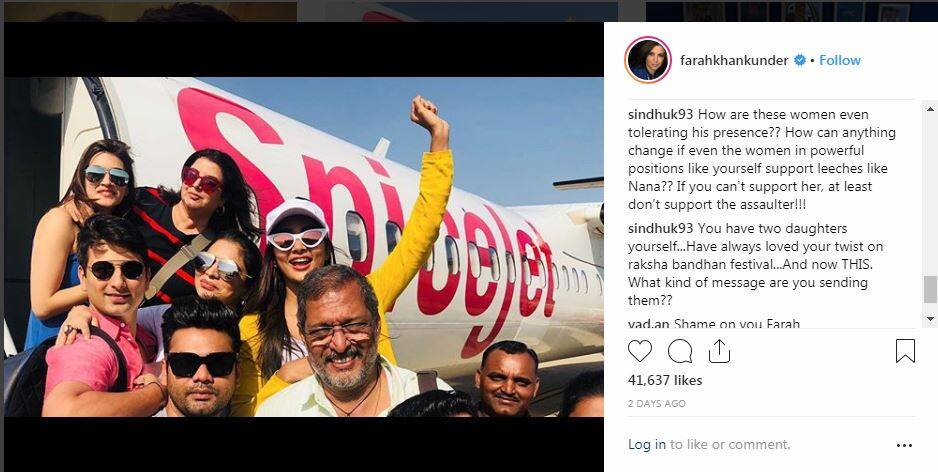 Filmfare.com quoted Tanushree's spokesperson saying, "Farah's Insta post has appalled her. Being a woman herself Farah has made her stand very clear by going ahead with Nana for her Housefull 4 shoot." 
The spokesperson further said, "A man who is claiming to be Nana Patekar's advocate is calling up people close to Tanushree and media houses alike threatening to drag Tanushree to court for speaking up. Even after 10 years, Nana Patekar is still harassing Tanushree Dutta with legal threats and intimidation tactic while the whole world is watching." 
Farah's post came hours after Tanushree made her allegations. However, the 'Main Hoo Na' director fans were quick to criticise her for going ahead with Nana Patekar for the 'Housefull' shoot.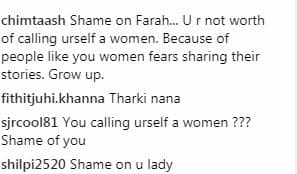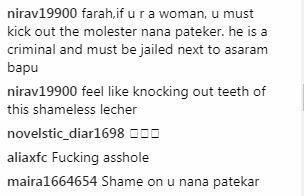 Patekar, who had denied the claims at a press conference when Dutta raised the issue in 2008, has laughed off the allegations levelled against him by the actress.