Viral Video Of Couple Inside Mahindra XUV700 Proves Why India Doesn't Deserve ADAS: WATCH
The viral video of a Mahindra XUV700 driver sitting on the seat sideways, not holding the steering wheel on the highway is drawing criticism from the netizens.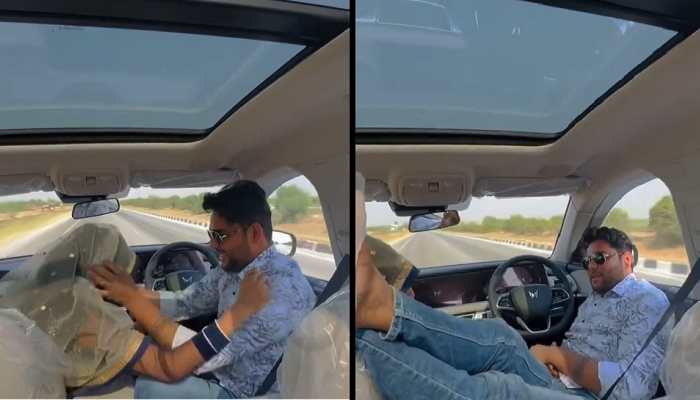 Advanced Driver Assistance System (ADAS) is quickly catching the fancy of the modern day car buyers. This technology, once limited to high-end luxury vehicles like Volvo, Tesla and Mercedes-Benz has made its way to affordable vehicles in India. Almost all mid-size premium SUVs are now offering an option of ADAS to the buyers. While the basic function of ADAS is to assist a driver in reducing accidents, like in the case of any other technology, many car buyers are misusing this functionality as well. In one such incident, a video has surfaced on the internet showing a man in a Mahindra XUV700 playing with his wife, while driving on a highway.
The video shows a man sitting sideways with his legs up on the driving seat and enjoying with his wife, while a person from the rear seat is making a video. Amidst all this, the car is running on a highway at a high-speed using ADAS feature like Adaptive Cruise Control and Lane Keep Assist. The video has drawn criticism on social media platforms, and was originally shared by the user in the car, named Afsar Ghudasi.
No matter how safe you drive.

If you are on the road at the same time with such idiots, your appointment with the almighty is confirmed.pic.twitter.com/QBvg72crPw — Roads of Mumbai (@RoadsOfMumbai) March 11, 2023
The video has triggered a wave of criticism for the driver of the car. This is not the first time an XUV700 user has misused the ADAS technology for gaining social media traction. Recently, another video of a man sitting sideways with his legs up on the driving seat and playing cards with his friends went viral.
More videos have surfaced on the internet showing the Mahindra XUV700 cruising on its own on highways. The ADAS technology is a crucial component of self-driving vehicles and offers functionalities like Adaptive Cruise Control to maintain the speed of the vehicle, Automatic Emergency Braking to stop a vehicle, Lane Keep Assist to keep a vehicle between the lanes among other many such technologies.
However, ADAS, at best, is used to assist and prevent accidents and not take over driving altogether. That level of self-driving is achieved when a vehicle reaches Autonomous Level 3 and above. In such cases, Artificial Intelligence is also used for vehicle to drive on its own.