NEET PG 2023: Aspirants Demand Postponement of Exam, Stage Protest at Jantar Mantar
NEET-PG 2023 postponement: The aspirants demanded that the exam be pushed by two to three weeks.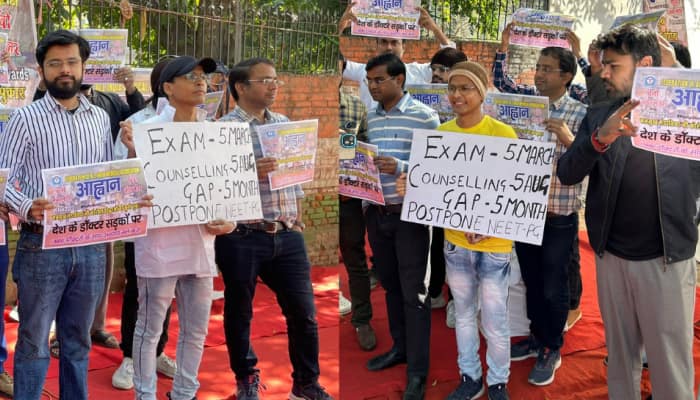 NEET PG 2023: A group of doctors, including NEET-PG aspirants, held a protest at the Jantar Mantar Road in the national capital on Tuesday (February 7, 2023) and demanded the postponement of exams scheduled for early March. The NEET PG aspirants carried out a protest under the banner of a body of doctors - the Federation of All India Medical Association (FAIMA) and demanded that the NEET PG 2023 exam be pushed by two to three weeks to reduce the gap between the result declaration and counselling process.
As per the calendar issued by the National Board of Examinations, the NEET PG 2023 exam is scheduled for March 5 and the results will be out around March 31, while the counselling process will start in July 2023.
NEET PG 2023 postponement: There is large gap between counselling and examination date, says FAIMA
FAIMA founder Dr Manish Jangra said the association members, which included NEET-PG aspirants and office-bearers of the association today held a protest with a demand to postpone the NEET-PG entrance examination to May-June.
He said that the counselling after the exam is likely to be held in July, so a large number of interns may face issues with eligibility.
"At present with the eligibility bar for interns being June 30 and the exam date on March 5, there is a large gap between the counselling and the examination date, this time could be utilised by the students to study for the examination and pursue their dream subject," news agency IANS quoted Jangra as saying.
"We also want to convey that this is the year where we are adjusting to the delays of the Covid-19 pandemic in which the healthcare sector played a major role. Henceforth, we request the government to postpone NEET PG 2023 with immediate effect and allow maximum interns to take part in the examination system," Jangra added.
Live Tv