Severe cyclonic storm Vayu likely to delay Monsoon, bring heavy rains in Gujarat
Gujarat government has deployed personnel from the National Disaster Response Force in coastal areas for relief and rescue efforts.
Severe cyclonic storm Vayu which is likely to hit Gujarat on June 12 night may further delay the setting of monsoon in India. The setting which usually happens around June 15, is likely to be affected as the cyclonic storm could disturb its advancement. The monsoon has already been delayed by a week due to its late arrival in Kerala.
The India Meteorological Department (IMD) said that Vayu was positioned 630 kilometres south-southwest of Mumbai at 11.30 pm on Monday night and was moving in a northwards direction. It also said that Vayu's intensity could increase as it makes its way towards Gujarat's coast. It is very likely to move nearly northwards and cross Gujarat coast between Porbandar and Mahuva around Veraval and Diu region as a Severe Cyclonic Storm with wind speed 110-120 kmph gusting to 135 kmph during early morning of 13 June 2019.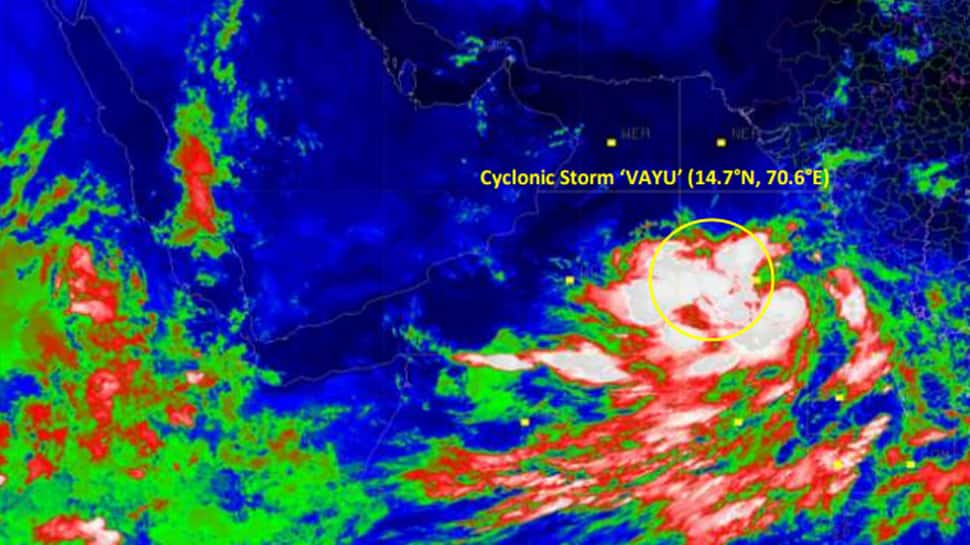 Gujarat is reeling under severe heat wave as the maximum temperatures in major cities, including Ahmedabad, hovering over 43 degrees Celsius since the last week of May. The severe cyclonic storm is likely to cause heavy rains and winds in the coastal districts of Saurashtra, like Bhavnagar, Amreli, Junagadh, Jamangar, Porbandar, Dwarka and also Kutch.
Vayu is likely to result in heavy to very heavy showers all along India's western coastline with many parts here experiencing rough to very rough sea conditions. Fishermen in Kerala, Karnataka, Maharashtra and Gujarat have been advised to exercise maximum caution before venturing into the sea. Wind speeds could reach up to 155 kmph during landfall in Gujarat.
Vayu is likely to cause major damage to thatched houses and huts and rooftops may blow off. There may also be minor damage to power and communication lines and major damage to Kutcha and some damage to Pucca roads. It is being anticipated that Vayu may cause moderate damage to banana and papaya trees, and major damage to coastal crops.
To minimise the damage, the authorities have ordered a total suspension of fishing operations, coastal hutment dwellers have been moved to safer places and people have been asked to remain indoors.
As per a report by news agency PTI, the Gujarat government has deployed personnel from the National Disaster Response Force (NDRF) in coastal areas for relief and rescue efforts. In a high-level meeting after the IMD warning, the state government deployed 15 teams of NDRF. The Indian Navy, Army, Air Force, and Coast Guard too have been requested to assist in relief operation if the need arises.
Live Tv